Slovenia remains an off-the-beaten-track destination for many tourists traversing the far ends of the globe. Tucked away in the central folds of Europe, this picturesque country is one of the continent's best-kept secrets. Small it may be, but this breathtaking holiday paradise packs an adventurous punch. From towering snow-capped peaks, elusive wildlife and heavenly glacial lakes to glittering metropolises, hidden caves and bewitching rivers, Slovenia is the ultimate playground for grand adventures.
A country adored for its diverse landscapes, great hospitality, and exquisite cuisine, Slovenia offers plentiful challenges for those seeking intense outdoor escapades. So pack those bags and nab the travel essentials – here are some of the best adventure activities to try in Slovenia.
Go canyoning near Lake Bled
Peaceful and utterly picturesque, Lake Bled is easily one of Slovenia's most iconic sights. Boasting beautiful turquoise waters and views of a quaint little church set on an island, this is a destination with all the right ingredients for a truly memorable adventure. Enjoy gorgeous panoramas and breathe in the sweet fresh air here as you swim in crystal-clear waters, take a boat ride or explore the delights of the island. But if it's a truly epic adventure you're after, hire a professional mountain guide and go canyoning to discover Slovenia's lesser-seen beauty. A canyoning trip will take you through thrilling gorges, waterfalls, rock pools, and even cliffs to deliver a heart-thumping experience like nothing else.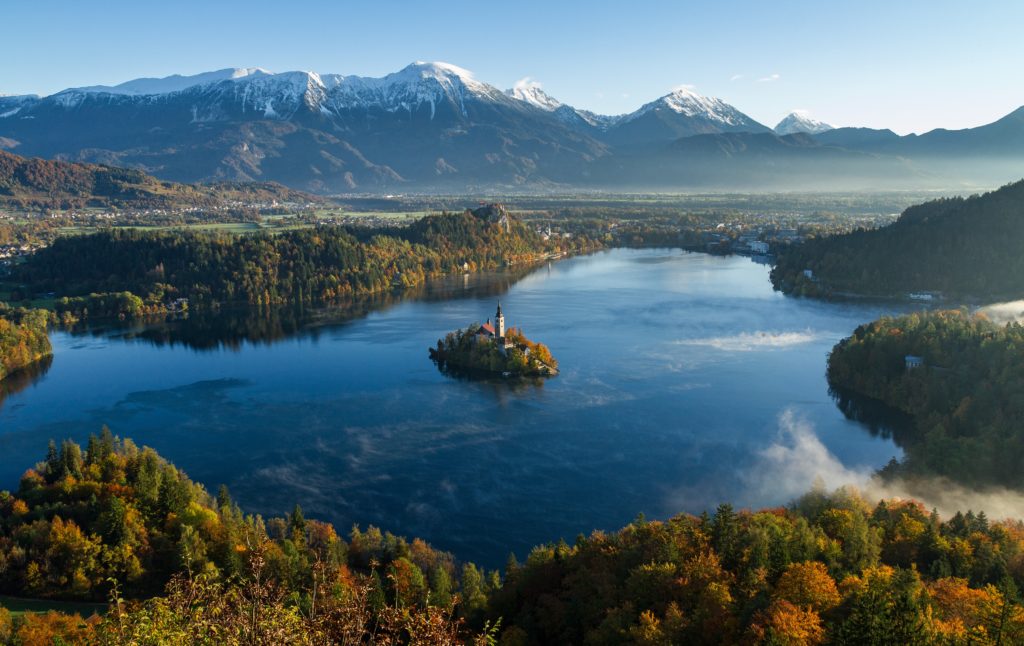 Go white water rafting on the Soča River
The Soča River begins its journey from the Alps and snakes its way through the scenic Trenta Valley before slowing at a lake in Most na Soči and ending at the Adriatic Sea. The river is an immensely popular destination for rafting adventures and kayaking. You don't need to have any previous experience to enjoy rafting here, but you can't take any kids younger than six with you. Grab a helmet, slip on a wetsuit and hold on to your inflatable – this is a rafting trip that you won't ever forget. Journeys can take between one to three hours, depending on weather conditions and the distance travelled. You'll also get to enjoy countless impressive sights along the way including stunning views of both the Julian Alps and Triglav, Slovenia's highest mountain.
Hike up Mt. Triglav
The highest mountain in Slovenia, reaching heights of 2,864 metres. Mt. Triglav is not for the faint-hearted. For centuries, now, it has been a tradition for Slovenians to climb the 'Three Heads' at some stage in their lives – why not follow in their footsteps? Unless you're a truly experienced climber, it's recommended to break up the ascent by staying at one of the mountain huts close to the summit. Once you reach the top, Aljaž Tower is your reward – a small structure that doubles up as a storm shelter and a marker of Slovenian pride, standing here at the country's highest point since 1895.
Until next time, y'all, and stay tuned for more outdoor adventures! Follow us on Facebook, Twitter, and Instagram, and subscribe to the newsletter. Looking forward to a tour in the mountains? Exploring Slovenia now offers hiking and climbing tours!