I prefer hiking alone. It's the only space and time when I do exactly what I want. It's also the way I perceive mountains when there is nobody there but me; it's perhaps more adventurous and thrilling, and I definitely feel deeper and more wholesome, connecting to the nature with all senses. That's why I was overly excited the other day to find a few hours just for myself alone and went hiking in an abandoned ski resort Zelenica.
A highly popular ski resort in the 70s and 80s, particularly so as shopping in richer Austria back then was just a short drive away, Zelenica used to be a perfect spot for professional training and recreational skiing. While it progressively declined over the last two decades, it still operated for some years until permanently closing in 2012. But the fun thing about an abandoned ski resort? The ski runs are still there for winter backcountry skiers, while hikers enjoy in easily accessible surrounding high mountains all year round. Not too crowded though, which makes it even more appealing.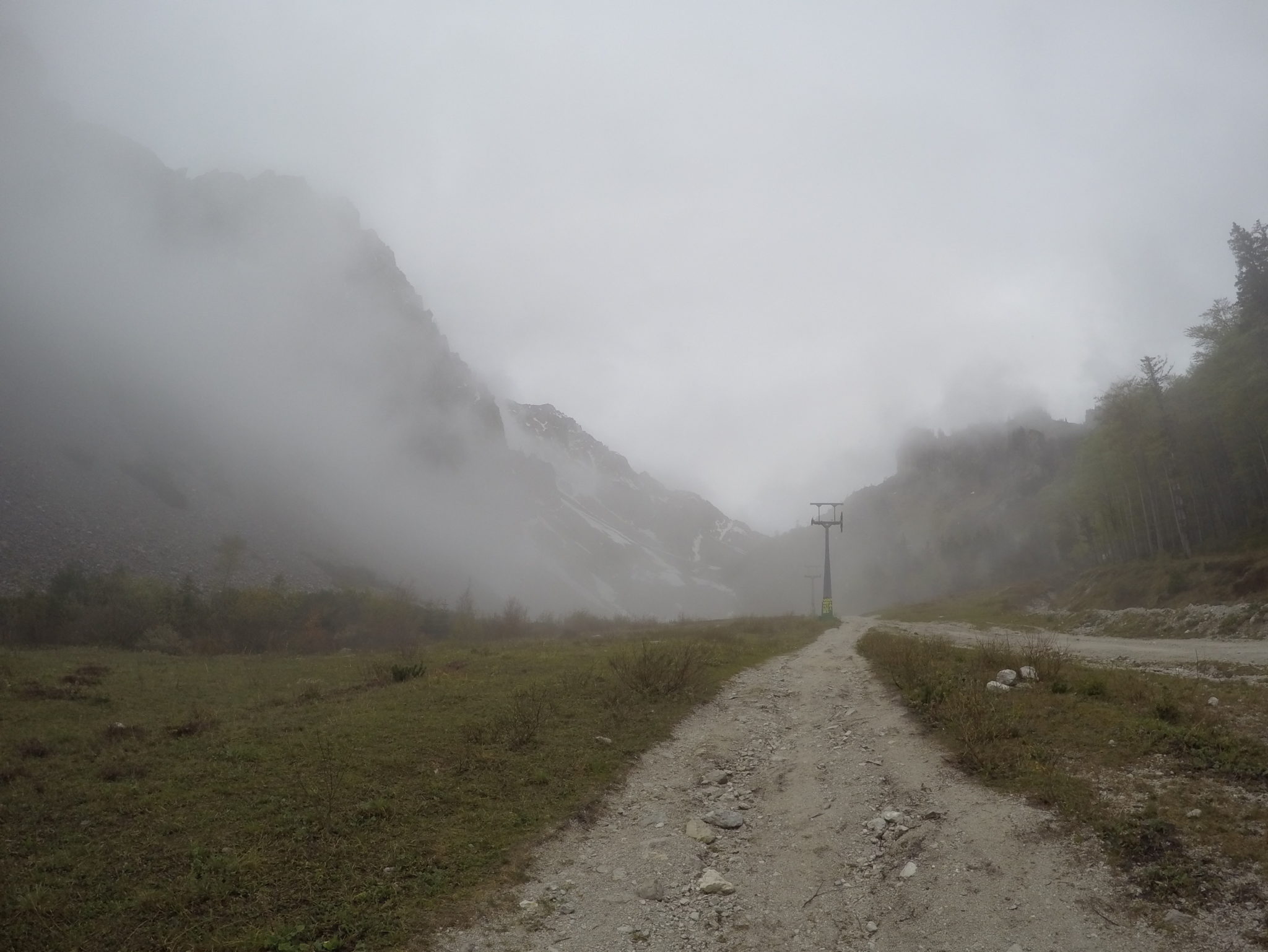 At 10.30 AM light rain and misty fog and not a soul anywhere on the horizon.

My plan for the day was to really let it go and enjoy a calm day in the mountains. Heck, since the weather was so gloomy with on-and-off rainfall throughout the week, I even skipped packing my ice axe and crampons altogether, but nevertheless hoped to climb to one of the surrounding mountains if the opportunity arose. I did pack, though, a pile of extra clothes in case I got soaked (remember Roblek?) in a likely downpour.


Remember this – positive thinking. The rain suddenly stopped and the clouds slowly gave way to blue skies after days of nothing but grey.


See that skier? How stubbornly committed (or committedly stubborn) must a person be to carry skis all the way to the top of Mt. Begunjščica, 2,060 m (6,760 ft) for those very few last curves? Either way, hats off to that skier!
Walking underneath the rocky north face of Mt. Begunjščica, or any vertical face for that matter, always fills the air around me with great anticipation, enthusiasm and excitement, and this time it was no different. The only thing I started to regret was not having thrown crampons in my backpack, but hey, I thought that maybe Mt. Vrtača and its probably already dry south face would make a nice hike all the same.

During a short break with a yummy homemade pizza I was overwhelmed with a real spectacle of clouds playing around the mountains.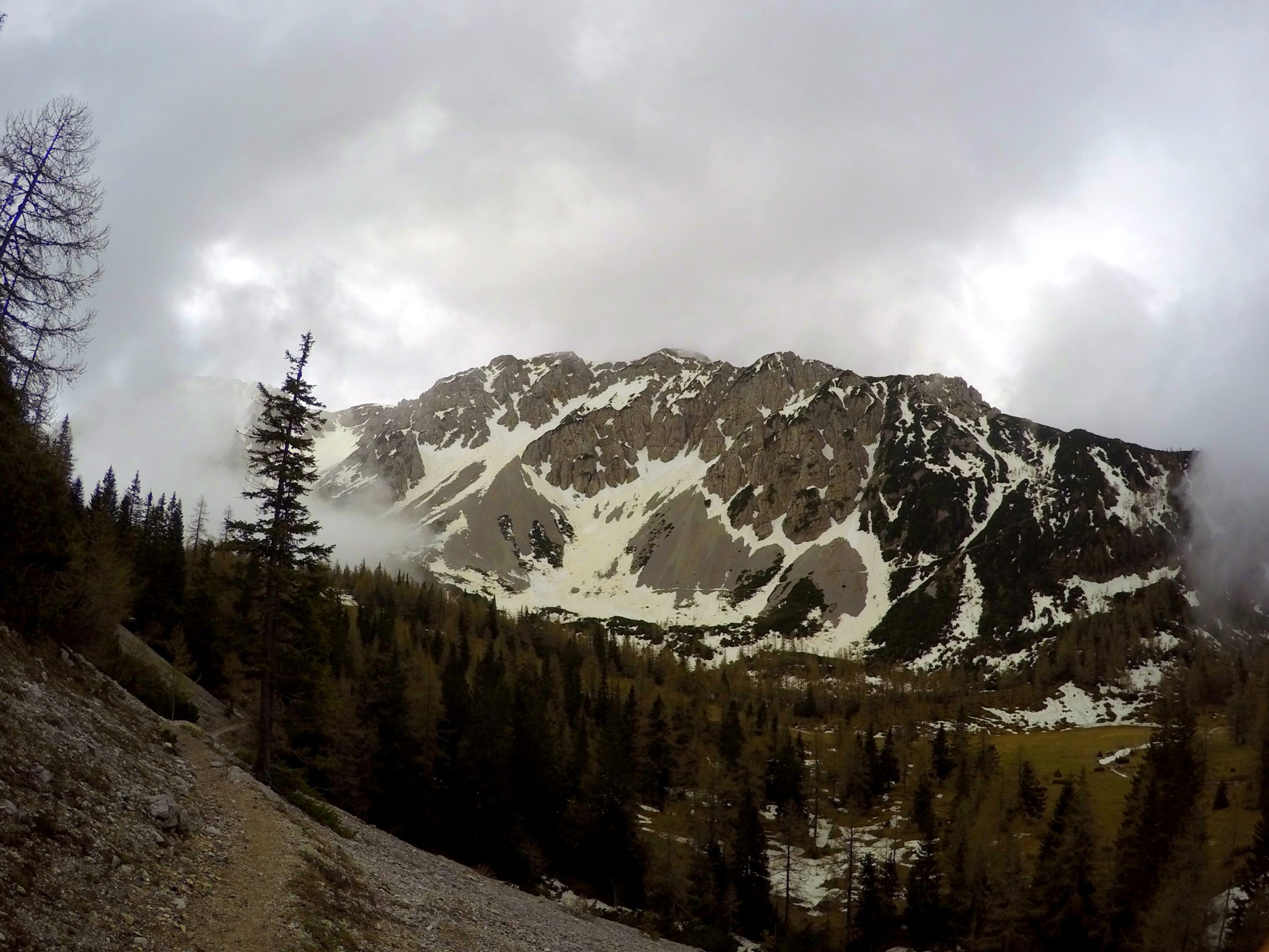 After a short break just above the Zelenica hut I shot further on towards Mt. Vrtača, a 2,181 m or 7,156 ft mountain.
After a short hike further towards Mt. Vrtača, the clouds suddenly engulfed the mountains in a dense fog, leaving only my previous trail and the surrounding tops clearly out and the rest in complete fog. Though I could continue my way towards the completely clouded Mt. Vrtača, I decided to turn back to Zelenica instead and take an equally nice hike to Triangel, the highest ski runs of the ex-ski resort above the hut.


Notwithstanding the clouds, the views from Triangel were still spectacular.


Mt. Begunjščica from Triangel, 1,704 m or 5,590 ft.


Na Možeh seen from Triangel.


When I finally did decide to return back down to the car, the views started to clear up showing a little bit of blue skies and sun after a week of grey. Priceless.


It had rained buckets for a week before my hike, drizzled during my drive there and poured while driving back; moreover, it also rained multiple days afterwards. Mt. Begunjščica and Zelenica, though, treated me with spectacular views and unexpected weather. Therefore, a thought of the day is in order: listen to your instincts, think positive and follow your heart; this may lead you to amazing places.
Stay tuned for more outdoor adventures! Follow us on Facebook, Twitter, Instagram, Youtube and subscribe to the feed.