Both a demanding and picturesque mountain trail not too far from Ljubljana which you could actually squeeze into an average hectic workday? I'm talking about a 10-km trail with 1,144 m elevation gain (and drop) that's technically easily accessible all year round and starts just 33 km from Slovenia's capital. It's called Bašeljski Vrh.



While the peak itself is highly overlooked as more hikers prefer the bigger one right next to it, Storžič, or in most cases just stop at the popular mountain hut Kališče below both peaks, Bašeljski Vrh is equally picturesque. The best part is, however, that it's not technical at all and can be easily reached with basic hiking gear all year round (which includes mini crampons when icy). If I had to label it, I would describe it as perfect for intense outdoor workout (or trail running as some would put it) in the midst of a mountainous landscape.
In fact, the trail is so amazing that ever since my first time there 15 years ago, I've returned at least 50 times in all imaginable weather conditions, mostly after work or on gloomy days like last Thursday. My usual trailhead starts in a parking lot above Mače, a village just 33 km (20 miles) from Ljubljana, at an elevation of 600 m. Since the peak extends to 1,744 m, we are looking at a semi-steep trail going mostly up and quite a considerable elevation gain of 1,144 m, which I've always tried to squeeze in under two hours.


The trail is essentially a walk through the woods with a few lookout points in the spots the forest thins out a bit, but once you pass the tree line, which happens as you reach the mountain hut Kališče, you are treated with spectacular views. On your left, you'll have Storžič, the highest mountain in the western part of the Kamnik–Savinja Alps, on your right Mali Grintavec, Srednji vrh, and a bit further away a popular ski center Krvavec, while the peak in front is the goal of the day, Bašeljski Vrh.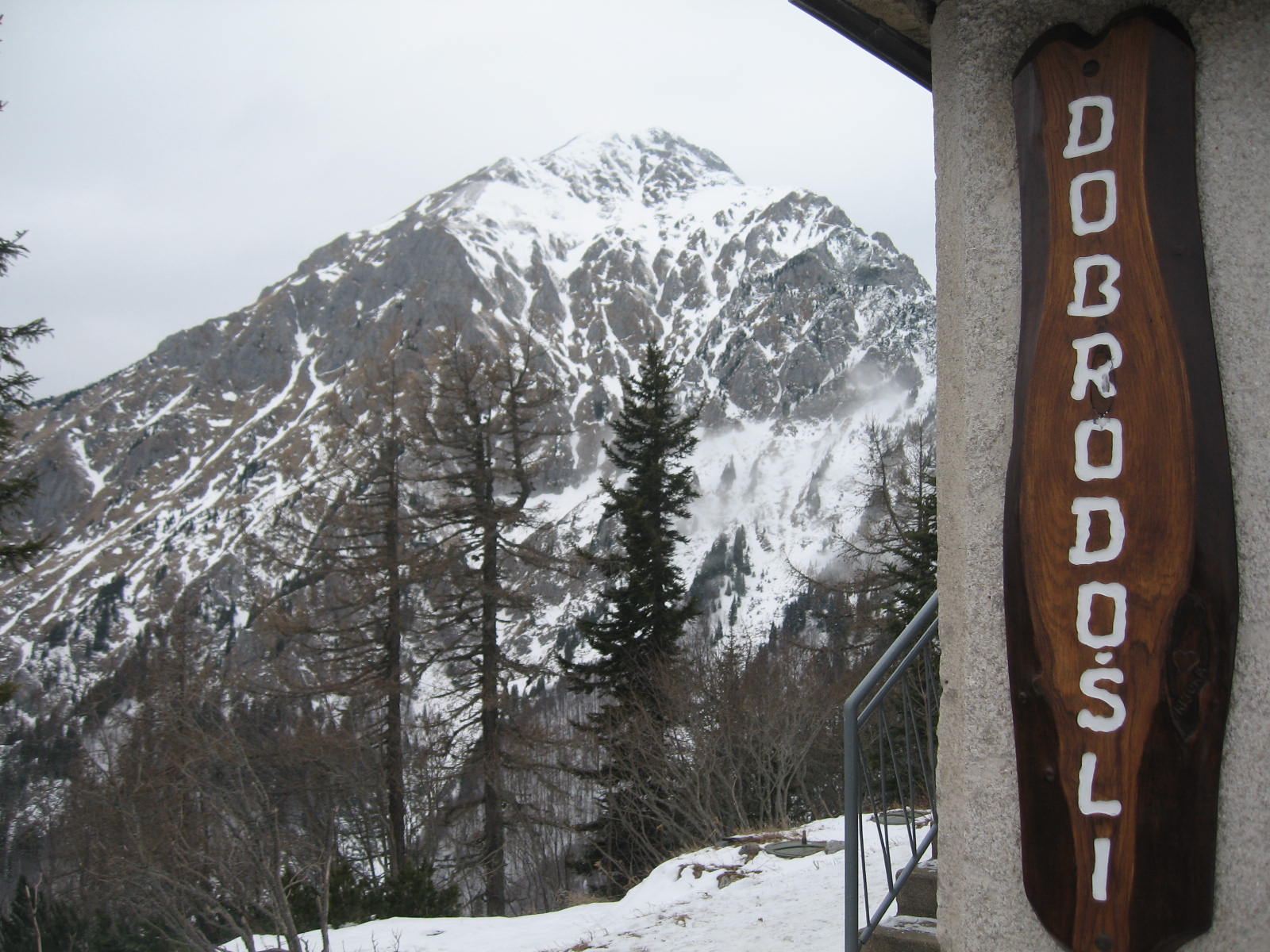 Unless the mountain hut is packed with people, which can actually be the case on sunny weekends, I always make a snack stop right there on a lonely bench overlooking the mountain range to the east. It's an old habit from the times when I was enrolled in the annual competition of who collects the most ascents to the hut. Sadly, the year I enlisted was the year I lost interest in hiking that trail altogether. A lesson learned: never ever enlist in something that will push you to do something you love… it will likely ruin it for you. In case you're wondering, I collected a mere 10 ascents that year and never enrolled again.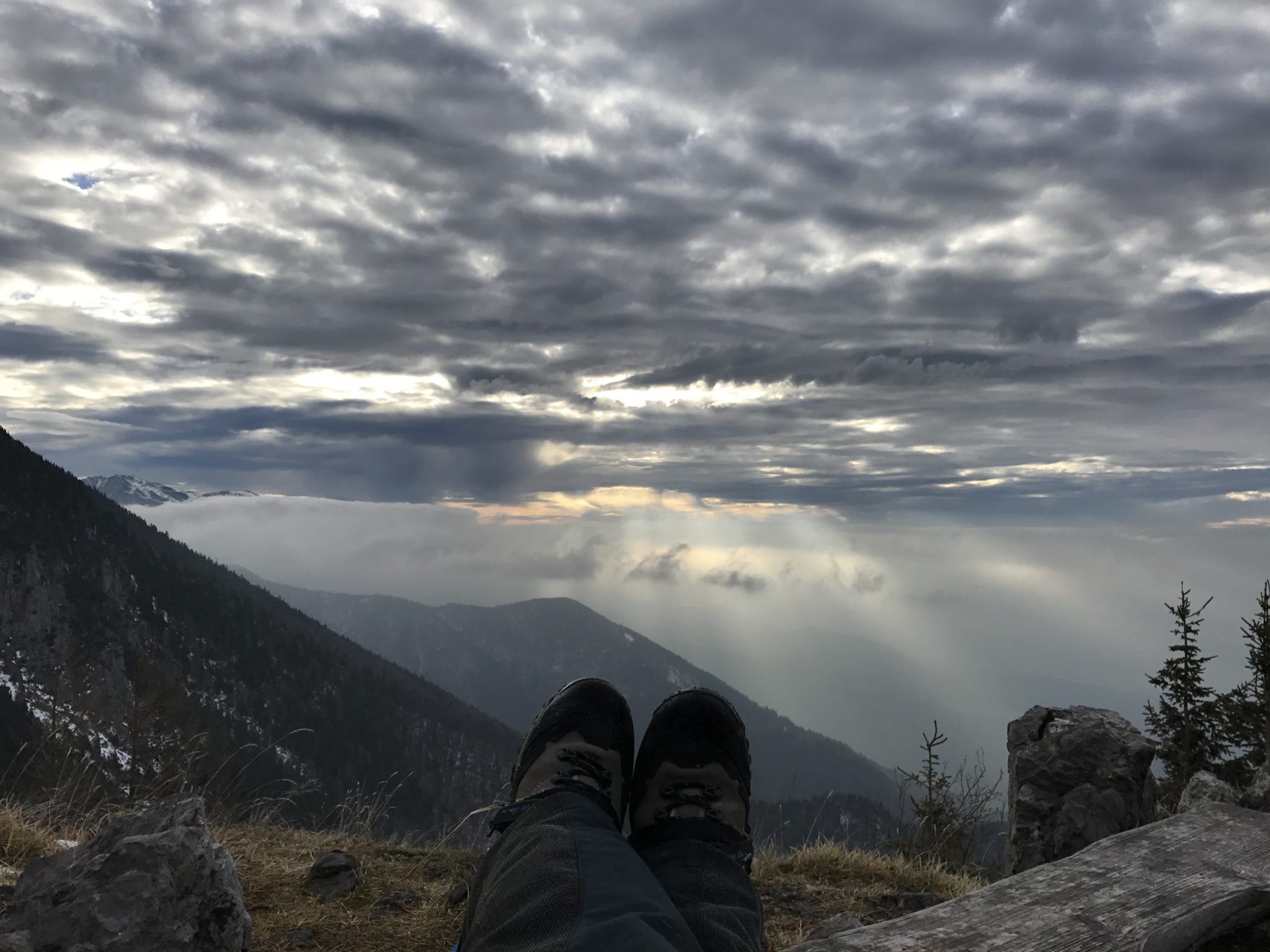 Anyway, I always have and probably will always love the laid-back atmosphere at the Kališče mountain hut, where everybody seems to know each other as they greet, chat endlessly and cheer over a glass of cold beer sharing heroic climbing stories. Last Thursday, though, the hut was closed and the benches in front empty. Having started at 6.45, I was the first to arrive and since it had been drizzling for an hour, not a whole lot more were likely on their way. The views, nonetheless, were still amazing as they can only be on a cloudy day.
The last section from the hut to the peak is incredibly enjoyable and beats everything beforehand with beautiful views going practically 360 degrees, and pretty pink flowers carpeted along the way in spring and summer. As you head further up the trail, you'll need to follow the one that's marked for Bašeljski Vrh. Well, you could always follow the marks for Storžič, but keep in mind that its trail is technically much more demanding and requires better gear and experience for a winter ascent. Or you could turn left at the second junction and do a round tour adding another two peaks to your trip, Mali Grintavec and Srednji vrh, but you'll need another two hours for completing it. So, if time is tight, Bašeljski Vrh is the safest bet and the trail so straightforward you can easily finish it with a headlamp.
Here's what awaits you at the top:

Stay tuned for more outdoor adventures! Follow us on Facebook, Twitter, Instagram, Youtube and subscribe to the feed.