I've written about climbing our highest peak over and over and over again. It's strikingly beautiful and climbing it fills you with indescribable emotions way beyond exhilarated. But then again, Triglav is surprisingly demanding and even in perfect conditions a serious ascent. Experienced climbers describe winter ascents to Slovenia's highest peak as a true challenge. You want to do it safely? Climb it with a mountain guide. Seriously.

The latest accidents in our mountains were a sad reminder of that thin line between climbing them safely and somewhat less safely. Safety is relative and varies constantly. It's a kind of combination of physical, mental, experience, preparation and gear, and lack of just one of the key ingredients could quickly lead to a dangerous situation and possibly result in dire consequences.


Have I mentioned before I found myself once hanging on a partly torn rope over a what could have easily become a 1,000-ft fall? While I'd been crossing a ledge, I tried to hold on to a rock that just wasn't firmly attached to the face. It came out pushing me to fall off the ledge. While I somehow managed to hold on to the rope, the falling rocks kept hitting the rope and my hand, and at one point, my grip loosened and I fell even further down swaying from one side to another until I finally stopped. I didn't panic, nor cry, yet I turned terrified seeing the rope that was keeping me from falling was torn. I was lucky, though. My climbing partner then is one of the most experienced mountain guides today. He improvised with the rope and threw me the undamaged part. The moment I attached myself to the new rope, I felt hugely relieved and, well, saved. Regardless of the injuries which I fully recovered from only a year after, I climbed to that ledge like a cat.
I might have walked out of that mountain like a winner, yet that experience changed my attitude profoundly and whenever I return to the mountains, I do it with utter respect.


Back to climbing Triglav in winter, I spoke with my friend yesterday about climbing it safely now with the snow, ice and possibly avalanches, and he offered to take on a few extra tours if any of you dear readers decided to come along on a guided adventure. He's not just any friend. Miha is an IFMGA certified mountain guide with 20 years of experience, mostly active in Chamonix, guiding people to Mont Blanc, but also returns home to lead Triglav tours, ski-touring adventures and other tours in the Alps. You would be in safe hands, to say the least.
Interested in a guided adventure? Drop me an email to info@exploringslovenia.com and we'll set all the details for a safe journey there and back.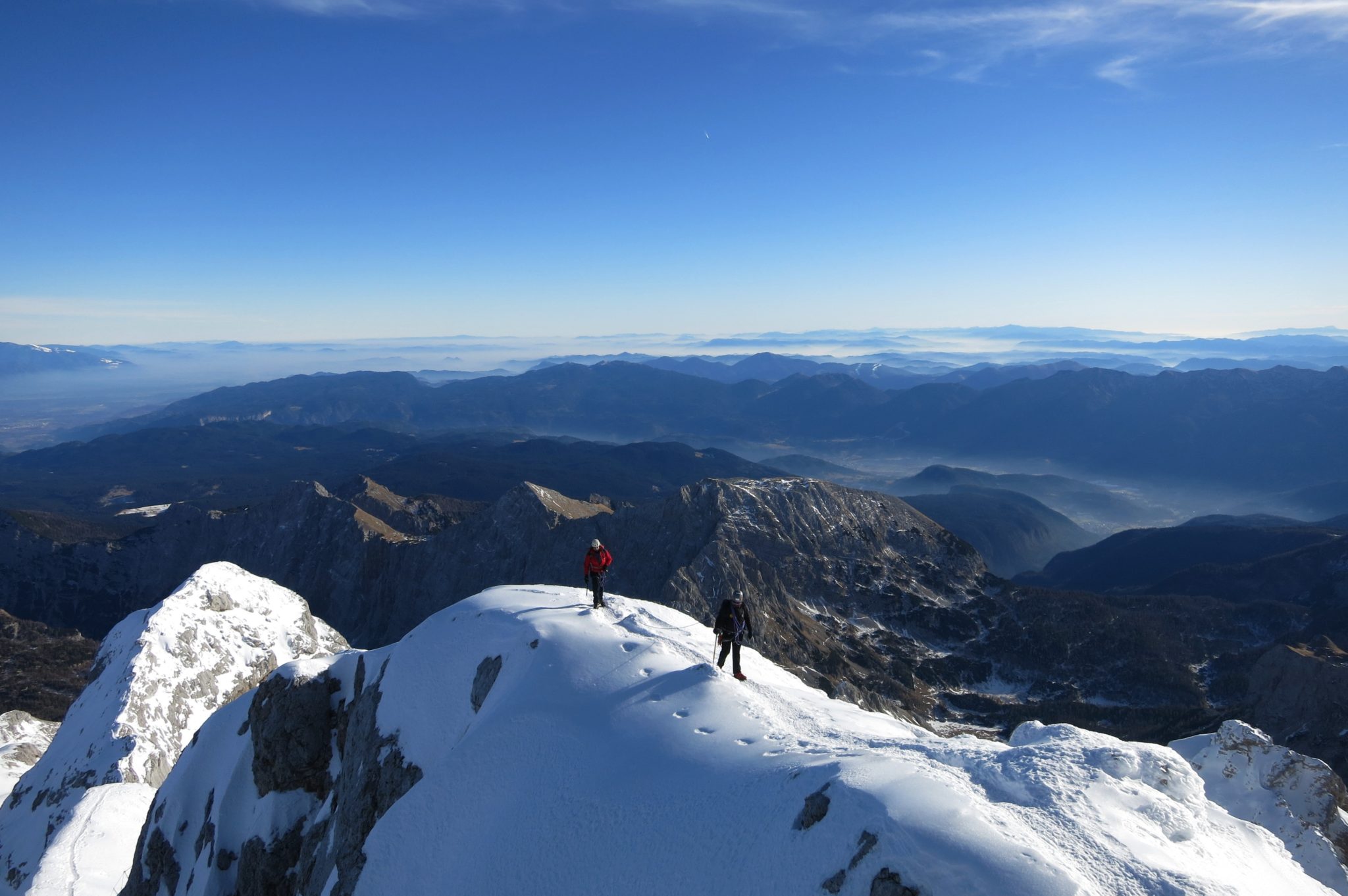 Here's to another year filled with sun, powder days, and starry evenings in mountain huts. I hope you come along for the ride!