Golica is often called the "mountain of daffodils", and for a good reason; in mid-May, the long slopes are carpeted with wild narcissi in full bloom, making the scenery look pretty otherworldly. If the first at the foothills of Golica start budding somewhere in late April or early May, the whole slopes of the Western Karawanks bloom a few weeks later. For many, a trip to the slopes covered with daffodils is a once-a-year experience, yet the stunning vistas attract not only the locals but tourists as well.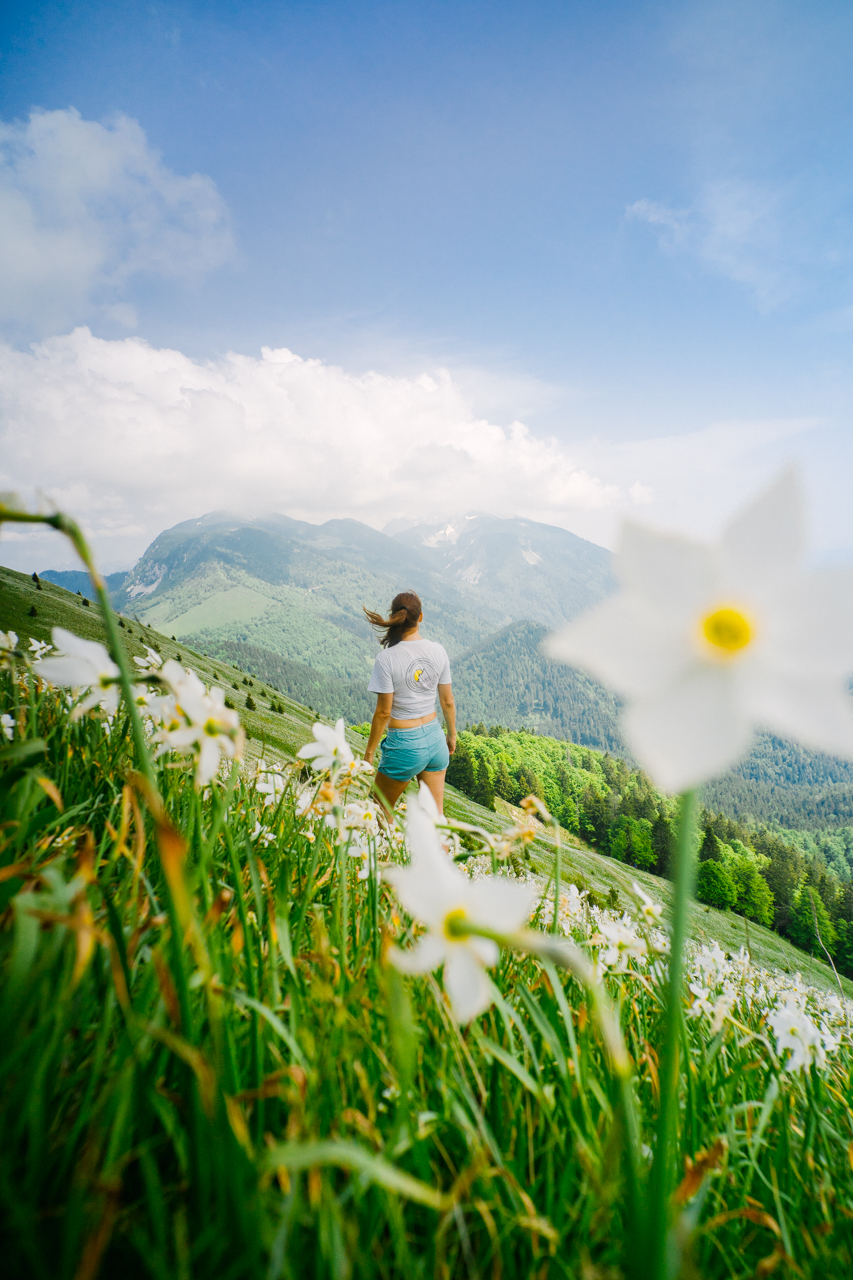 Guided hikes to the dreamy Golica
If I had meandered in early April over the vast slopes of Golica, searching in vain for wild daffodils only to find epic views instead, my Sunday trip turned out a real treat. Once out of the forest, just underneath the mountain hut, my dad and me separated from the rest of our hiking gang and followed a trail towards Mala Planina, a 1,646-meter-more-eastern peak along this mountain ridge. What we saw took our breath away.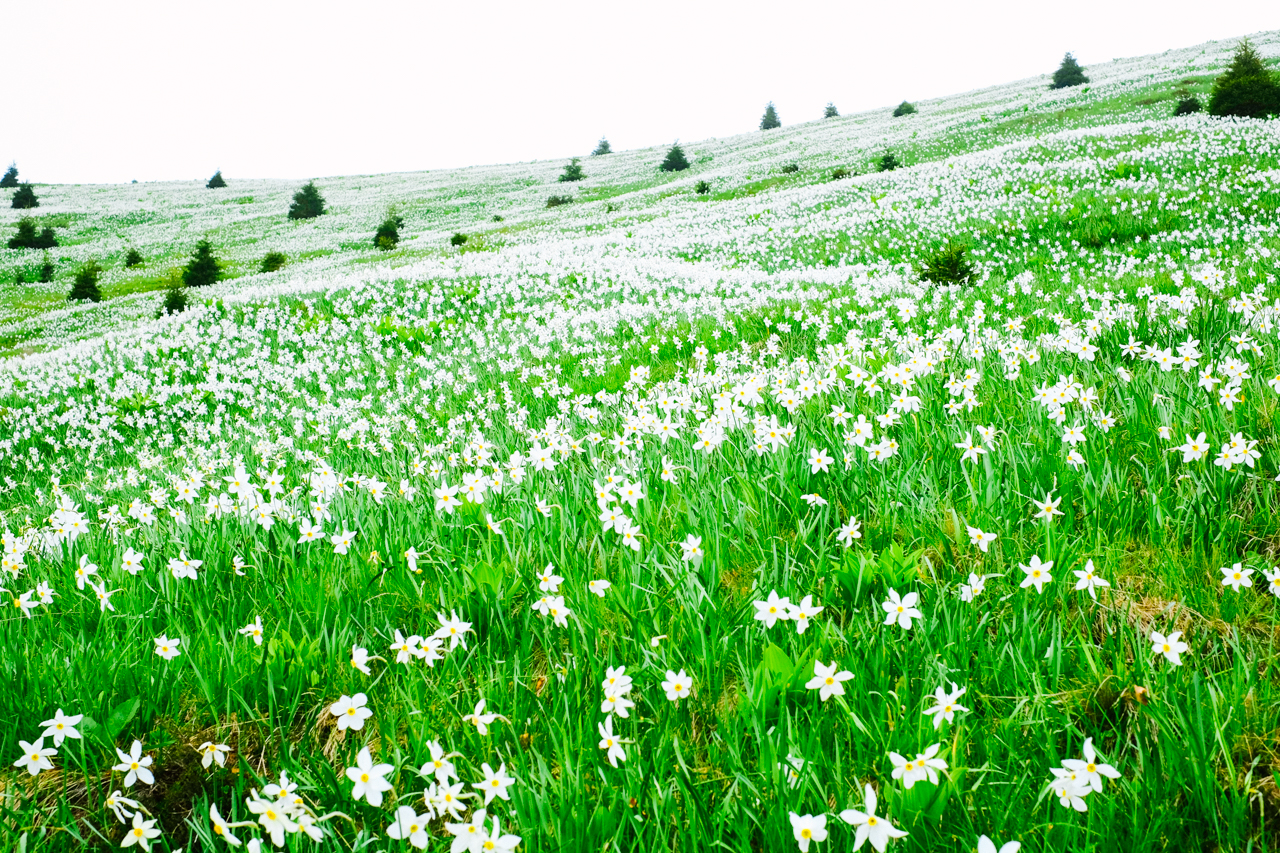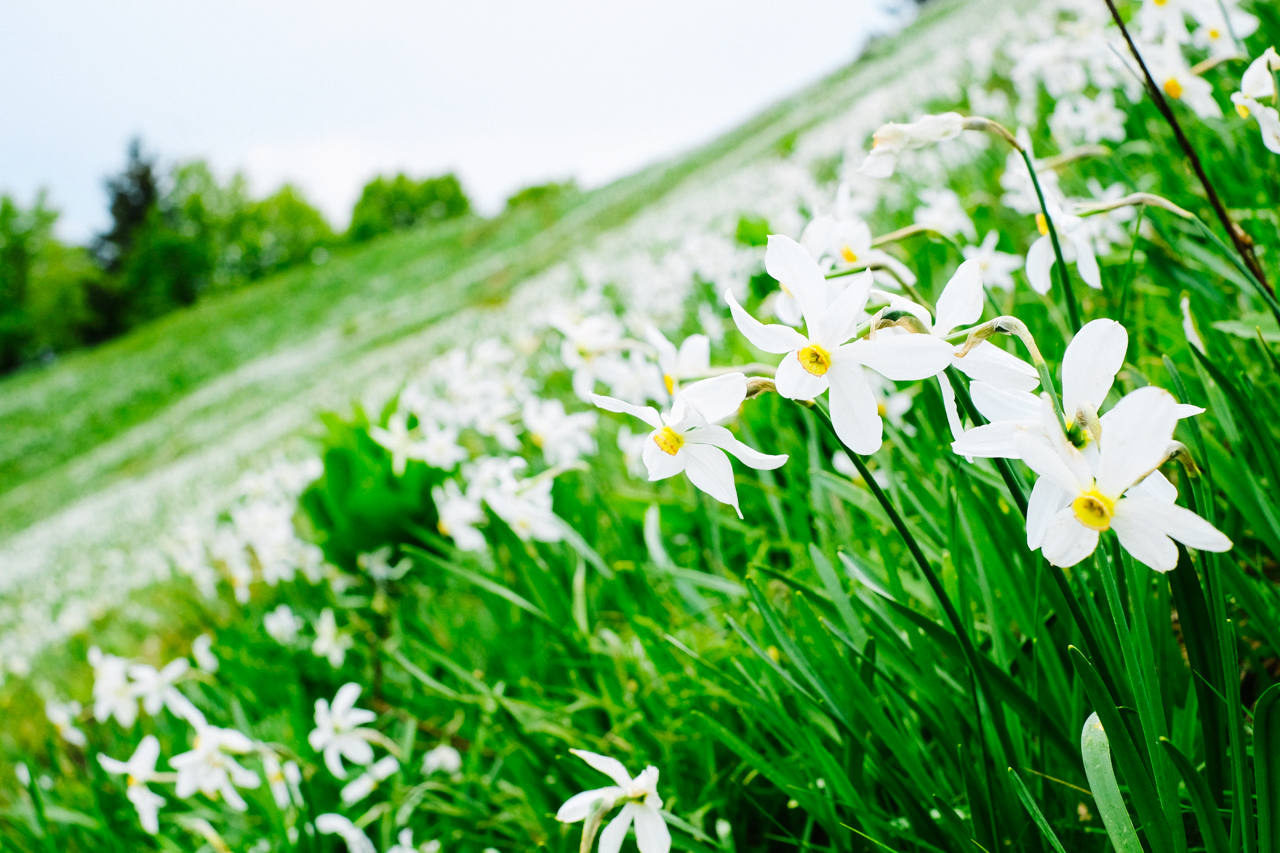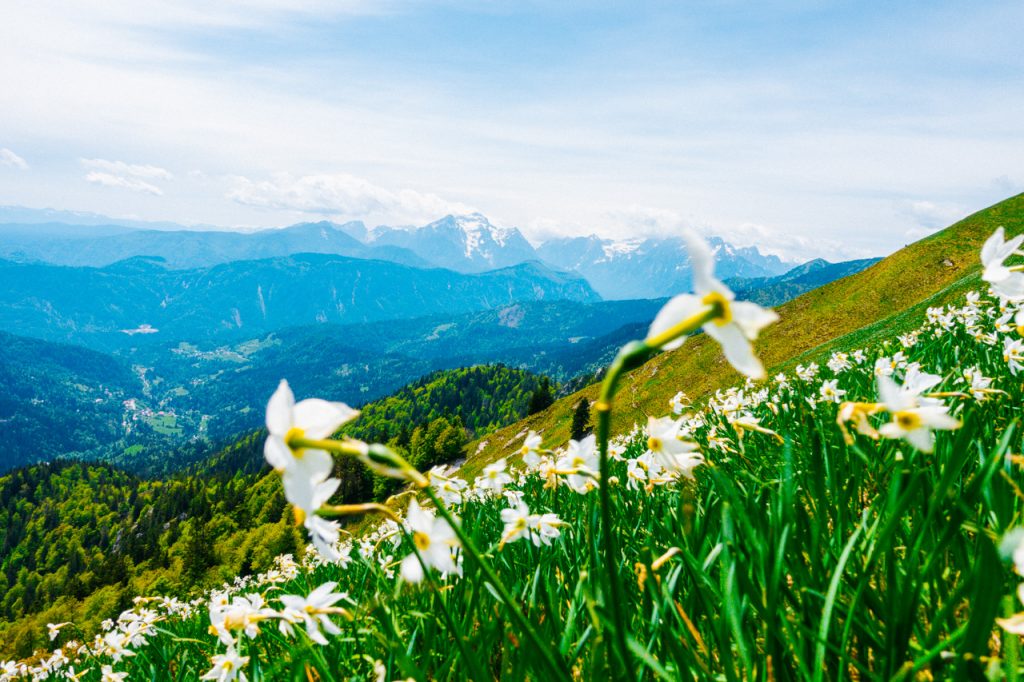 Hike with us! Check out our guided treks:
Explore the best of Golica
Conquer the highest peak of the Karavanke Alps, Stol
From Bohinj to Soča Valley
Triglav Lakes Trek
Yet, Golica is so much more than just pretty flowers, and one would make a huge mistake to end their jaunt there. Actually, it's a grand mountain that fuels adventure dreams beyond narcissi. For one, you can extend your hike with a scenic 40-minute walk along the ridge to the peak of Golica, 1,835 meters high. Since the mountain borders Austria to the north, you'll get to soak up stunning views of Slovenia on one side of the ridgeline and Austria on the other. The most daring of hikers even throw in a few extra hours to the trip and combine Golica with mountains further along the Karawanks mountain range like Dovška Baba and Stol. Last but not least, I've heard it's great for mountain biking and paragliding as well.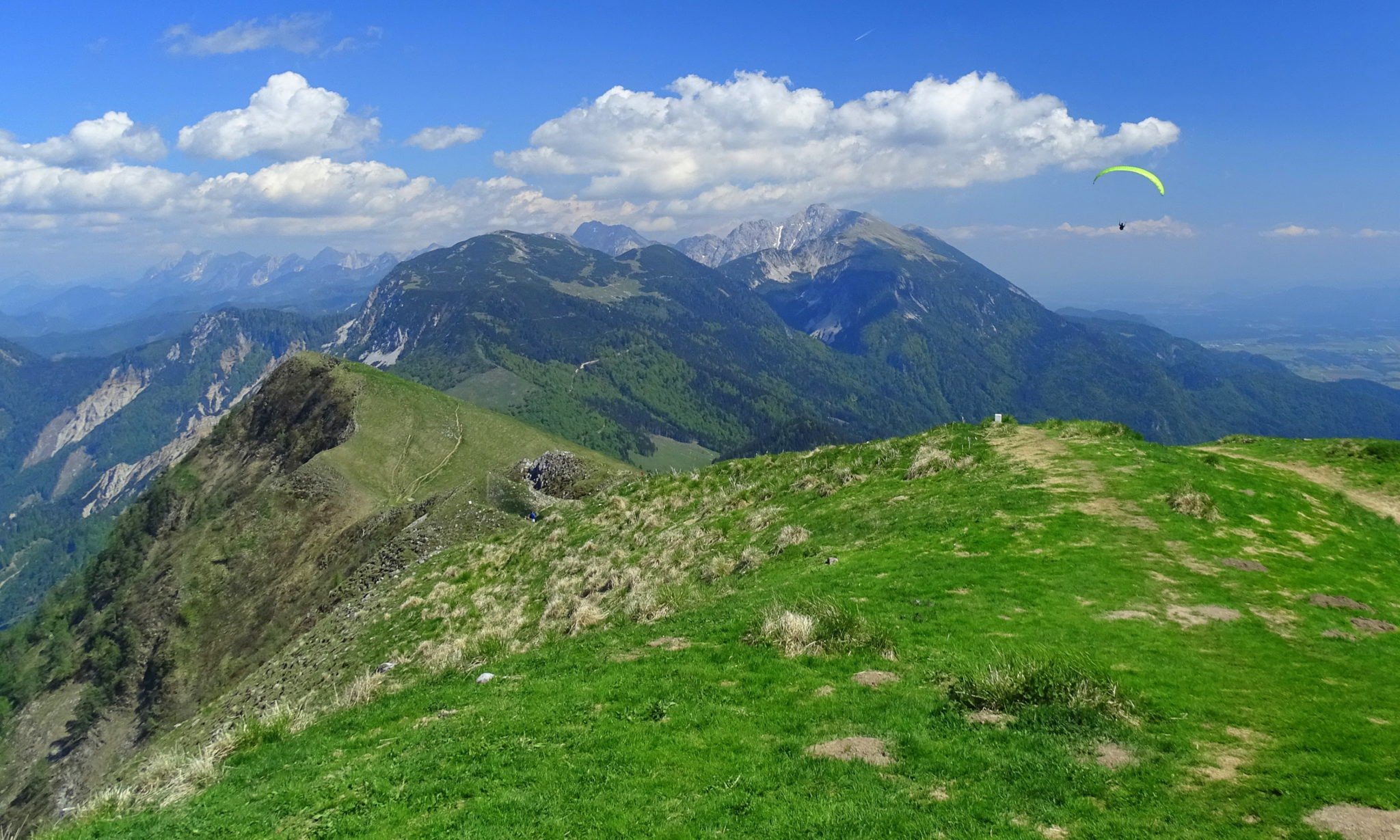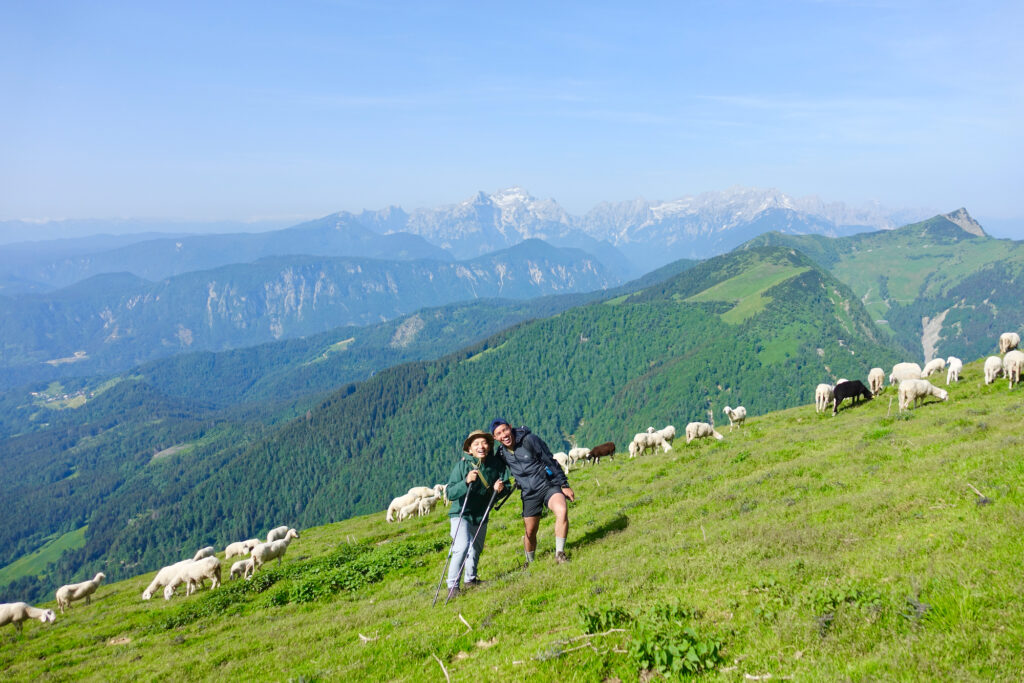 How to arrive at Golica?
Planina pod Golico, an enchanting village where the trail starts, sits above Jesenice, a town in the northwestern part of Slovenia. To find the road to Planina pod Golico, you'll need to drive through Jesenice and look for its direction board, located close to the town health center, pointing towards the mountains.
The stats?
If the classic trail to the mountain hut below the Golica peak is marked for 1.5 hours and the peak adds extra 40 minutes, you'll need approximately 4 hours for a return tour. For those aiming to catch a glimpse of the famous daffodils and follow my so-called daffodils route (Planina pod Golico – mountain hut – daffodils on Mala Planina – peak – Jekljevo sedlo – mountain hut – Planina pod Golico), make sure to add another 1-1.5 hours to the trip. The daffodils route is about 10 kilometers long and ascends about 900 meters.
Hiking Golica with kids
While I'm sure your kids will be hopping and singing all the way to the peak, my little grouches called it a day once at the mountain hut. So, while my dad and me continued alone along the daffodils route, the kids were relieved to wait by the hut with other three grandparents and a bunch of tired little warriors. To be honest, not many kids passed that point the other day. Still, not having babysitters at hand doesn't equal to not seeing daffodils. While there are plenty growing everywhere on vast grassy slopes along the way, according to the map, there seem to be even more flowers closer to the hut just a little further along the trail to Jekljevo Sedlo.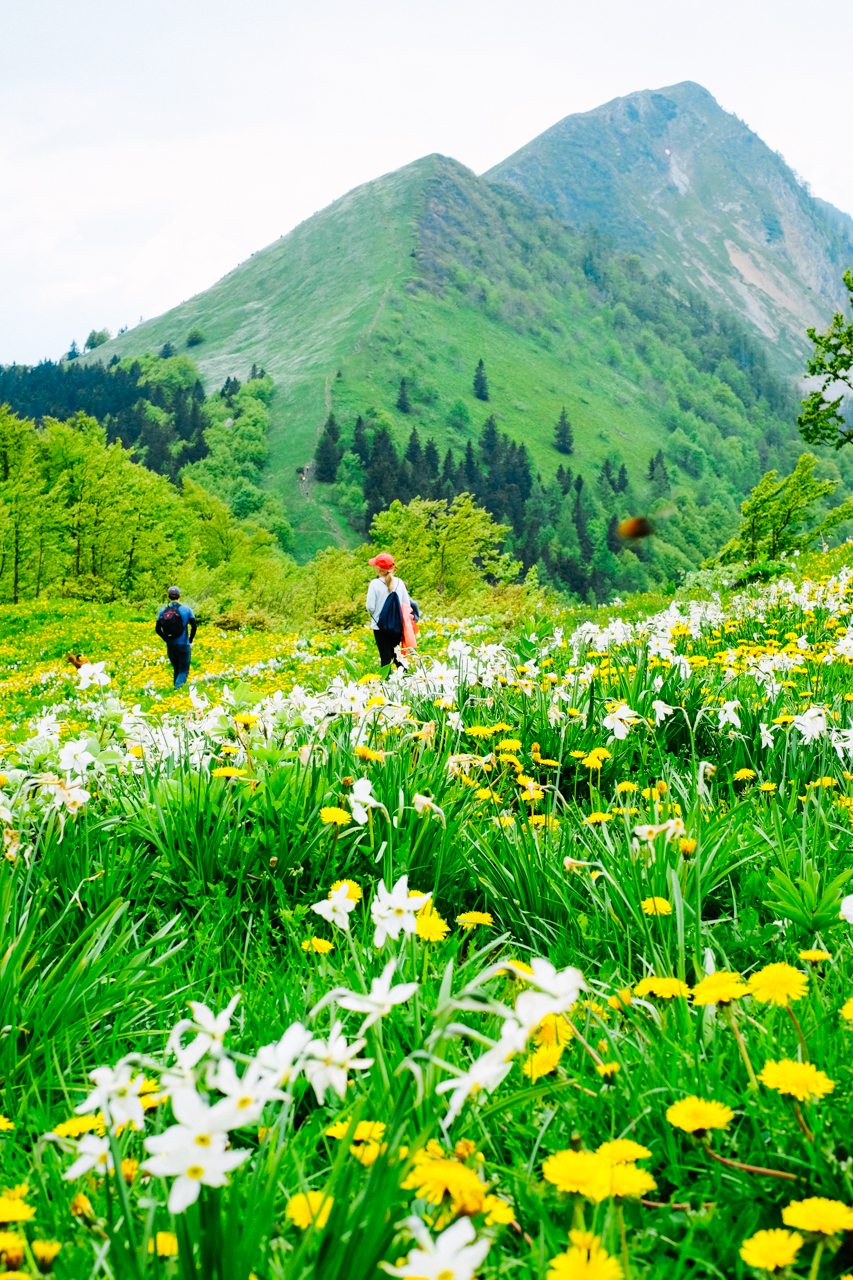 Anyway, mark your calendar for mid May and prepare for an amazing day in the mountains as Golica and its endless fields of wild growing daffodils might literally blow your mind. I swear, it's that amazing!
Read about hiking among purple fields of crocuses on Velika Planina
Stay tuned for more outdoor adventures! Join fifty thousand Exploring Slovenia fans by liking us on Facebook, Twitter, and Instagram. If you enjoyed this story, sign up for the monthly exploringslovenia.com/blog newsletter. A handful selection of stories from Hiking and Climbing in Slovenia, delivered to your inbox every month.
Looking for a gorgeous tour in the mountains? Exploring Slovenia offers guided hiking and climbing tours!