Larches along the trail sparkle golden in the setting sun, the curvy land turns quiet, and views capture a playground of jagged peaks and endless golden forests underneath. That's Kranjska Gora right now. If you're into the great outdoors and would like to enjoy spectacular colors nature has painted so generously this year, then you should definitely take these two hiking trails around Kranjska Gora.

Mt. Trupejevo Poldne, 1,931 m
Arguably the best kept wilderness secret, Trupejevo Poldne should rank as Kranjska Gora's top classic for hiking in the fall. Head there to soak up cinematic views over long ridges of the Karawanks, high peaks of the Julian Alps including Triglav, and Austria. The best part? There are eight possible trails to climb, ranging from serious four-hour trips (one-way) to a short one-hour walk suitable for young families as well. While none of the eight trails is marked with paint blazes, they follow nicely visible tracks you can't really miss.
If I wanted to hike alone, I would probably opt for the 2.5-hour trail starting in a village right above Gozd Martuljek, a neighboring village of Kranjska Gora (see the trail description). Even the trailhead in Srednji Vrh (accessible by car) is so scenic one could easily visit just to soak up those epic views of the Martuljek Mountain Range of the Julian Alps, which seems really like a stone's throw away.
Hiking Trupejevo Poldne from Železnica
Back to Trupejevo Poldne. If you're hiking with your family like me or just need a quick stretch of the legs, then choose the shortest trail (description), which starts from Železnica. The gravel road from the Korensko Sedlo Pass to the trailhead is not in its best shape, while it's also about 11 km long, but no need for a four-wheeler, a normal car will do. Since there are no mountain huts on the way, make sure you bring your snacks and water along.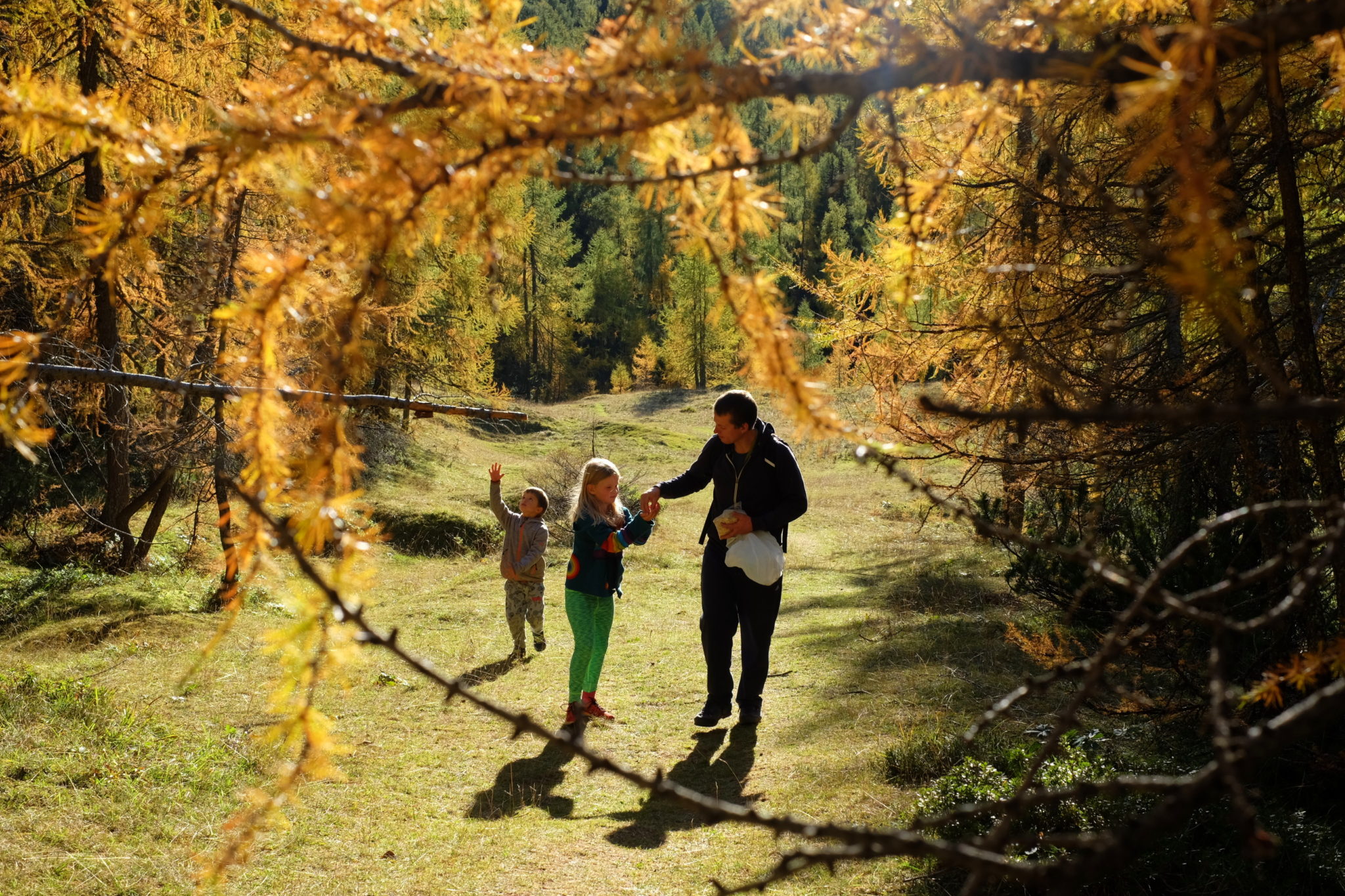 The trail? While the trail itself is easy and you'll probably need no more than an hour (and a half if you're hiking with kids) to conquer those 361 m of ascent, make sure you watch your step through the top section as its north side is extremely steep and one wrong step could potentially lead to a massive fall. If you're with kids, let them walk on the lower end and hold their hand throughout the top section.

Slemenova Špica (Sleme), 1,911 m above the Vršič Pass
A picturesque mountain that's easily accessible with minimal effort? Slemenova Špica for sure. And guess what, the fall has waved its magic wand here as well, painting it all golden and brown, which contrasts incredibly well with the large rocky faces of Mt. Mojstrovka towering above Sleme. Especially in the morning.
That's why I set my alarm for 5.30 last Saturday, when we were spending a nice family weekend in Kranjska Gora, and drove along the famous 24 switchbacks to the Vršič Pass, 1,611 m. From there, it's merely a walk to the top of Slemenova Špica (see trail description). The stats? You do 300-m elevation in about one hour if you're normally fit. While I'd hiked it once with my kids, walking alone underneath the large cliffy face of Mojstrovka before dawn with the trail poorly lit only by a headlamp is a different sort of experience altogether. An incredible experience as a matter of fact.
As it turned out, contrary to big expectations, the sunrise from Slemenova Špica that day was unfortunately obscured by thick clouds that lingered high above until 10 am. The larch forest at the top, which can turn golden as soon as dawn casts its first rays on a clear morning and as such offers spectacular views of Mt. Jalovec, stayed calm this time in the shade of grey clouds.
Stay tuned for more outdoor adventures! Follow us on Facebook, Twitter, Instagram, Youtube and subscribe to the feed.