With the early snowfall coloring the peaks of our highest mountains white, my thoughts go back to a special two-day climb in late August to three beautiful mountains in the Julian Alps I was honored to climb with my Dutch-Austrian friend Georg. Originally, we had been planning to climb Triglav over its 1-km high vertical North Face taking the Prag Route on the first day and explore the Triglav Lakes Valley on the second day, but as fate would have it, Slovenia experienced a sudden extreme drop in temperature just a few days before our trip and the mountains above 1,800 m dressed in an unexpected 30-cm snow cover. That called for a quick last-minute change of plan, and instead of climbing the Triglav North Face, we rather opted for the southern slopes of the spectacular mountains on the opposite side of Vrata Valley, also home to the beautiful Alpine ibex.



Our new plan? Since we had no idea what the actual conditions were up in high mountains, and couldn't ask anyone about them, as we were basically the first to walk up there after the snowfall, we figured that the best way was to play it by ear and decide on the spot what to do. The only fixed plan were the two overnight beds booked in the Pogačnik Hut at Kriški Podi (Slo. Pogačnikov dom na Kriških podih), meaning we had two days in the mountains to climb at least something big. I was also quite sure that the forecasted sun and nicely warm temperatures would melt the snow on south-facing slopes by the afternoon, while the initially planned northern slopes of Triglav would keep the snow for a few days. With this in mind, we headed towards the land of the Alpine ibex.
About two hours into our hike with that first tingle of hunger in our stomachs after crossing a good part of the steep almost 1,000-m high Sovatna slope, we decided it was time to take a short break. But it wasn't until we sat down to rest that Georg noticed a group of about ten Alpine ibexes leisurely lying on rocks not more than twenty meters from us.
With altitude, snow slowly began building up with occasional patches of ice mostly in shady exposed spots. At that point in the morning, all peaks around us looked pretty impossible to climb safely with so much fresh snow, so we just continued our way to the Pogačnik Hut.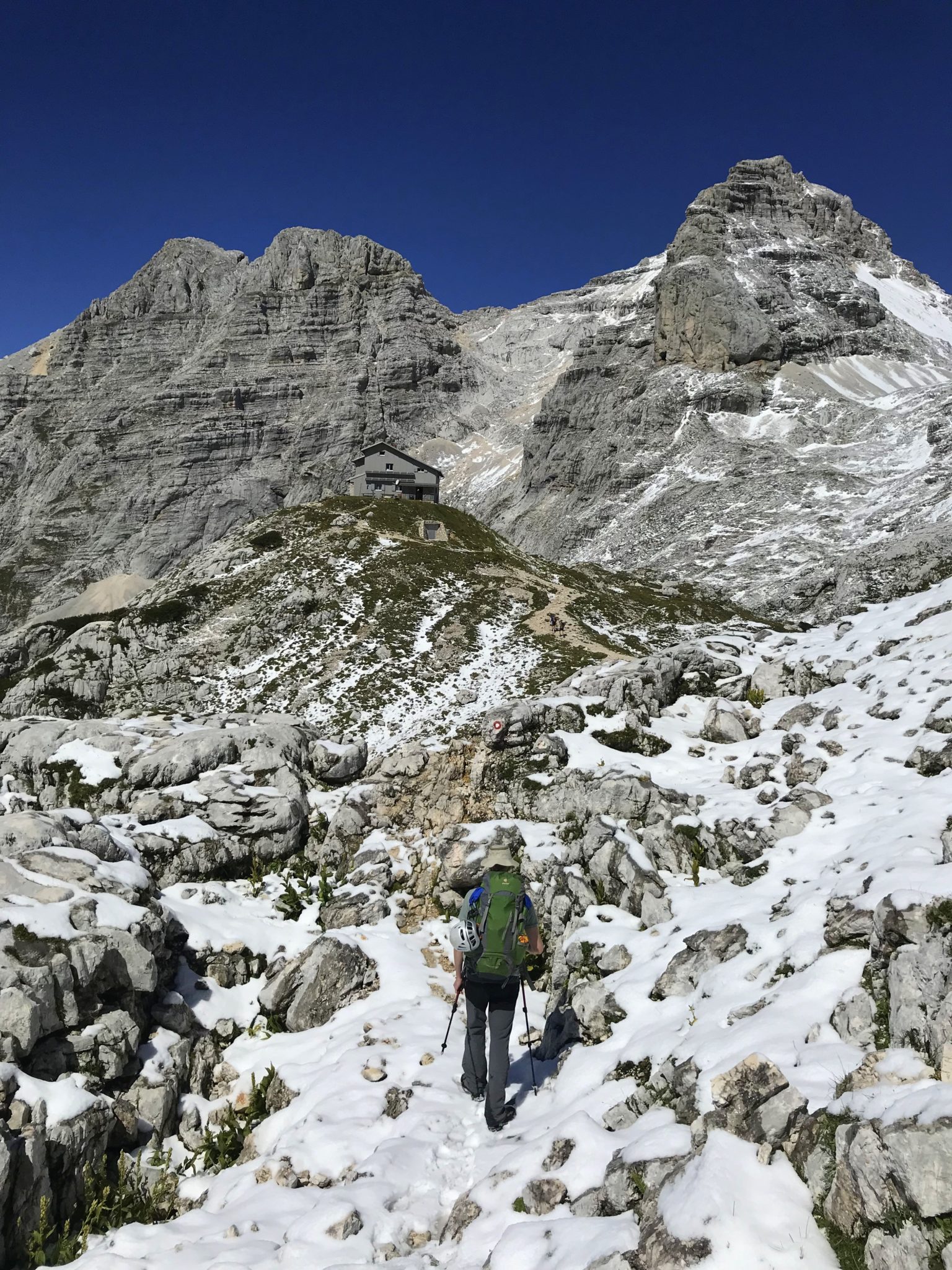 That afternoon was quite another story. The snow had almost melted on the southern slopes of the mountains surrounding the hut, and since days were still long, Georg and I headed to explore the 100-meter wide Upper Križ Lake, which at 2,158 m is the highest lying Alpine lake in Slovenia, and from there directly to the Mt. Križ, 2,410 m. Except for scrambling up a steep scree slope to reach the trail, the trail itself was relatively easy – a steel cable here and there and one short steep part that required some degree of resourcefulness pulling ourselves up, otherwise all nice and easy. Most importantly, there was no wet slippery snow on exposed spots anymore!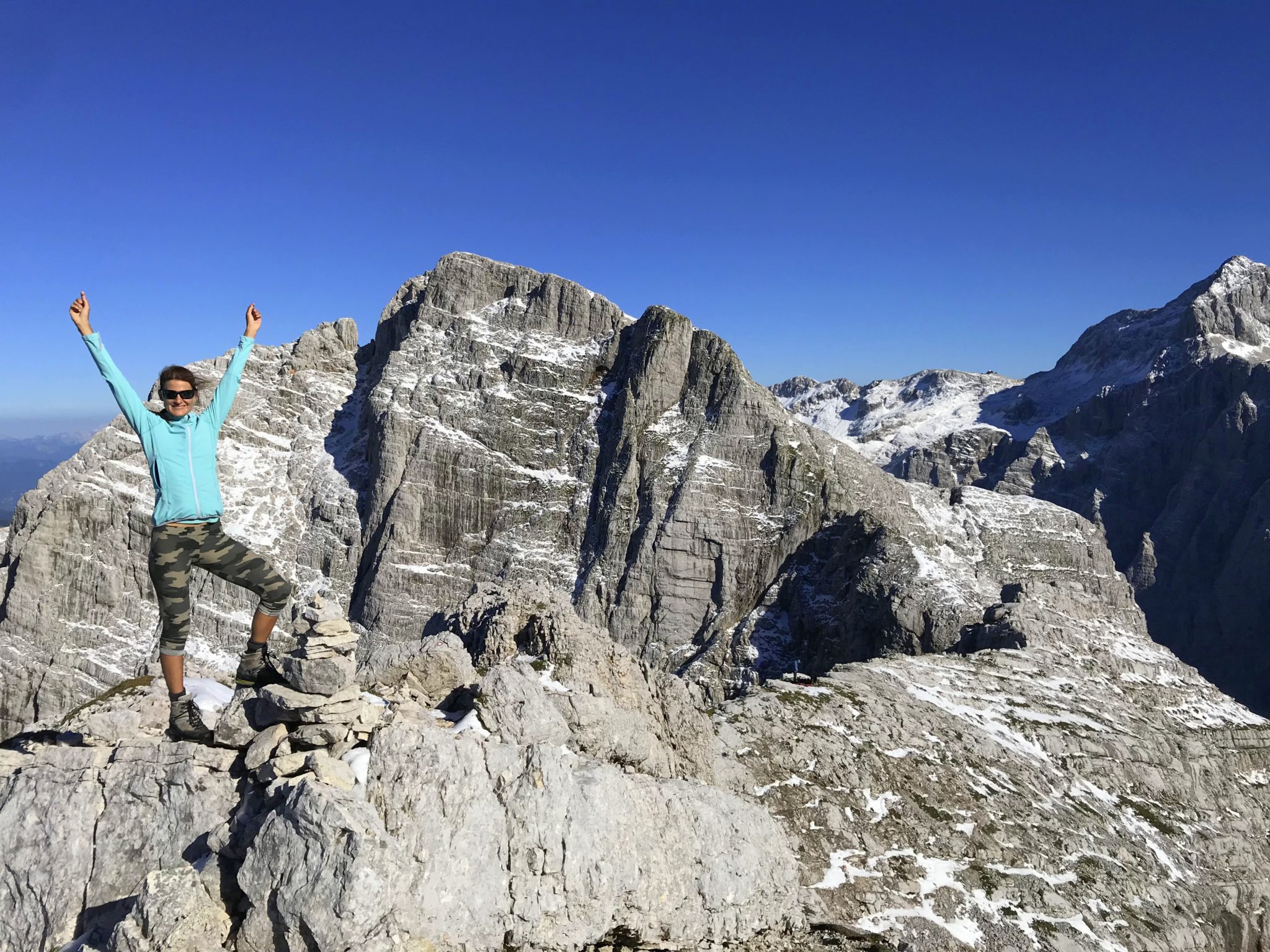 By the time we reached the Pogačnik Hut again, it was already lit in those vibrant evening colors and the towering peaks surrounding the hut were already colored golden by the late afternoon sun. After a big dinner and quite a few games of cards with Georg and Petra, an awesome guide from Croatia, the hut-keeper closed the dining room and so it was time to turn in for the night.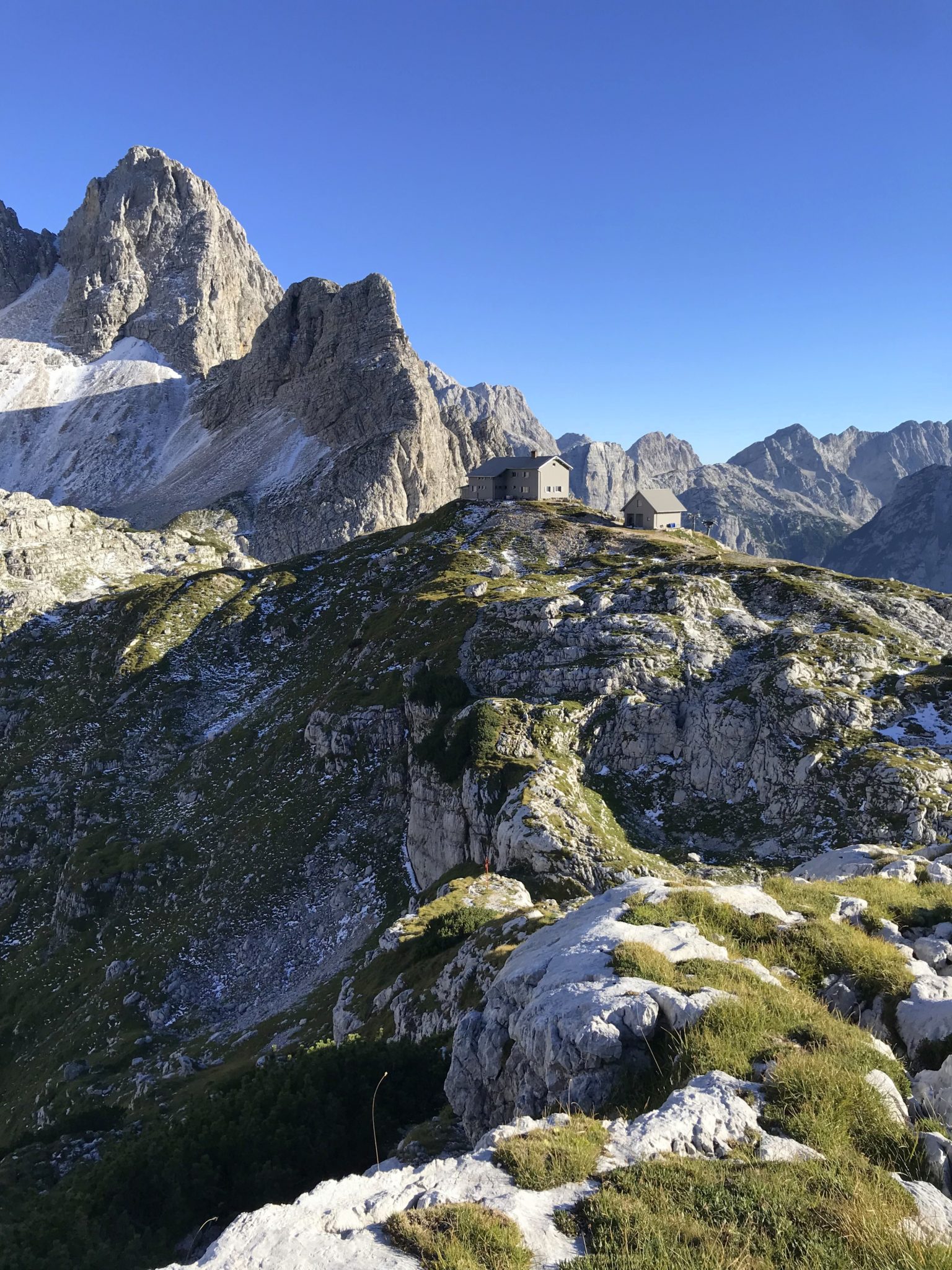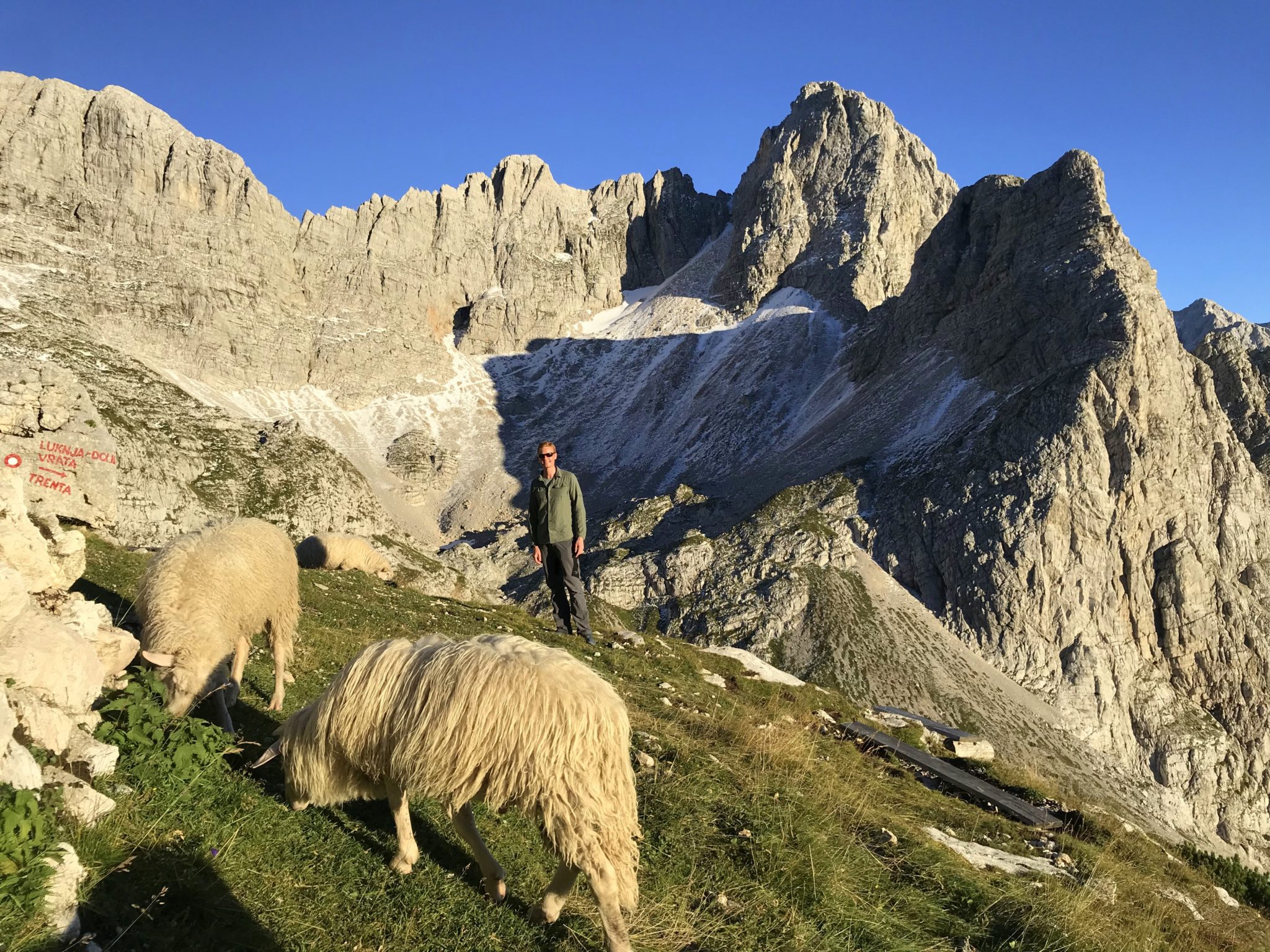 https://youtu.be/FJl3G9vaGYo
After breakfast the next morning, with the sun still low, yet scorching hot for Georg and me, climbing our way up a steep slope of Mt. Planja, 2,453 m, more Alpine ibexes were hopping up large rocks as if weightless. Our backpacks were far from weightless, though, and so we arrived at a mountain saddle between Mt. Planja and Mt. Razor, the sixth highest mountain of Slovenia, a bit out of breath. Given how near the top of Mt. Planja we were, we left our heavy backpacks at the saddle and hopped our way up like our weightless fluffy buddies. It felt invigorating! And the views from the top? Simply breathtaking!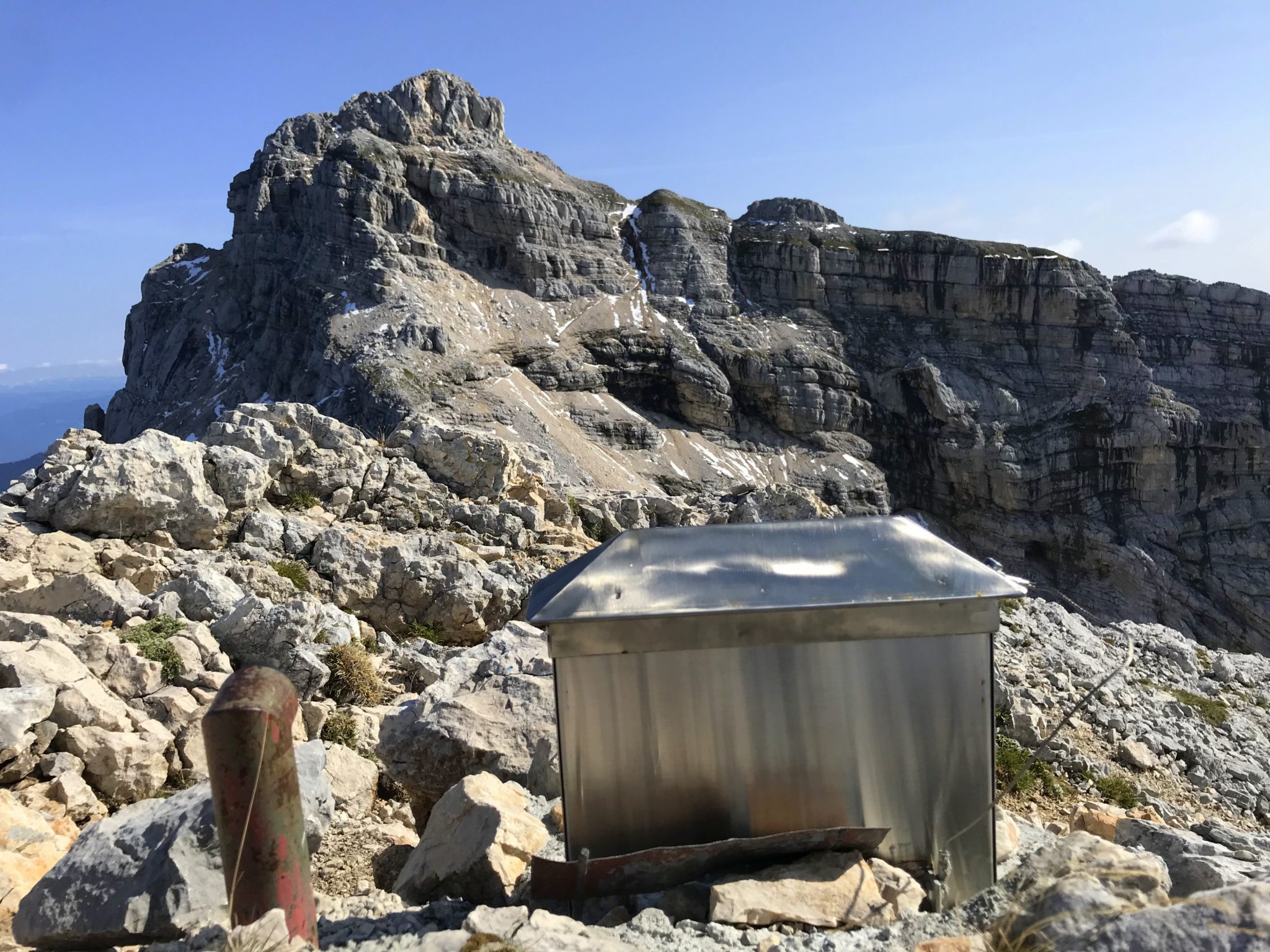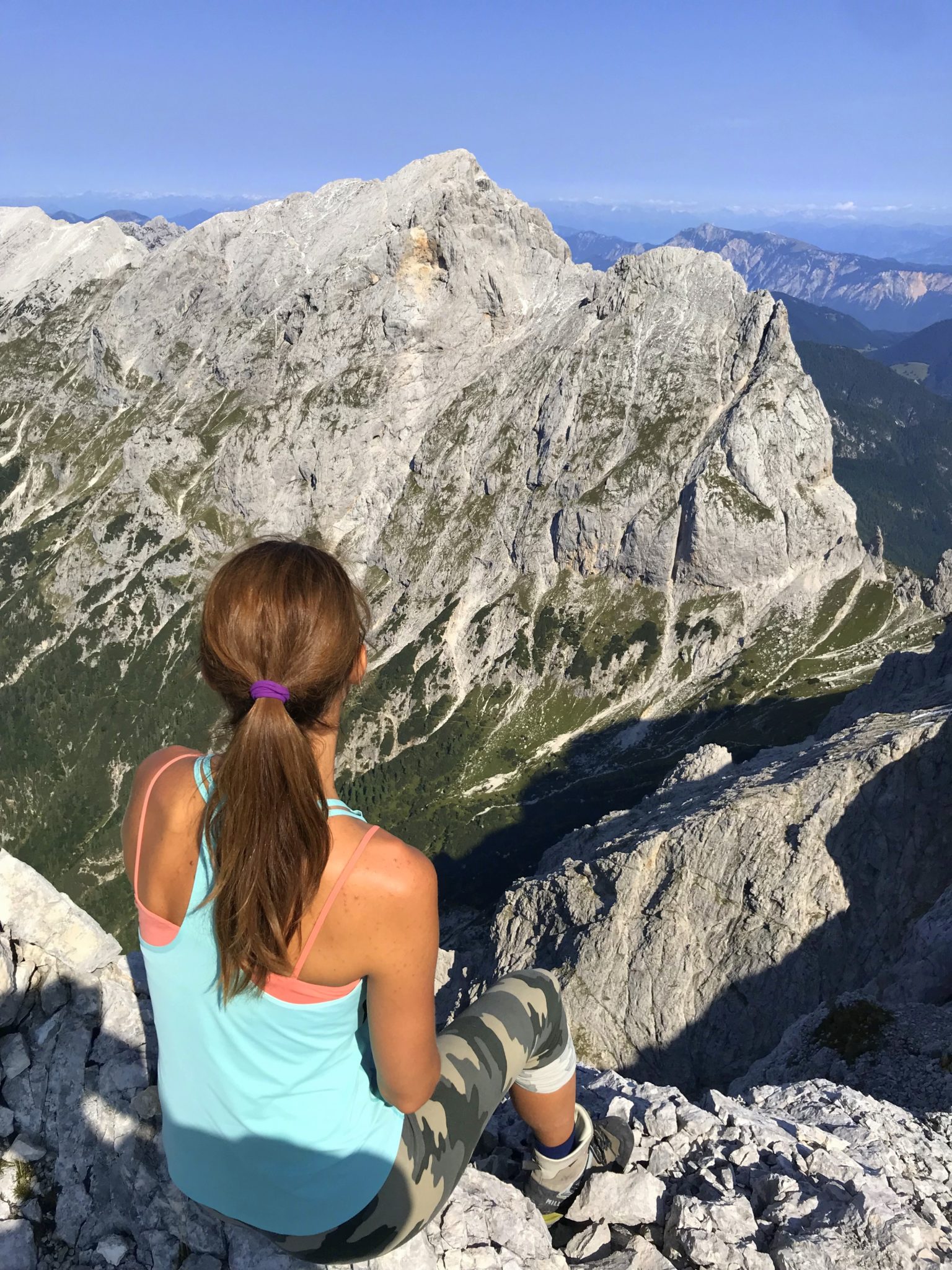 Mt. Planja checked, we headed towards Mt. Razor afterwards, again fully equipped with backpacks. We were sort of hoping we could descend Mt. Razor, 2,601 m, down another route and make a nice round tour down to Vrata Valley, but after talking to other mountaineers on the trail, it became clear we needed to return down the same way. Again, we left our backpacks about 20 minutes from the peak, strapped on the climbing harness, a helmet and a via ferrata set, and after a quick debriefing of how the safety system works, we set off for the peak.
You see, Georg had never had a real taste of a via ferrata before and was obviously a bit concerned about climbing 20 meters vertically in the mountains. However, he had raced along America from Seattle to New York in a sailing regatta, walked on lonely paths of Bhutan for a month, and explored remote mountains of New Zealand by himself using a map and a compass. Yes, I was pretty sure 20 meters of vertical wouldn't stop that guy from climbing a mountain he had set his mind on! As it turned out, after a few minutes of mentally adjusting to the new vertical world, Georg started to enjoy the climb, making more plans for trying other via ferrata routes once back home. Mount Razor, however, turned out as rewarding as expected, if not more!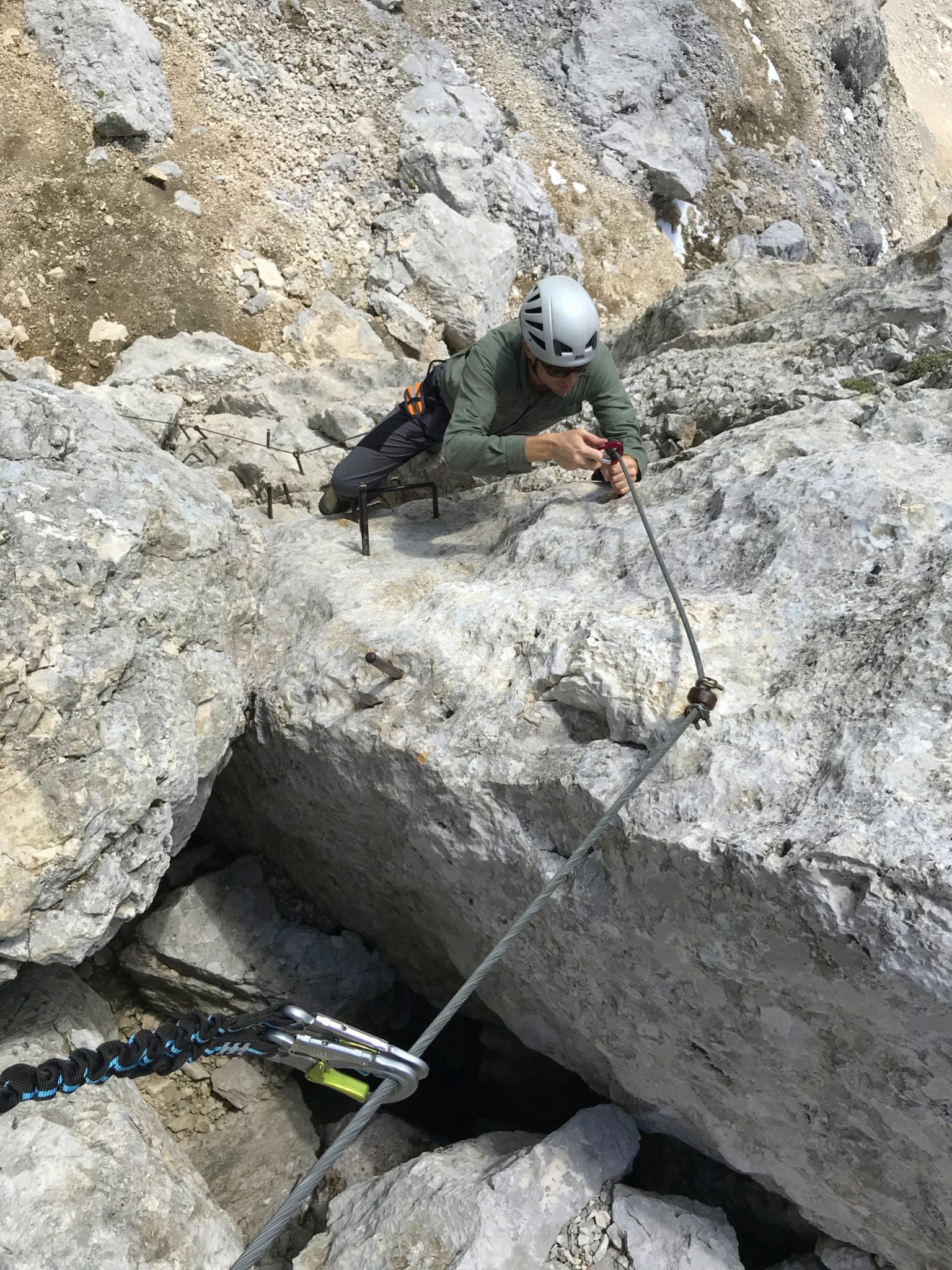 Once back at the hut for lunch and afterwards walking back down to the valley, the adrenaline from the climb was slowly wearing off, yet we were still stranded between the otherworldly towering mountains of the Julian Alps and green valleys and forests we call home. If there's one thing truly spectacular when walking down that part of the Julian Alps, and never seems to captivate my heart any less, it is its direct view of the Triglav North Face. One can't help themselves but make new hiking plans for the immediate future, right? ?

Stay tuned for more outdoor adventures! Join sixty thousand Exploring Slovenia fans by liking us on Facebook, Twitter, and Instagram. If you enjoyed this story, sign up for the monthly exploringslovenia.com/blog newsletter. A handful selection of stories from Hiking and Climbing in Slovenia, delivered to your inbox every month.
Looking for a gorgeous tour in the mountains? Exploring Slovenia offers guided hiking and climbing tours!