There is no such thing as a perfect family weekend, yet picking the right setting can play a crucial role in either surviving the weekend or truly enjoying yourselves. After two pathetic weeks of exchanging places in our rehabilitation bed drinking hot tea and inhaling anything that supposedly sped up our recovery, we were all anxious to get outside and just start enjoying life again. We booked an apartment for the weekend in Kranjska Gora, a small sunny town in the midst of outdoor paradise, as there would be activities for everyone. As it turned out, the place was awesome, while its countless sports options fitted the whole family.

With no particular hiking plan in mind, I set off in the early dawn on Saturday morning and headed towards the emerald source of the Sava Dolinka River called Zelenci. The Zelenci Springs are basically a big swamp full of rare plants and water adapted animals, where water re-emerges from the underground Nadiža Creek. Although I visited the place a month before and captured the emerald side of the springs, the incredible spot lured me back to experience it in the soft sunrise colors.


The temperature was far below freezing (about -15 degrees C) but the sky was flawless. The mists rising from the springs with high mountains behind, lightly painted in soft pink, put on a completely different face from the usual noisy middle-of-the-day experience.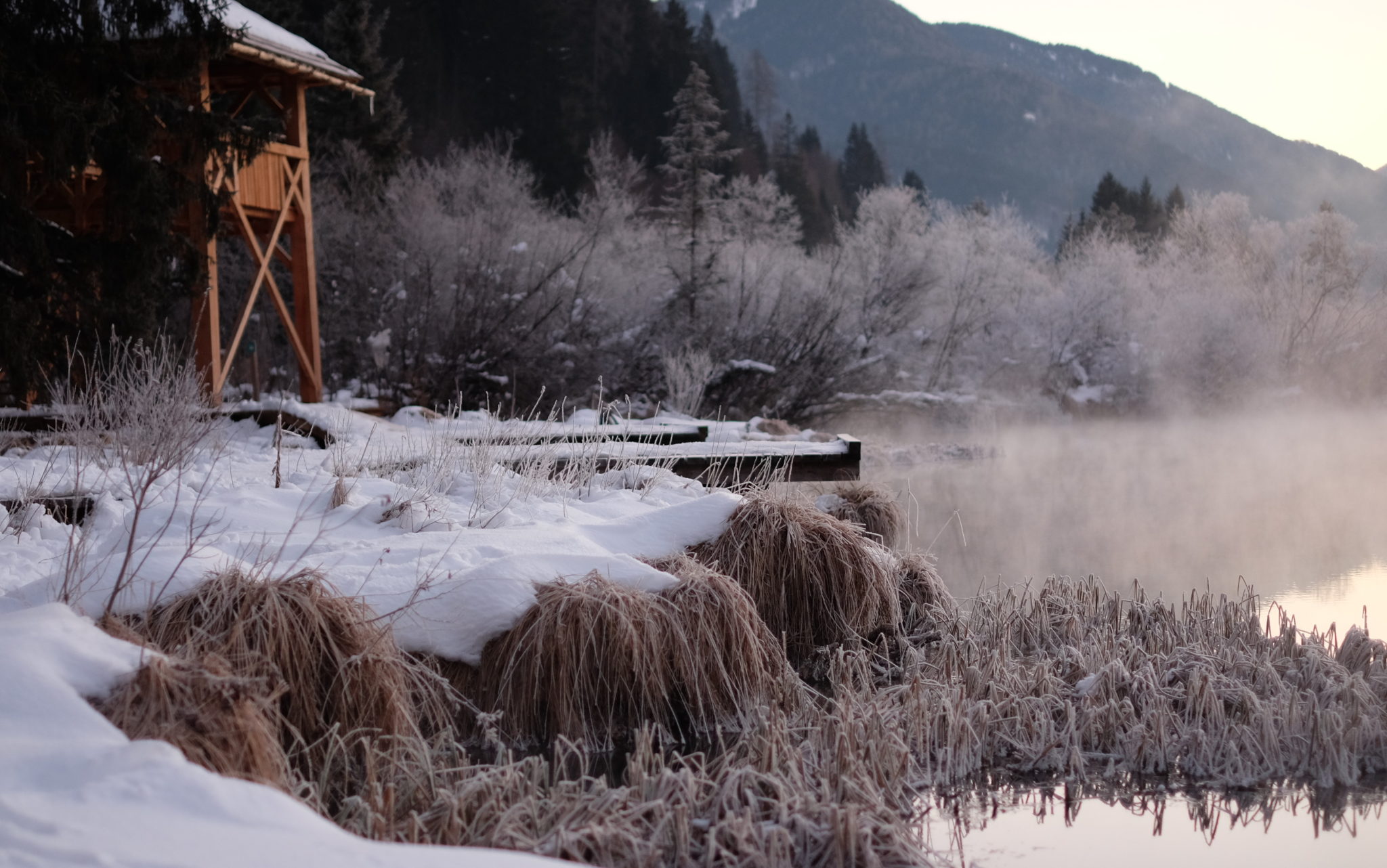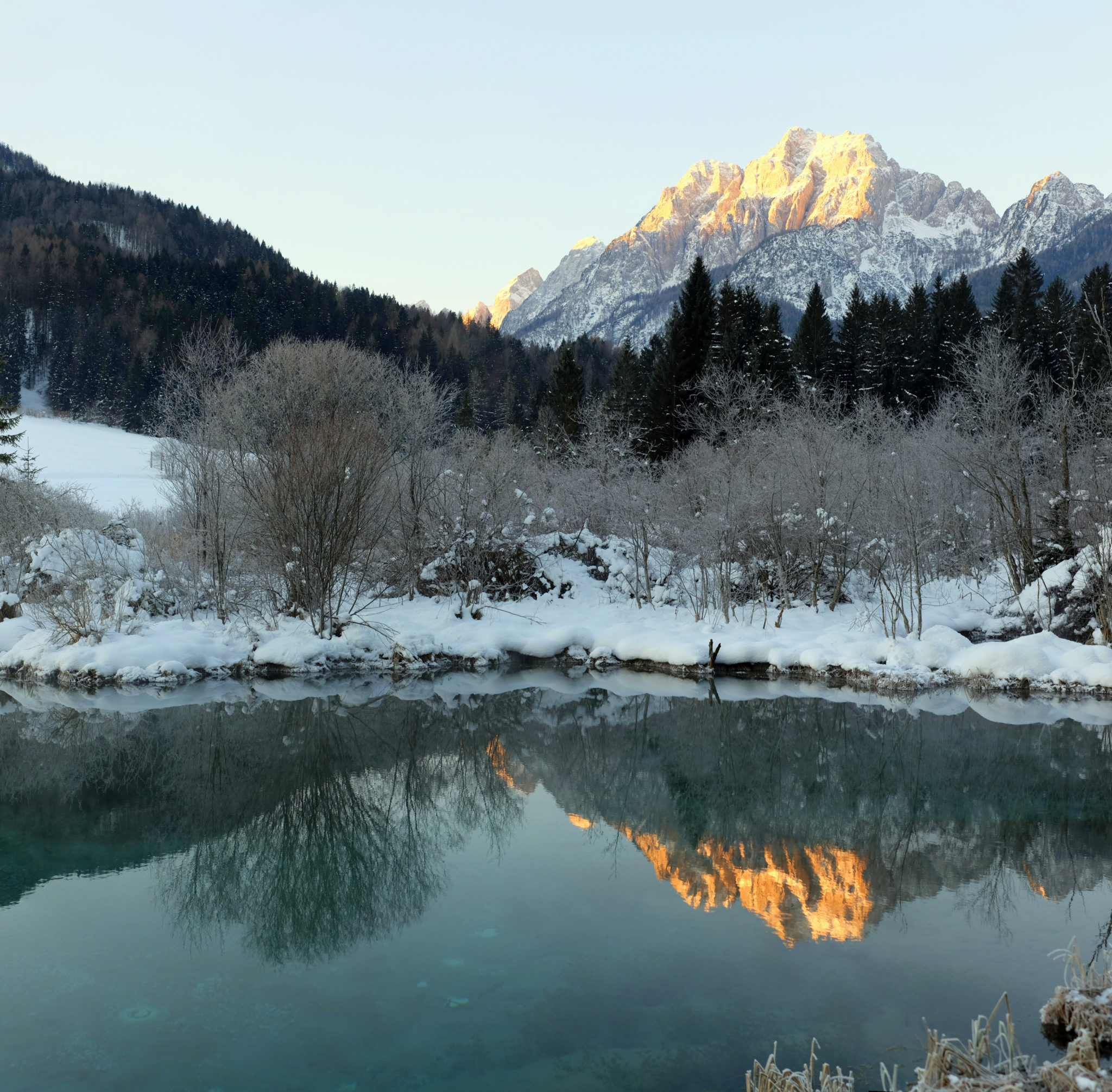 Soon after the sun lit Mt. Jalovec and the Ponce group, it was time to drag my half-frozen limbs back to the car and head home for breakfast. As there were countless places I needed to visit in those two days and my time limited to morning and afternoon (when conditions outside were obviously too harsh for my spoilt little brats who generously gave me a free pass saying "you go out and have a blast!" … coming from the ones hidden under a warm blanket watching cartoons… arghhh), I swerved the car to Lake Jasna and took one last photo before really heading home.
When the sun slowly warmed up our little corner of the Earth, we headed out together to hit the ski slopes in Kranjska Gora. If we otherwise love the slopes during the shoulder season (December, March) when the crowds are practically nonexistent, it can be a completely different picture on sunny weekends in high season (January, February). As it turned out, the ski center was packed, even all parking lots were full, let alone the lengthy lines at the lifts and the slopes. We opted for a kiddy ski slope in Planica instead, a one-lift slope just a few kilometers from Kranjska Gora. Except for another family and a few other kids, we basically owned the slope and repeated it at least fifteen times before our four-year-old got tired and switched to sledding and my husband cross-country skiing, all nicely connected to the ski slope.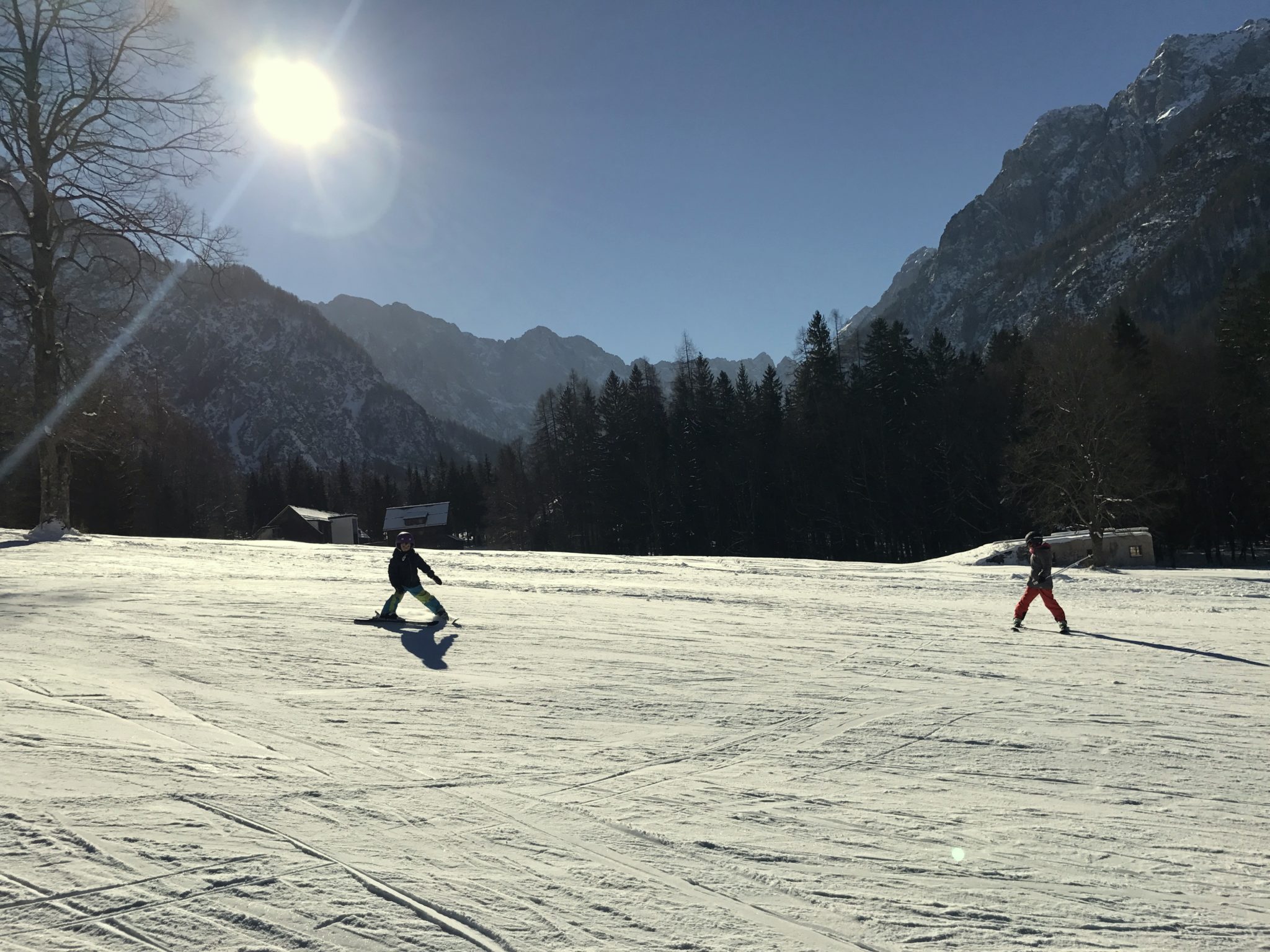 While my family continued their fun in the Planica Nordic Center watching people fly in the wind tunnel, my one hour free afternoon pass was spent scouting for a nice spot in Tamar to record a new time-lapse video the next morning. My husband, on the other hand, returned to the real slopes in Kranjska Gora after dinner for a nice night session under a starry sky.
Another day started with yet another adventure. As per usual, my kids waved me goodbye from the couch (thanking their lucky star for not being their turn just yet) and so I headed towards Tamar. Later, as I breathed deep in my neck-warmer, dressed in a top and bottom base-layer, long sleeves, a thin and a warm fleece, a jacket, winter pants, and various winter accessories, I felt ice forming in my nostrils and on my eyelashes. I might have been better off on a sunnier trail, yet the breathtaking scene outweighed the cold. Was the proverbial juice worth the squeeze? Definitely.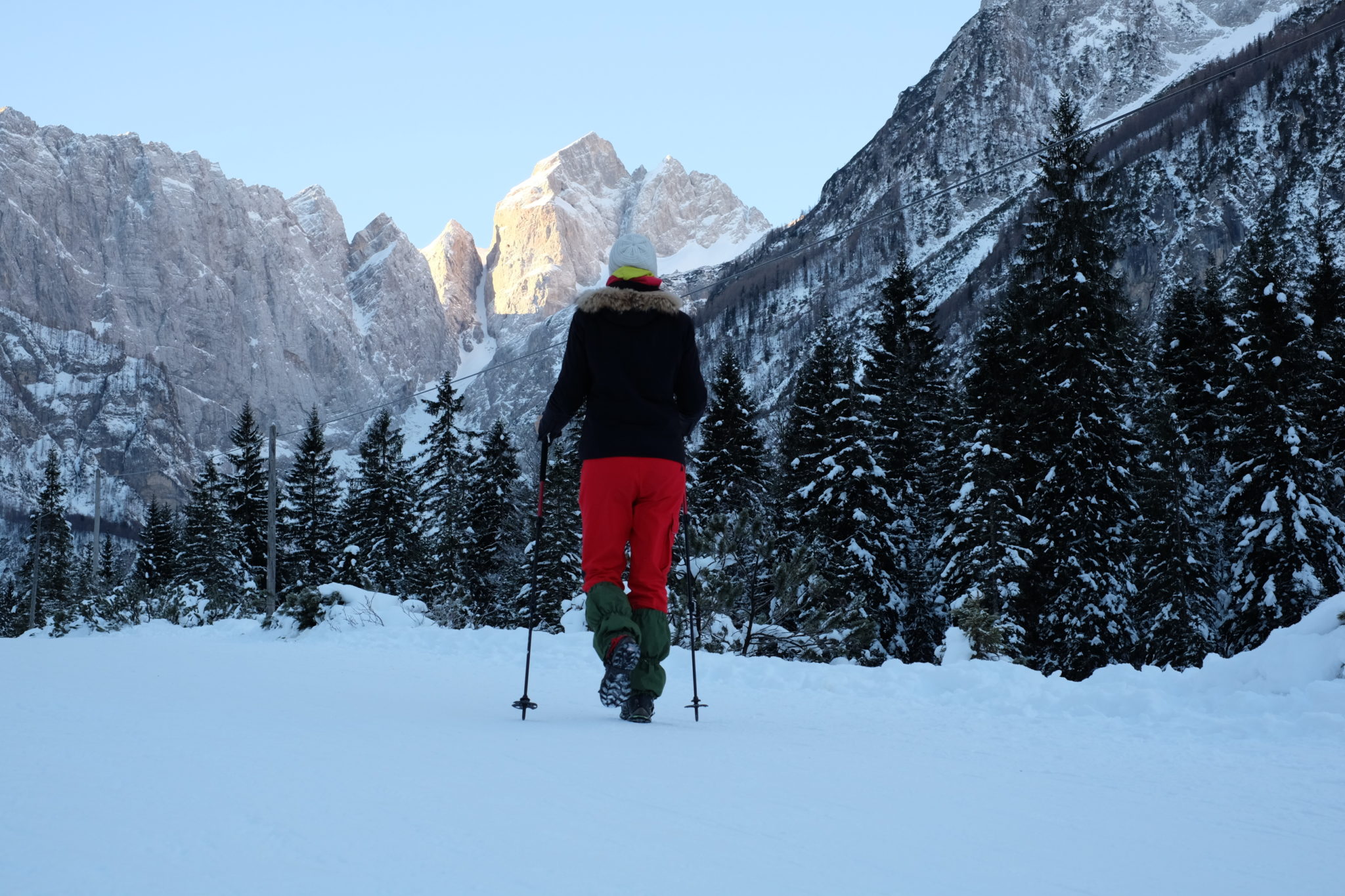 The family skiing afterwards? While Kranjska Gora was still overcrowded, 20 minutes later in a small Austrian village called Arnoldstein (Slovene: Podklošter), we enjoyed 17 kilometers of slopes scaling anything from easy, intermediate to difficult, with a view over Triglav, Razor, Prisojnik, and other Slovenian mountains. Another day well spent, to say the least.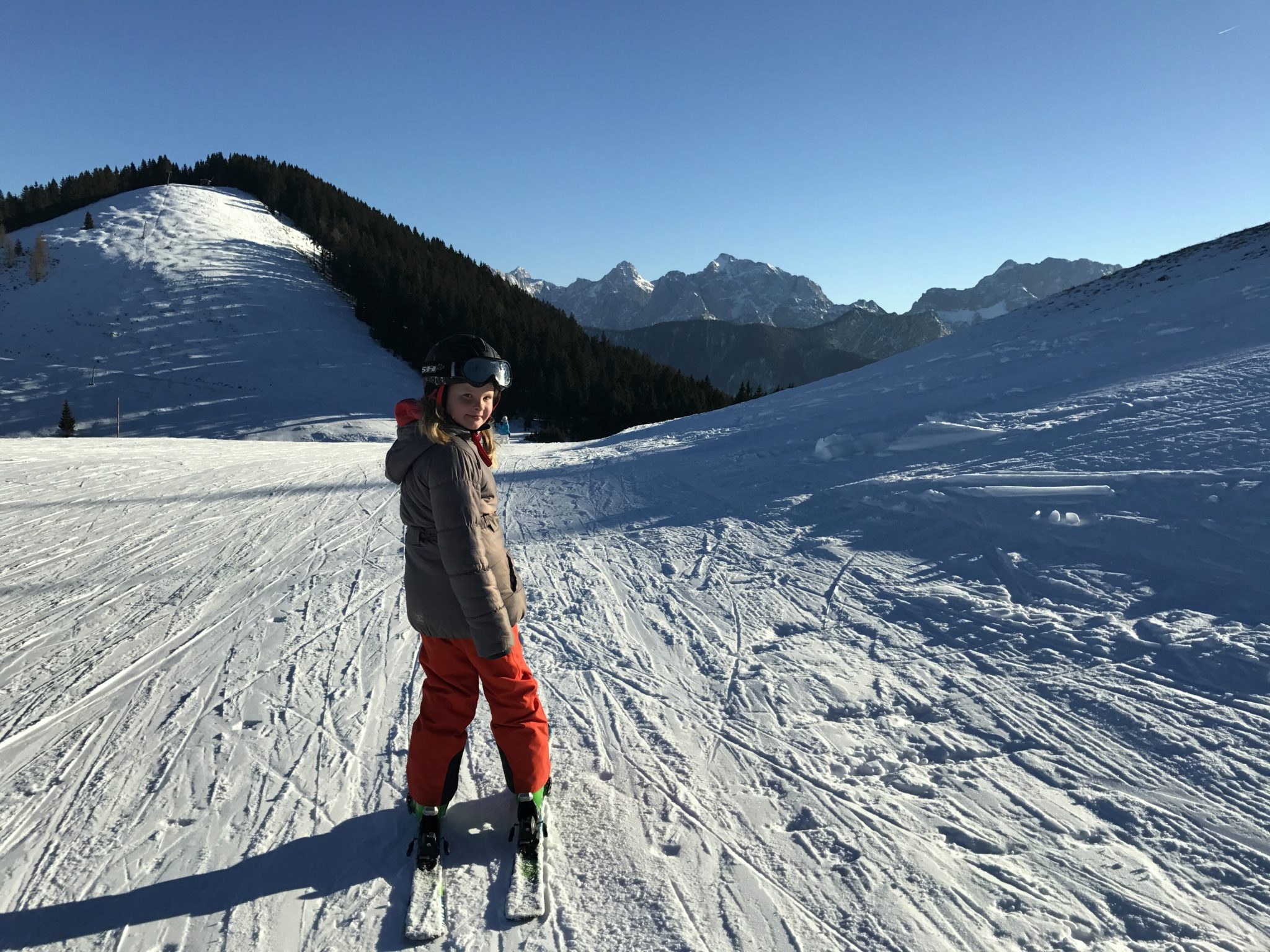 While there is always a trade-off between spending the day the way you want it and doing what's best for the family as a whole, places like Kranjska Gora understand the dilemma and try their best providing endless fun options for outdoor families. Whether you're into skiing, cross-country skiing, sledding, hiking, ice climbing, via ferrata climbing, or trail running, pack everything as I'm sure you'll find a way to fit everyone's favorite sport into your big adventure.
Stay tuned for more outdoor adventures! Follow us on Facebook, Twitter, Instagram, Youtube and subscribe to the feed.