It's been a month since I spent a weekend at Lake Bohinj and did quite a memorable morning hike above the lake. Although my list of top hiking places at Lake Bohinj includes five options – Vogar, Komna, Rudnica, Peč, and Studor — Komna proved the best option under given conditions (foggy up to 1,400m). This weekend, though, our little family returned back to check the view from Vogar, 1,054m, and as it turned out, it easily qualified as my Instagram top pick for a panoramic view of Lake Bohinj.
Check day and multi-day Exploring Slovenia's hiking and climbing tours around Bohinj:
Check the weather
You'll have to be lucky to pick the right day for the hike, though. The locals claim that if the fog level in the morning is as high as the forest-covered hills above the lake's southern side, it's usually useless to hike anywhere if your goal is great photography. Nevertheless, I proved them wrong a month ago hiking Komna, 1,520m, where not only did I get to see all the amazing mountains above the lake up close but also enjoyed the sun. This weekend was a bit different though. While it's usually Bohinj that's hidden under the clouds, this time the whole of Slovenia was cloudy except for Bohinj. The air was not too clear, but still good enough for a 2-hour adventure. So, Vogar it was.
Hiking to Vogar
The best part is that you can start the walk directly from the lake. Hiking with kids, you'll probably want to start as high as possible; in this case the parking lot a little further up above Stara Fužina is your best bet. The trail from there is marked for 1.15hours and is a pleasant walk first on an empty road, then through a forest and finally over open pastures and glades. And you know what? If you're wondering when to visit, it turns out that spring truly is the nicest time for Vogar with all the colorful wild flowers along the way, warm sun and snow-covered mountains above the lake.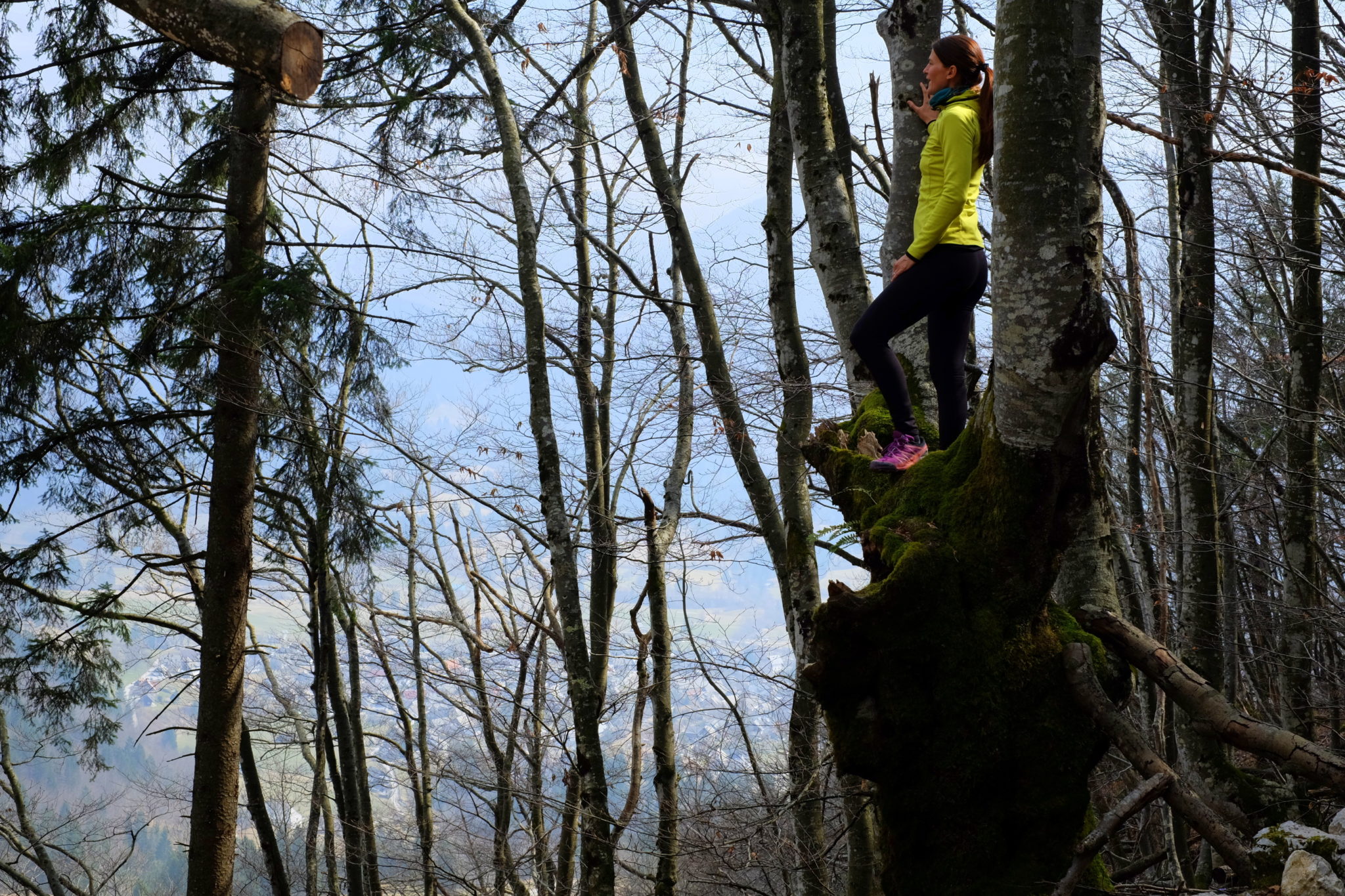 Panoramic points at Vogar
There are a few actually, so don't forget your camera as you'll definitely need it! You'll find the first one, a panoramic window peeking through trees, about an hour along your hike. There's also a bench to rest your legs, have a snack (although you might want to stay hungry for a traditional mountain stew and an apple strudel at the Kosi Hut instead), and marvel at the lake below. For us, it was a few quick shots (the snack was checked out exactly ten minutes after our starting to walk arghhh) and heading for the hut.


Somewhere between the first bench and the Kosi Hut, you'll notice a direction sign pointing to a paragliding take-off site, which will take you to my second favorite panoramic spot. In the summer, you'll be even entertained by paragliders and you might take a few photos of those flying above Lake Bohinj below high mountains.
At the top, the kids picked relaxed vibes of a big sunny patch by the hut and kept themselves busy throwing a ball here and there and playing on the swings, whereas I set my camera to record a time-lapse video of the clouds above Lake Bohinj and big white mountains above. Where? At the panoramic viewpoint, a few minutes from the Kosi Hut. That's also my favorite place to take photos of the lake.
Cherry on top
That's just a figure of speech as there are no cherries on top, however, you can have a tasty meal at the Kosi Hut. The hut is open every day from June until September, and on sunny weekends and public holidays throughout the rest of the year.
Photo spot by the lake
Once you're back down, make sure you stop on the bridge from Stara Fužina to Ribčev Laz, the bridge on which most photos of Lake Bohinj are taken. Unlike Vogar, you'll have plenty of company here; either way, it's going to be worth it. Good luck and have fun!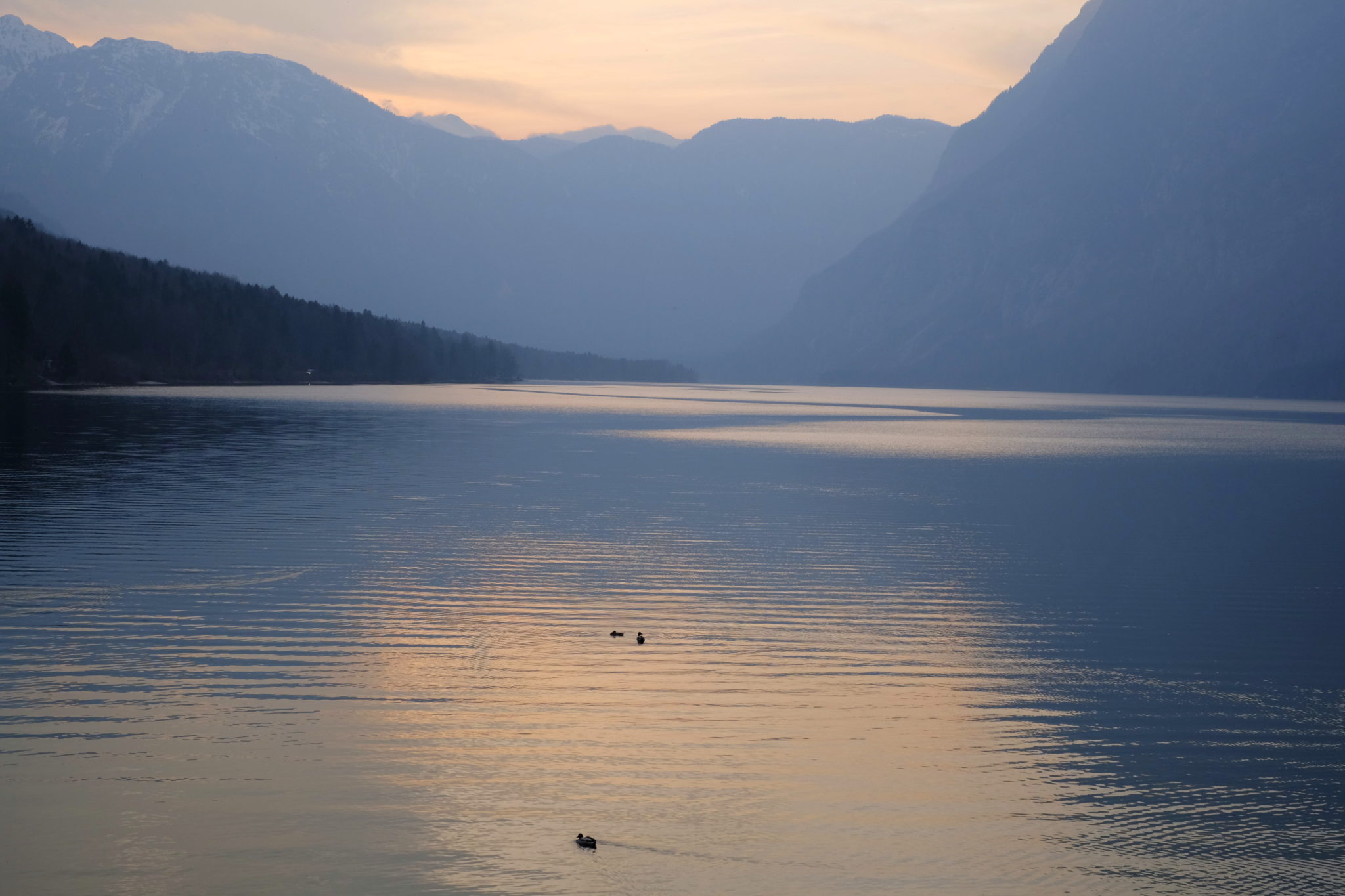 Stay tuned for more outdoor adventures! Follow us on Facebook, Twitter, Instagram, Youtube and subscribe to the feed.
Check day and multi-day Exploring Slovenia's hiking and climbing tours around Bohinj: