A land of fairytale villages and craggy distinct mountains lording over endless meadows, the Dolomites seem mysterious and not quite real to fresh onlookers. It would be easy to frame this mountain range, which was declared a UNESCO World Heritage site in 2009, as a site of staggering beauty, unique landscapes and a paradise for hikers and bikers. Yet it's far more than that.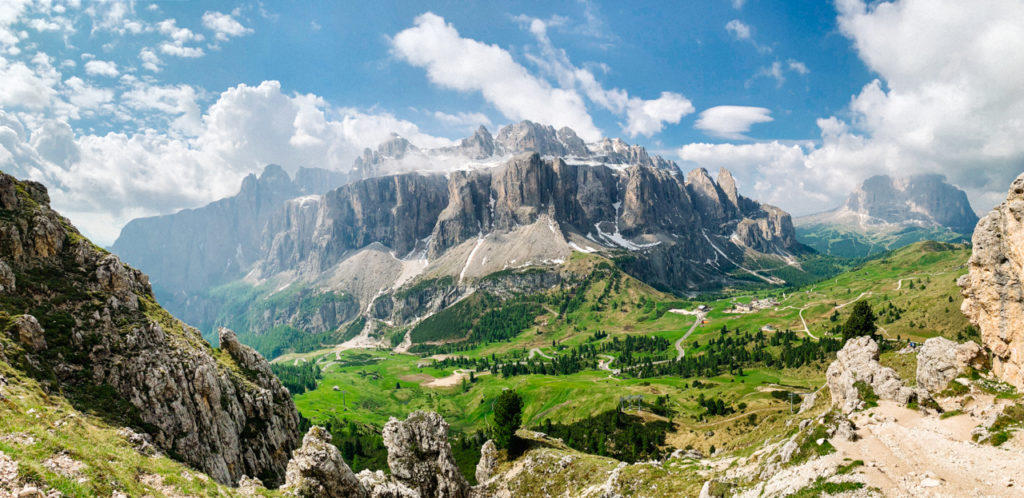 Here among the massive Dolomite mountains that rise up from lush valleys like a cathedral of colossal rock walls, where many cultures had coexisted for centuries, dramatic frontline between Italians and Austrians took place during World War I. Referred to as il fronte verticale, the battles in the Dolomites went well beyond mere fighting: 60,000 soldiers are thought to have died in avalanches alone. Needless to say, the side that held the higher ground obviously had the advantage – and there is no ground higher than a mountaintop. Therefore, soldiers on both sides had built networks of trails and bolted-down steel cables, called via ferrata, to move supplies and conquer mountains.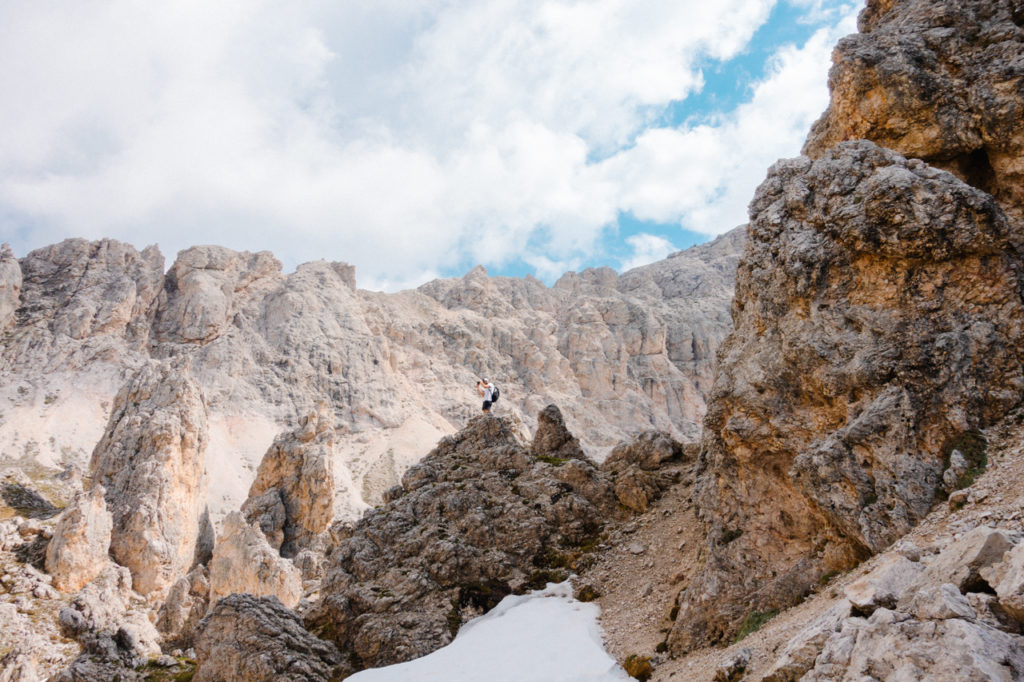 Declared part of Italy after WWI (after five centuries under Austrian rule), the area is one of the best-known mountain ranges in the world today. The same trails and via ferratas that used to be the very theater of bloody conflicts, nowadays lure adventure seekers and mountain enthusiasts from all over the world. Right at this place, in the heart of the Dolomites, where rugged mountains meet comfortable valleys, I joined a partnering trekking agency Journey Through Italy and their small group of four to their favorite corners of this ancient range of the Alps.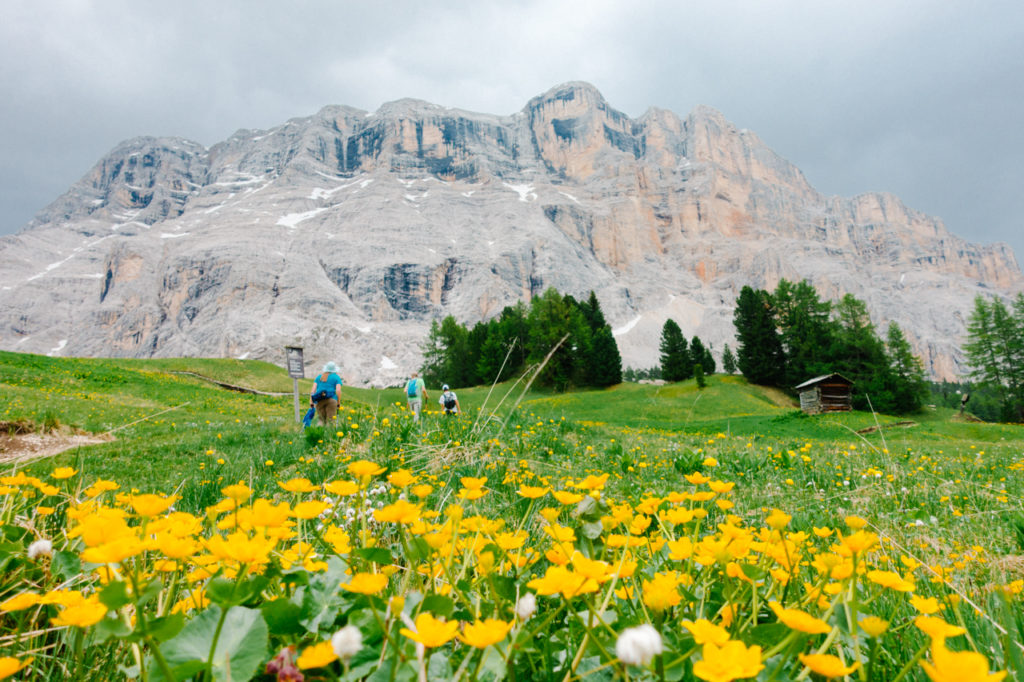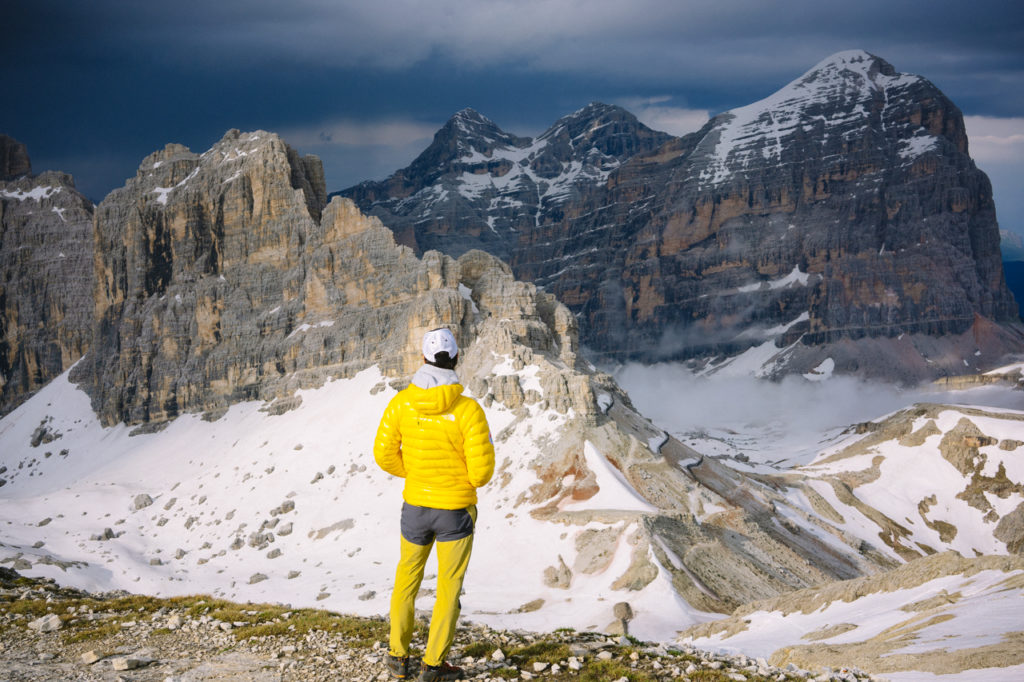 As we cut our way towards the Dolomites from the stifling summer heat of the Italian city life, the temperatures slowly dropped, and by the time we entered the mountainous world around our first destination, a world-renowned ski and summer resort Cortina d'Ampezzo, it seemed the season had magically shifted backwards in time into a much more pleasant spring. Perfect for enjoying the nicely warm sun outside!
The spirits were sky high as we walked along beautiful meadows, set against a picturesque backdrop of Monte Cristallo and Tofane, and probably even higher when setting off to our first dinner to taste the famous Dolomiti cuisine! We were eager to try traditional dishes, cooked for generations, yet revisited and served in authentic tasty combinations. In a typical menu, let that be in a fancy downtown restaurant or a mountain hut, one can find speck, wild game, homemade pasta like casunziei (ravioli stuffed with pumpkin or spinach), canederli (balls of bread with speck), apple strudel, and, naturally, grappa. Salute!
In the following days we immersed ourselves in beautiful adventures in the unique world of high mountains; we explored the Chamois Trail underneath the 3,244-meter high Tofane mountain range, and Cinque Torri, the famous five-tower rock formation favored by rock climbers; we also ascended up to the clouds to Rifugio Nuvolao, 2,584 m, and witnessed a breathtaking sunset up in Lagazuoi at almost 3,000 meters; we trekked up beautiful Alpine meadows filled with colorful wildflowers to Sanctuary of Santa Croce, 2,040 m, an elegantly simple 15th-century chapel set against the towering rock face of Sasso della Croce; we walked through the lunar landscape of the Puez-Odle National Park, adorned with rugged crags and breathtaking pinnacles, and down to the expansive valley of Vallunga; together we hiked the gorgeous Seceda Mountain, another iconic mountain in the Dolomites, and were finally completely amazed by the expansive panoramas and spectacular trails above the Val di Funes, another fairytale valley on the edge of the Dolomites.
Yet it was not only about the astounding trails; it was about the journey. We shared stories, encouraged one another, escaped hailstorms together, enjoyed delicious picnics with five-star views and traditional cuisine, but, most of all, we had fun together. It goes without saying, I wish to experience many more unforgettable tours like that!
Stay tuned for more outdoor adventures! Join sixty thousand Exploring Slovenia fans by liking us on Facebook, Twitter, and Instagram. If you enjoyed this story, sign up for the monthly exploringslovenia.com/blog newsletter. A handful selection of stories from Hiking and Climbing in Slovenia, delivered to your inbox every month.
Looking for a gorgeous tour in the mountains? Exploring Slovenia offers guided hiking and climbing tours!