It had been way too many weeks of a moderate to easy lockdown here in Slovenia and just when the people were on the brink of collectively losing their minds, the government called off the epidemic, started bilateral agreements with other EU countries for opening the borders, and reopened the primary schools. We all breathed a sigh of relief.
As of today, I can finally say my life is back to normal. In this spirit, I am very excited to explore my favorite country on earth like before and perhaps inspire your next outdoor adventure. Let me reintroduce a must-do hike in spring, which I happened to do two times last month: Mt. Golica.
Join Exploring Slovenia's Golica guided tour
Flower-carpeted slopes of Mt. Golica
The one place that truly speaks to my soul and that I love during spring is the 1,835-m mountain Golica. Truth be told, it doesn't really stick out in the 120-km long Karawanks, yet it has something that will blow your mind coming up close. Endless carpets of flowers, mostly daffodils and dandelions. The thick aromatic flowery smell of the wild fills the air, making the hike along the sea of delicate white flowers a feast for the eyes and nose.
The flower spectacle starts as early as April when the flowers come into bloom at lower elevations and then slowly move higher up with warmer temperatures. The safest bet to see the blooming daffodils? Definitely May, although you could enjoy them in April and June as well.
Read also:
Exploring a most beautiful valley in Slovenia – hiking, climbing and flyfishing in Logar Valley
Best of: Bled's must-go outdoor spots
Hiking to the dreamy Kriški Podi in the heart of the Triglav National Park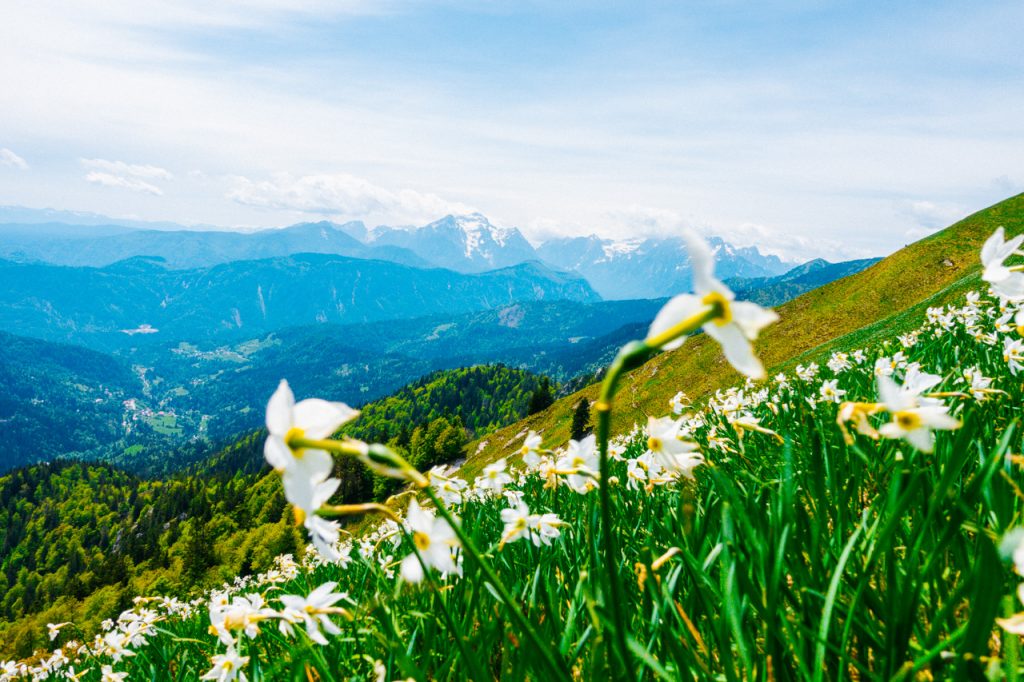 The preferred trail to see the flowers
There are more than ten trails to reach the Golica Mountain and its fragile flowers – one trail more beautiful than the other. The classic trail, which practically all tour operators opt for, starts in a cute Alpine village Planina pod Golico and ascends about 850 m up to the top. This trail doesn't directly pass the daffodil fields and you'll have to know exactly where to make a turn to reach them.
However, my absolute favorite starts from a completely different location and follows the invigorating scents throughout. Up above Javorniški Rovt you can tackle the mountain from its flower-carpeted eastern side, hike along the scenic ridge, and soak up the white sea of daffodils with a backdrop of Mt. Triglav. Once at the top, the adventuristic bunch can follow the ridge even further down to Jekljevo Sedlo, yet another daffodil spot, meet a big herd of sheep grazing on the steep slopes, and return to the hut from there. After a bowl of jota (sour cabbage and beans) or ričet (barley, carrot and beans) soup and a piece of apple štrudelj or cottage cheese štruklji, you can round off your hike with a direct return back to the car from the hut.
While the daffodils are slowly withering and you may find the slopes already half empty by now, it's still an experience you will never forget and a hike worth doing with or without the daffodils. However, those of you who would love to experience Golica in its most intense colors at the peak of its flower spectacle, mark your calendar for 2021 and hope we will all be free to meander through the world by then!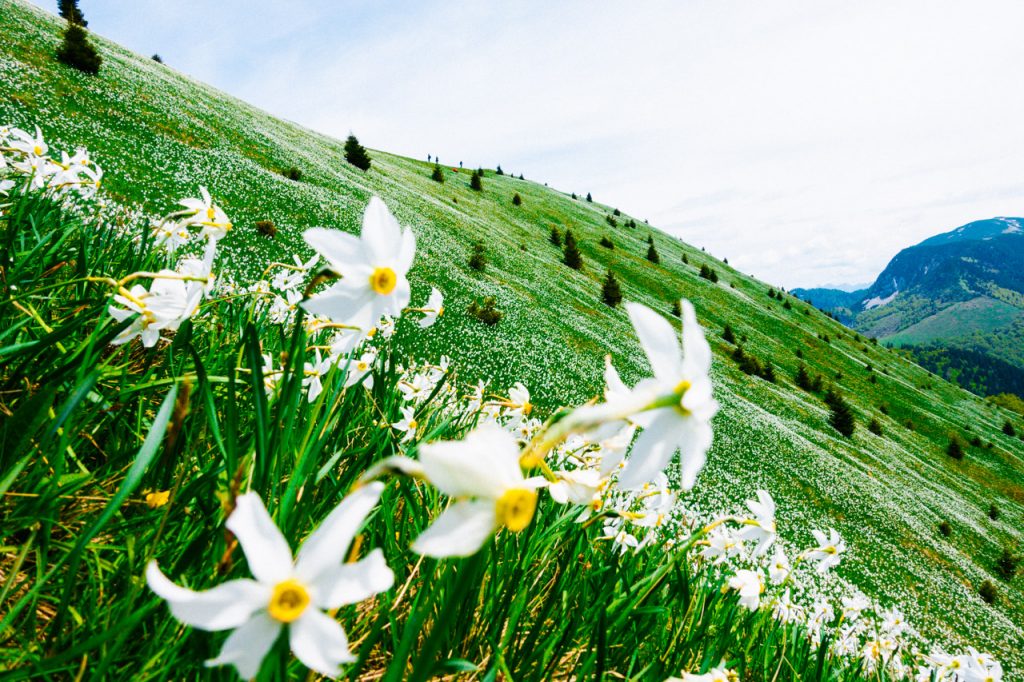 Join us on a guided tour to Golica!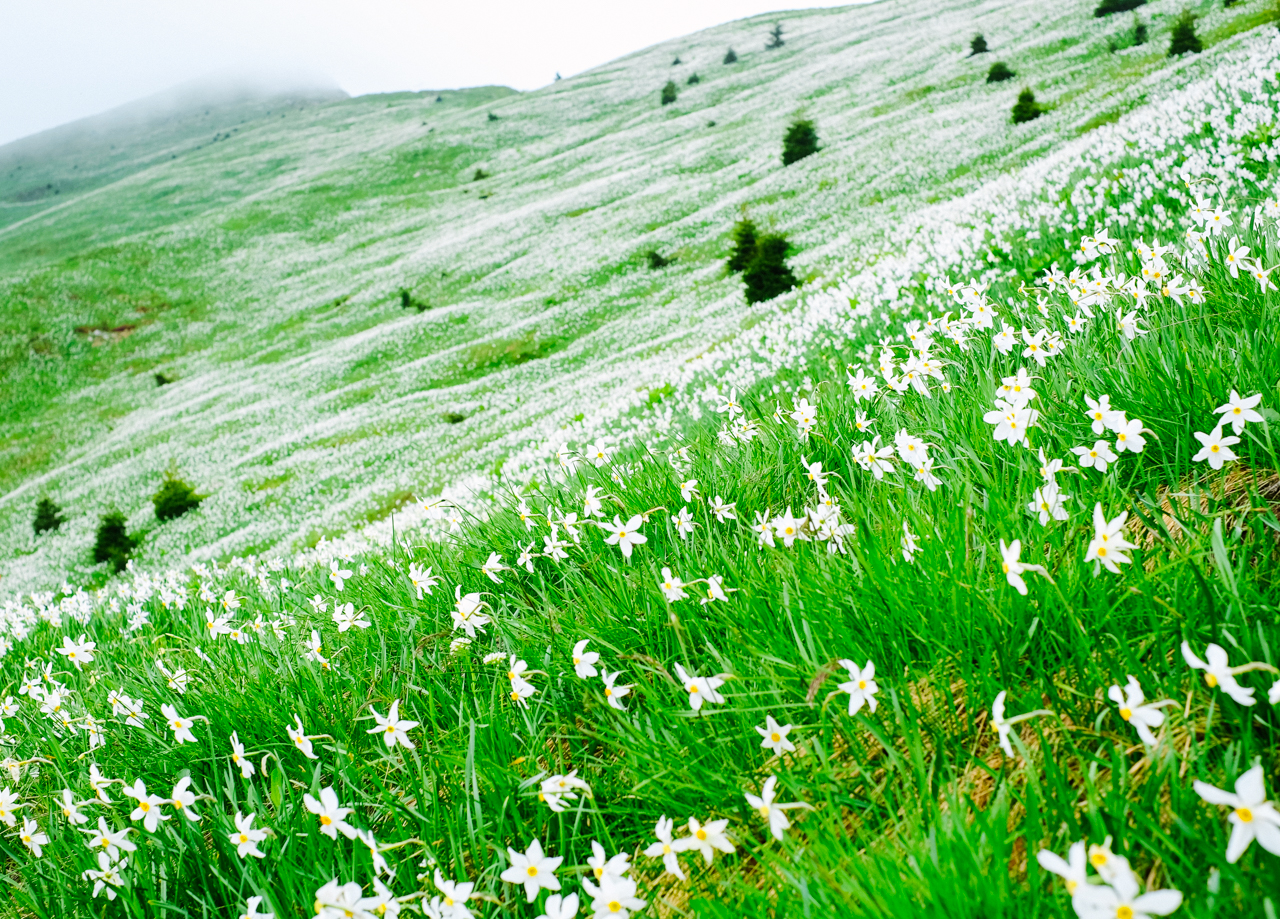 Read also Three spots to see blooms in early spring
Stay tuned for more outdoor adventures! Follow us on Facebook, Twitter, and Instagram, and subscribe to the newsletter. Looking forward to a tour in the mountains? Exploring Slovenia offers hiking and climbing tours!