Sometimes a hike is just a hike. Sometimes it's a portal to another plane of perception. These days, when Covid-19 is firmly setting its ground and has likely affected each and every one of us in one way or another, an escape to the great outdoors has never been more appreciated. We start the car and head towards the odd world without masks and hand sanitisers. Towards the world where panic is replaced by families of serenely grazing chamois, the virtual problems with the tangible ones, and busy streets by sunny little spots with amazing views. A place where we embrace life at its fullest.
Check out Exploring Slovenia's most popular guided treks:
Triglav Lakes Trek
From Bohinj to Soča Valley Trek
Soča Valley and the Alps
This is why I couldn't resist an invitation to the mountains two weeks ago. No long phone calls involved either. My friend Nina just texted me if I wanted to go and I instantly replied Count me in! There we were, starting our day hike from Planina Blato (Eng. Muddy Plateau), an Alpine pasture at 1,150 m with a few wooden houses scattered on somewhat moist grounds. With wood workers doing some wood cutting further along the trail, the beginning of the hike truly justified its name – it indeed was MUDDY! Not only did the forest road resemble a pool of mud, but the abundant mud had spilled onto the trail too.
As soon as we passed the mud zone, we entered a surreal autumn landscape exploding in larches turning golden with a blue sky backdrop. We found ourselves completely alone. We sat down in a meadow with cute little wooden houses only to enjoy our late breakfast in the warm sun. All the houses in the Krstenica Plateau, 1670 m, had already been closed for the winter, and the last signs of previous visitors had faded with the melting snow.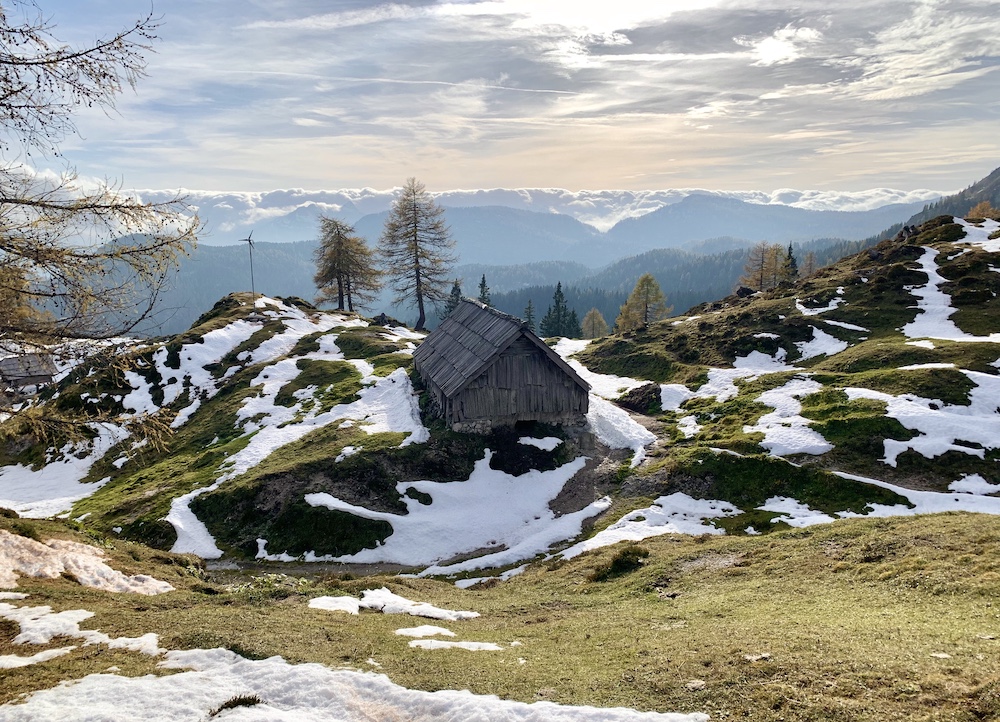 You might also enjoy:
Colors of the fall above Bohinj: Pokljuka, Triglav Lakes, Vogel
Wandering about the mountains above Lake Bohinj
A dreamy hike from Pokljuka to Lake Bohinj
A surreal via ferrata above Lake Bohinj
From the Krstenica Plateau we headed towards a more secluded part of the Julian Alps, where only an experienced eye could see the barely visible tracks. Our goal of the day was exactly that – to explore a few unknown peaks along that beautiful Alpine valley.
The first one was Jezerski Stog, a 2,039-meter mountain, steep and grassy to the west and with a sheer rock drop to the east. We tackled it from its western side. Sure enough, the trail climbed at a steep pace until we reached a saddle between Jezerski Stog and Eva, the latter being in our little adventure plan as well. From the saddle on, the narrow trail basically just followed the ridge and we happily continued.
The top of the ridge was covered with snow which formed cornices to the other side, therefore we had to be careful not to walk too close to the top. With a higher altitude we also found ourselves passing large patches of wet snow which still somehow clung onto the steep grassy slope. Yet with warm temperatures it was just a matter of time before those slid down as well. Putting on the crampons wouldn't have made much of a difference because the snow was too wet, so we continued to pass the snowy parts walking as close to the top as possible. Until we couldn't. About a hundred meters from the top of Jezerski Stog occasional patches of snow turned into a solid 15-cm layer of wet snow, which could have slid down any moment, but more importantly, the grassy slope underneath looked horrifyingly slippery and steep. Sure, we had our ice axes but looking downhill we weren't quite sure of our stopping skills on a 60-degree slope. We returned back down to the main trail.
Read also: A glimpse of WWI on a stunning traverse from Bohinj to the Soča
Looking back up again from the valley those few patches of snow looked so innocent and we still couldn't really grasp the fact that we had quit the climb because of them. Nope! For that reason we were even more glad; it was time to try to climb two other peaks, Adam and Eva, 2012 m and 2019 m, the neighbouring lonely rock formations also categorised as natural attractions in the Triglav National Park. Even though they were rising right above us, reaching them would require to find another one of those barely visible tracks half hidden in the snow and follow it to the other side of the two mountains.
The narrow track took us through a most pristine mountainous landscape dotted with golden larches and surrounded by tall mountains. Groups of carefree chamois grazed in perfect solitude as the sun was shining brightly on a gorgeous autumn day. We reached the foothills of Adam and Eva half an hour later.
Here the slopes looked completely different. Due to their position practically all the snow had already come down, and if we managed to get across the first part, we wouldn't have any problems hiking higher up. So we headed towards Adam and Eva.
The snow was turning deeper and deeper and the higher we managed to come, the deeper we sank. Nonetheless, the enthusiasm level was sky high and we set off into a labyrinth of deep wet snow, rocks and shrubs. After half an hour of pushing hard in one direction, we hit into an impassable wall. There was no easy way to go around it and even if we had taken the risk, there was no guarantee the conditions were any better further up. The only possibility would be to go back down and try another way.
We called an audible. We sat down on a sunlit perch, pulled out our last sandwiches and enjoyed the warm autumn sun. To be honest, the setting couldn't have been more idillic. Why would we ever leave? Why would we ever fight against nature? Surely, Adam and Eva can wait. Besides, the point of the mountains is having a good time and to unplug the daily worries and problems, and that's exactly what we did. Reaching the top or not, who cares? We enjoyed an incredible adventure and came back home relaxed yet charged with endless plans for the future. Woohoo!
Stay tuned for more outdoor adventures! Join sixty thousand Exploring Slovenia fans by liking us on Facebook, Twitter, and Instagram. If you enjoyed this story, sign up for the monthly exploringslovenia.com/blog newsletter. A handful selection of stories from Hiking and Climbing in Slovenia, delivered to your inbox every month.
Looking for a gorgeous tour in the mountains? Exploring Slovenia offers guided hiking and climbing tours!