As the very last tourist has left Bled, and this enchanting little town seems almost too big for an occasional jogger or a couple enjoying the promenade around the lake, its nature has never looked more amazing and, best of all, more tranquil. The hazy fog colors light yellow as I drive through the sleepy town, and the forest around the lake looks pleasantly vibrant in the fresh morning sun that manages to peep through the fog. I'm tempted to make a stop to absorb this autumn scene, but the tour I had opted for in the Western Karavanke Mountains would be long and we'd need every minute of the dwindling daylight.
My friend Nina and I decided to scout an extended version of the hiking tour which my agency already offers as an Alpine hiking retreat near Bled, Mt. Stol, 2,236 m. My wish was to make this gorgeous tour even more gorgeous and possibly even longer for the more avid hikers who tend to opt for Exploring Slovenia's mountain tours.
Join us on our guided tour to Mt. Stol
Beyond work reasons, what pulled us to the Karawanks were the cozy and warm southern slopes and a sheer variety of routes along the scenic ridge. The Karawanks are actually 120 km long and one could walk (and sometimes climb) a good part of the Alps just on the ridge. With this in mind, we wanted to climb 1,000 m up to the top of the highest peak Mt. Stol, and then spice up the typical Mt. Stol tour by following the ridge to the west. Our plan was to visit three other peaks beside Mt. Stol. We would also hike Potoški Stol, Vajnež and Mali Vrh; all of them more than 2,000 meters high and covered with comfortable grass.
Hiking the whole day in full sunshine and good mountain air? Sounds about right!
5 epic hikes and climbs in Triglav National Park that will blow your mind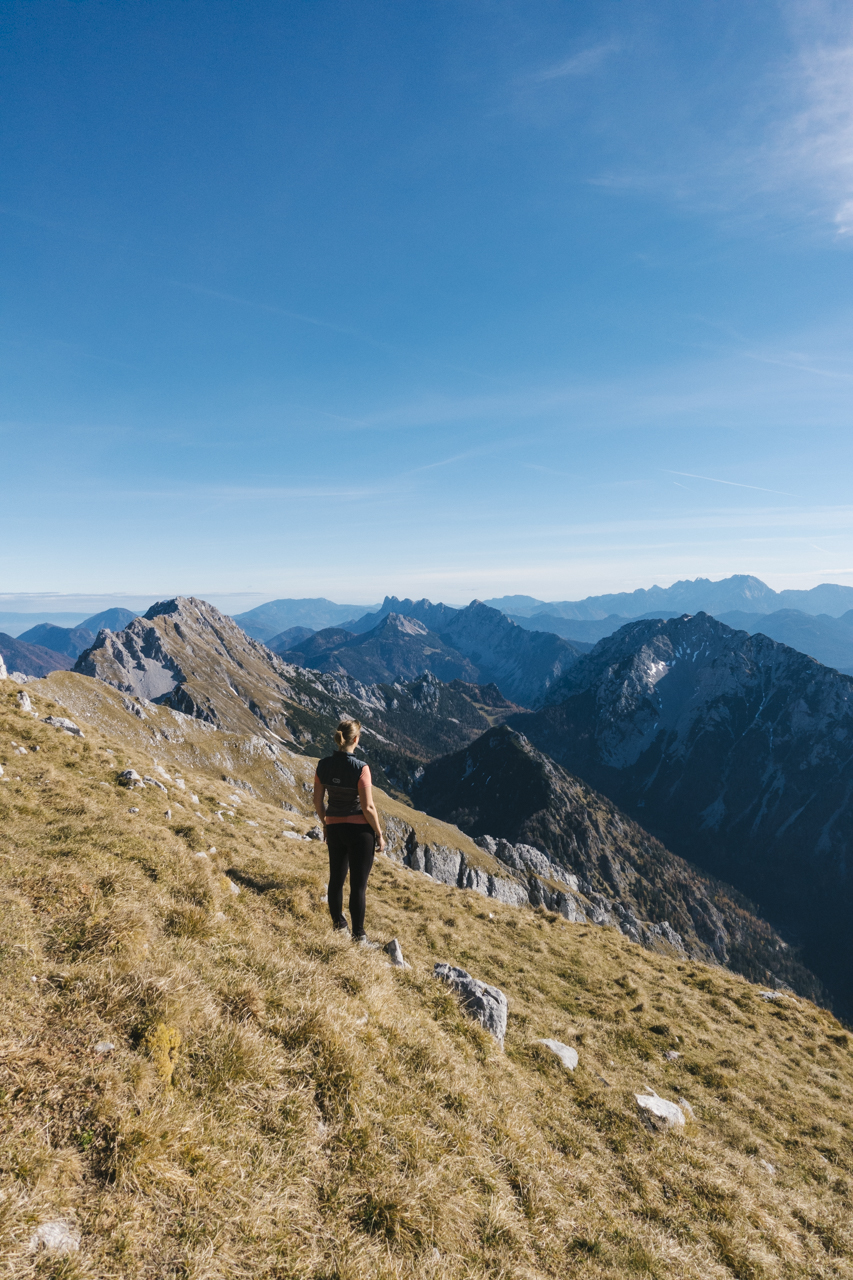 After a foggy start of the day in Bled, we found ourselves in perfect sunshine just half an hour later and 700 meters higher. With winter approaching, it was the last warm day in the year before the temperatures dropped considerably. Soon after the start of the hike, we peeled off all the warmer layers of clothes, rolled up our pants and continued just in short sleeves, yet still sweating. I even switched from boots to low hiking shoes since the trail to Mt. Stol was more of a cardio workout rather than anything else. They stayed in my backpack, though, for the ridge walk later on.
In front of a mountain hut just below Mt. Stol, at 2,174 m, we sat down on a sunny terrace overlooking Lake Bled. We refueled our energy and continued on, ready for the next challenge. The first one in line, Mt. Stol, offered all-around views of Lake Bled with steep walls of the hills surrounding it, the Karawanks winding west to east ridge, the Julian Alps with Triglav in the middle, and Austria's continuation of the mountainous landscape.
Check out Exploring Slovenia's most popular guided treks:
Triglav Lakes Trek
From Bohinj to Soča Valley Trek
Soča Valley and the Alps
From there, we descended down a bit on a slippery scree trail a bit and then followed a trail just below the ridge until we reached the next peak in line – Potoški Stol, 2,017 m, yet another comfortable grassy peak with beautiful views. Because we were entering the more remote parts of the Karawanks, there was no actual trail set; instead, our route involved a choose-your-own-route scramble up and down pretty steep grassy fields.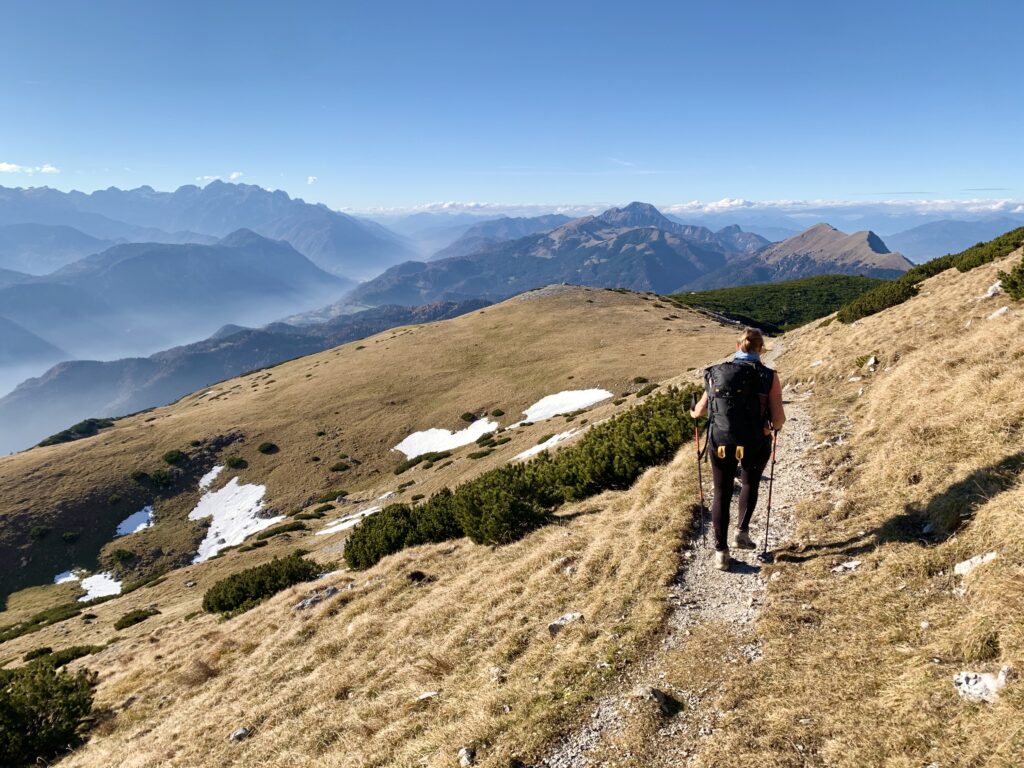 Read also:
Best of: Bled's must-go outdoor spots
A glimpse of WWI on a stunning traverse from Bohinj to the Soča
Immersed in the fascinating Dolomites of Northeastern Italy
From Potoški Stol we continued to Vajnež, 2,099 m, a mountain rising about a thousand meters up above Ajdna, an old settlement from Antiquity positioned well above the valley at 1,064 m. Actually Ajdna arose in the period immediately after the collapse of the Roman Empire (476 AD), when it seems the locals moved to the safety of the mountains at the time of the migration of various Germanic and Slavic tribes through the region. While Ajdna itself is a gorgeous place to visit as it opens to the whole Upper Sava Valley, an intriguing folk tale claims that its people used to be buried at the very top of Vajnež in a spot where one could see both the Sava and Drava Rivers.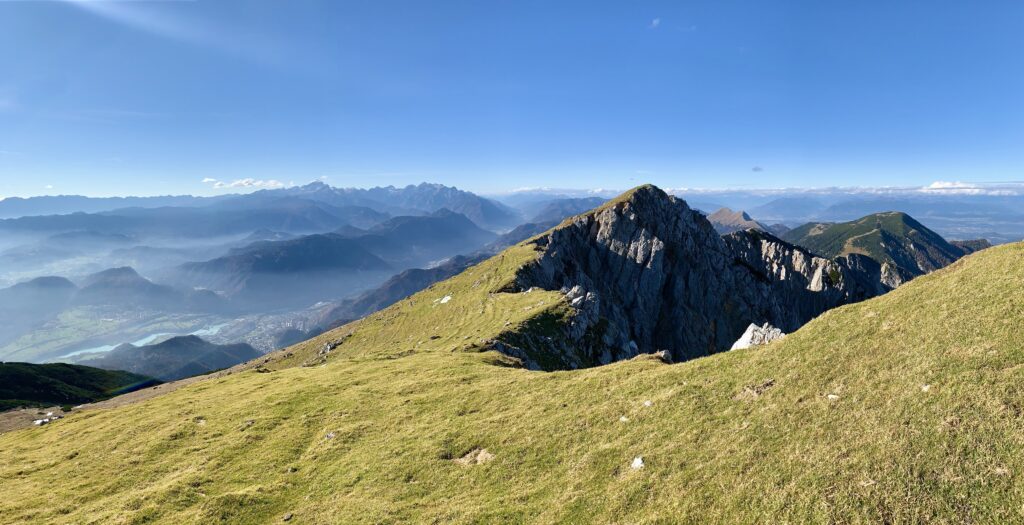 Nicely wide, covered with grass and adorned with 360-degree views of Slovenia and Austria, the top of Vajnež does indeed send off particularly relaxing vibes. One simply needs to take off the backpack, lie down in the warm sun and just enjoy life for a bit. In this spirit we too became quite comfortable in the sunshine! It was nice and warm, birds were circling, we had snacks; why hike any further?
Eventually our last peak called for us super loud, so we kicked our lazy butts and continued towards west. As a matter of fact, Vajnež and Mali Vrh, the last peak of the day at 2,017 m, are respectively the eastern and the western peak of the same mountain Belščica, after which the nice tall ridge descends down quite a bit. It rises again to form Mt. Struška, which then continues into a few indistinct peaks and finally forms the completely bare Golica, a mountain famous for its booming fields of white daffodils every May. We wanted to go on and on, but the reality was a bit different. It was already 2 p.m. and we only had three hours left to find our way back before the dark set in! A long traverse would have to wait until the daylight prolongs and preferably the mountain huts reopen for the season.
Hiking in a flower paradise: Golica and its daffodils
For our return we rolled out a map, made a visual trail across beautiful Alpine meadows and followed it. After a small bivouac we joined an unmarked but nicely trodden path down the forest, which after quite a few confusing hiccups with many fallen trees, finally brought us to the main forest road and to our car. Made it! Our hike up rounded up to a little less than 20 km and 1,400 meters of ascent – not bad, huh?
Our adventure came to an end, yet the plans that arose for the future were countless. The coronavirus will settle down soon (knocking on wood!!) and there will be times again to immerse ourselves in new adventures. Until then, stay tuned and feel welcome to share your outdoor stories in the Comments!
Stay tuned for more outdoor adventures! Join sixty thousand Exploring Slovenia fans by liking us on Facebook, Twitter, and Instagram. If you enjoyed this story, sign up for the monthly exploringslovenia.com/blog newsletter. A handful selection of stories from Hiking and Climbing in Slovenia, delivered to your inbox every month.
Looking for a gorgeous tour in the mountains? Exploring Slovenia offers guided hiking and climbing tours!