Bled is gorgeous, it's as simple as that. A cliff with a medieval castle rising high above Lake Bled, a deep green lake that turns turquoise in spring, and a small island with a 12th century church in the middle; all set against the picturesque backdrop of the Karawanks mountains. The setting looks like one out of a fairytale, especially in early morning from a small perch on Ojstrica above the lake's western hilly shore.
Nevertheless, after spending a few days by the lake, you might want to stretch your adventures out a bit. Thankfully, the area has a plethora of beautiful spots and I'm here to share my favorite outdoor spots near Bled. Have more to add? Share them in the comments.
Read also:
As spectacular as it gets: ballooning over Lake Bled
Colors of the fall above Bohinj: Pokljuka, Triglav Lakes, Vogel
Climbing Mt. Stol, the iconic postcard mountain behind Bled
Ojstrica and hiking trails from Bled
You would be surprised to find that so close to the lively paths and roads around the lake the nature turns completely silent, the trails are empty, and animals roam freely in beautiful forests and meadows. Apart from hiking up to the view point of Ojstrica, there are countless beautiful hiking trails interwoven throughout the forested hills on the western side of Bled. Go to the west side of the lake, e.g. Zaka and look for the marked trails up in the forest and I promise you won't be disappointed!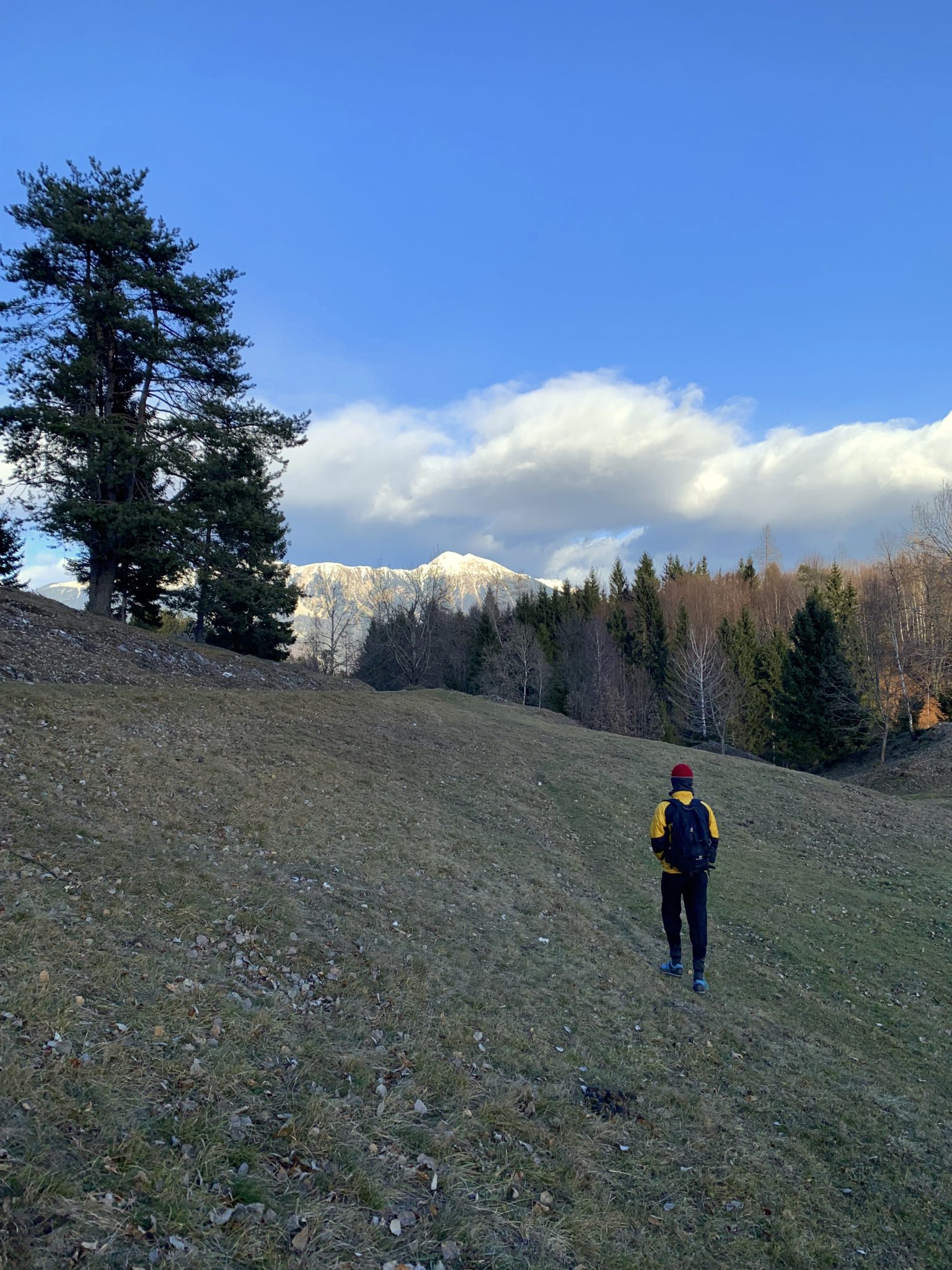 Galetovec
For a dreamy view of Lake Bled with a snow-capped mountains backdrop, Galetovec is the spot to go. With an elevation of 1,265 m it proudly peeps out of the fog, so common for the valley in the fall. And if you're lucky as me, you'll see a chamois at the top too!
Check out Exploring Slovenia's most popular guided treks:
Triglav Lakes Trek
From Bohinj to Soča Valley Trek
Soča Valley and the Alps
Pokljuka
I'd be remiss if I didn't include one of my all-time favorite activities just above Bled: mountain hiking in the Julian Alps!
Nestled among the high mountains of the Julian Alps, the first impression of this forested Alpine plateau of about 1,200 to 1,500 meters is often theatrical in its perfection: tall spruce forests, mossy ground, a handful of little basic cabins dispersed across well-hidden meadows throughout the plateau, and the sheer variety of routes.
My personal preference in winter? Viševnik and Mrežce. Both are suitable also for the less-than-hardcore hikers who love to experience a mountain winter fairy tale at 2,000 meters, yet also enjoy a good amount of elevation gain in the two hours to the top.
The highest peaks seem as close as you could easily reach them from Mt. Mrežce (on the right). Nevertheless, if you're more into walking on easier and flatter terrains, Pokljuka is the place to go. You could hike or snowshoe to the Zajamniki meadow or Uskovnica (left).
Grmečica Waterfall
With its seven meters of height, Grmečica Waterfall is one of the smaller waterfalls in Slovenia but nonetheless no less interesting than its taller counterparts. Plus located only a few kilometers outside Bled!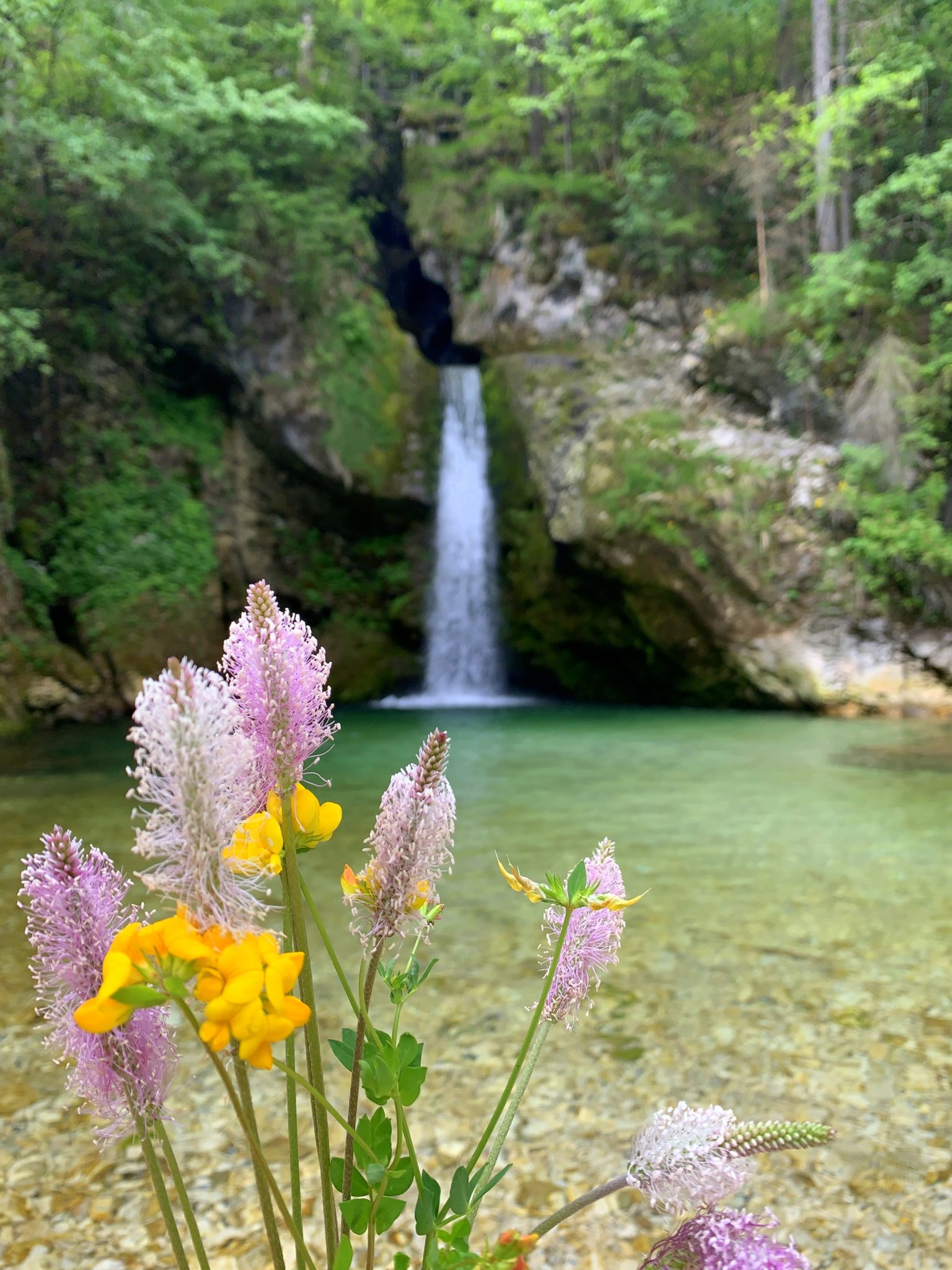 Jerebikovec and Vrtaški Vrh
Not exactly around the corner, but if you're in need of a quick Alpine fix a 20-minute drive will get you to the closest and technically speaking easiest mountain hike. Lately, I've been pursuing hardcore cardio hiking (the steeper the slope, the better, right?!) and the two peaks above Mojstrana, a small town at the doorstep to the Julian Alps, are just perfect for that.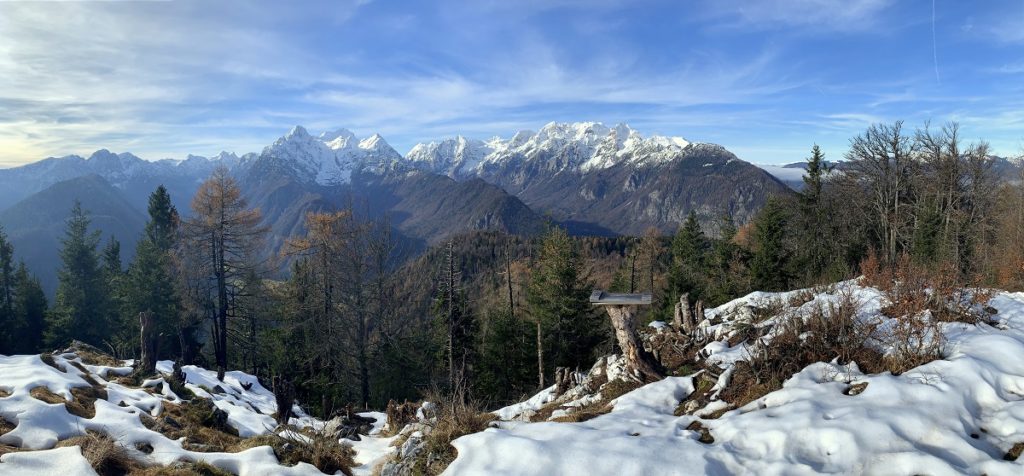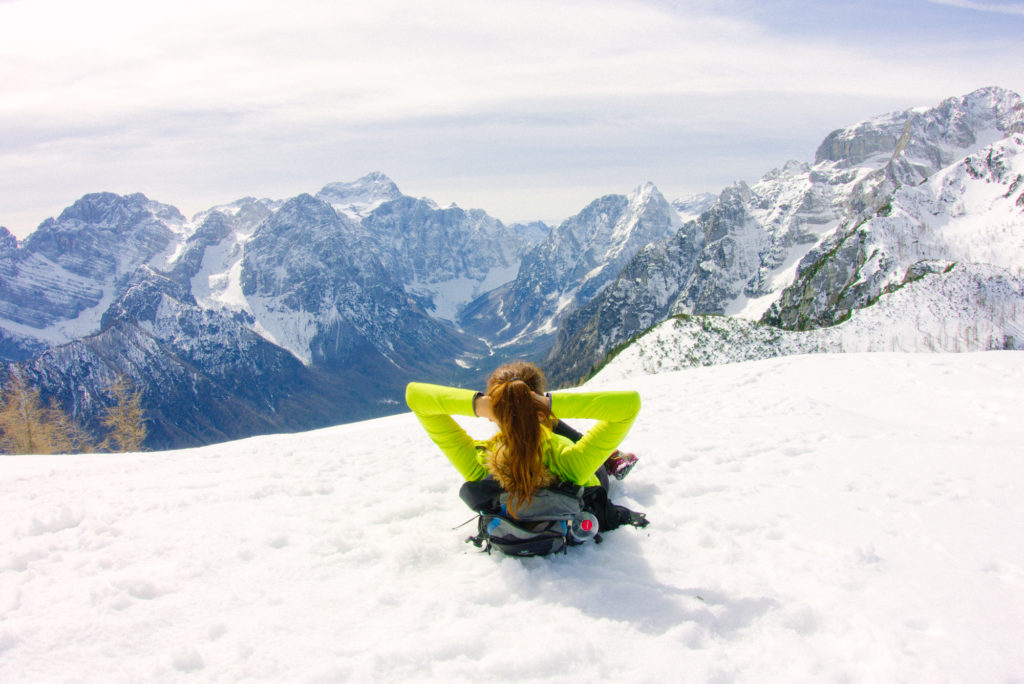 Join us on a guided tour to Vrtaški Vrh!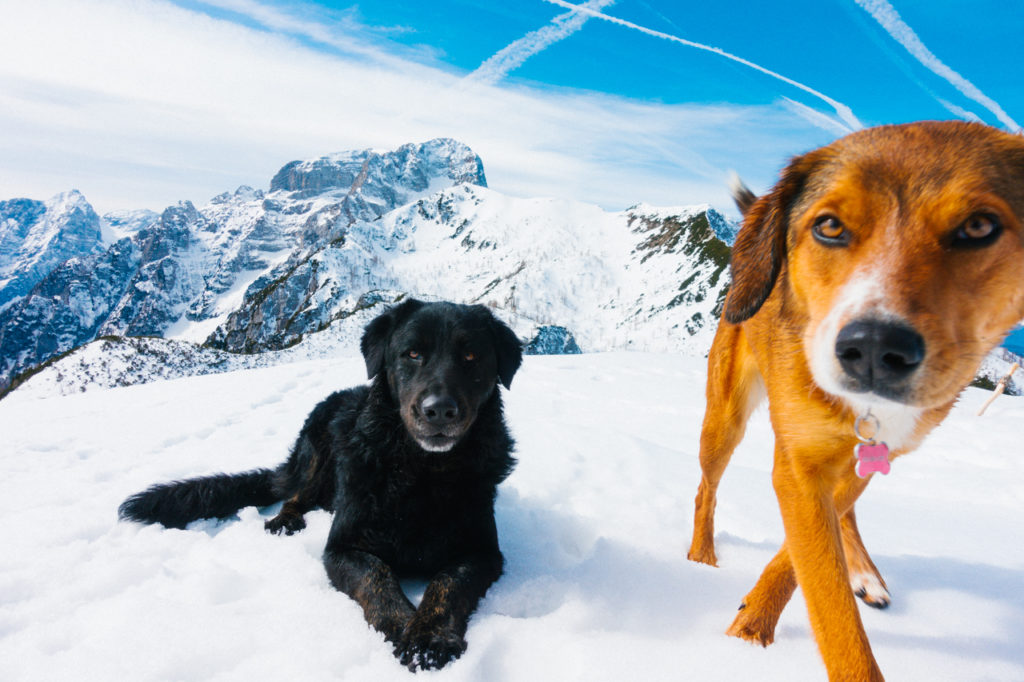 While the great majority of routes in the Alps are usually located away from town off a sometimes unpleasant dirt road, the great thing about Jerebikovec and Vrtaški Vrh is that both hikes start directly from a paved road. Technically not demanding, both trails are basically a walk through a forest (a bit steep but still a walk) that opens up to dreamy vistas of the Julian Alps at the top.
Vintgar Gorge
Located only four kilometers away from Bled in the eastern part of the Triglav National Park, this 1.6-kilometer-long and 250-meter-deep gorge is a must-see if you're in town. It's a two-hour walk along the gushing Radovna stream underneath high cliffs, passing countless water drops and a few waterfalls.
Day tickets are not absurdly expensive (€10 for adults, €7 for students and retirees, €2 for kids of 6-15 of age, €1 for kids under 6), and €3 for pets, nevertheless, the Vintgar Gorge is unfortunately closed between December and March, so make sure you put a mark on your calendar for the next spring!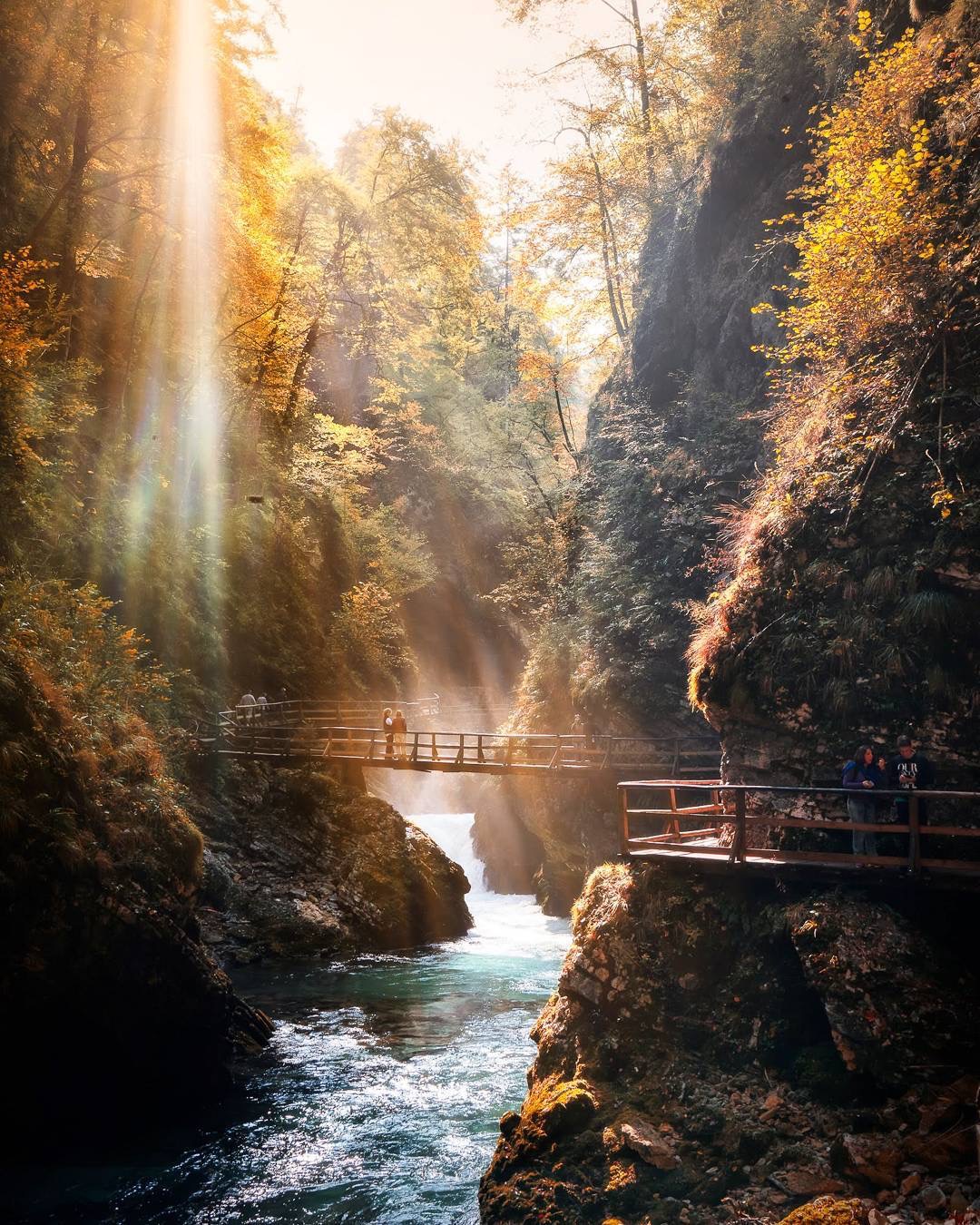 Read also:
A glimpse of WWI on the stunning traverse from Bohinj to the Soča
Wandering about the mountains above Lake Bohinj
Hiking in a flower paradise: Golica and its daffodils
Stay tuned for more outdoor adventures! Join sixty thousand Exploring Slovenia fans by liking us on on Facebook, Twitter, and Instagram. If you enjoyed this story, sign up for the monthly exploringslovenia.com/blog newsletter. A handful selection of stories from Hiking and Climbing in Slovenia, delivered to your inbox every month.
Looking for a gorgeous tour in the mountains? Exploring Slovenia offers guided hiking and climbing tours!