Serene and tranquil, rising high above Kranjska Gora, this mountain hides under a thick layer of virgin fluffy snow, its top unveiling unspoiled Alpine vistas, never-ending rolling hills, and "the mother of all ski jumping hills" Planica. Yet this lonely 1,745-meter peak is not only a forest hike with only stunning views at the top. Cipernik is adorned with a mysterious "Black cave", numerous viewpoints, a meadow with a mountain hut, a rock arch formation with a naturally occurring window, and a perfect 6-7-hour round route. Want to hear the crazy part? You can *literally* hike it from the cute little alpine town of Kranjska Gora.
Read also:
Waterfalls around Kranjska Gora
The peak on the brink of the accessible
Safe winter trails that will blow your mind
Lately, I seem to have been on this pattern of repeating climbs, and truthfully, I don't care that much. But it dawned on me: it was time to climb a new mountain. I marked my calendar for the first day after a big snowfall to explore something new, the attractive peak above Kranjska Gora, which I had actually been planning for months, yet had always been lured into something else upon seeing impressive snow-capped mountains on the way. I simply can't pass Mojstrana without my jaw dropping in awe and stopping for a hike or a climb?!
It wasn't until after a few days of constant rain in the valley that I finally dared to suggest it was time to drive all the way to Kranjska Gora without any pit stops, and see in person how the hike looked. If covered with virgin snow, even better.
A perfect 6-7-hour round tour
There are practically two well marked trails to Cipernik from the area of Kranjska Gora and since the distance between the two is only a couple of kilometers, take my advice and combine them into a nice round tour like I did.
I followed the signs for Cipernik right from the parking lot at Lake Jasna, climbed almost 1,000 meters up along a winding trail through a forest up to the top, and then descended onto a wide snow-covered forest path going down almost to Kranjska Gora. From there, I had two options; one was to descend a paved path all the way down to Kranjska Gora, enjoy a delicious lunch in town and then just stroll a little up to the car, or to take a direct half-broken forest trail back to Lake Jasna, lose a dog for an hour, and grab a small panini in a café while waiting for the rascal to return. As you can only imagine, I opted for plan B… luckily, the sunset above Lake Jasna made the worse choice worthwhile.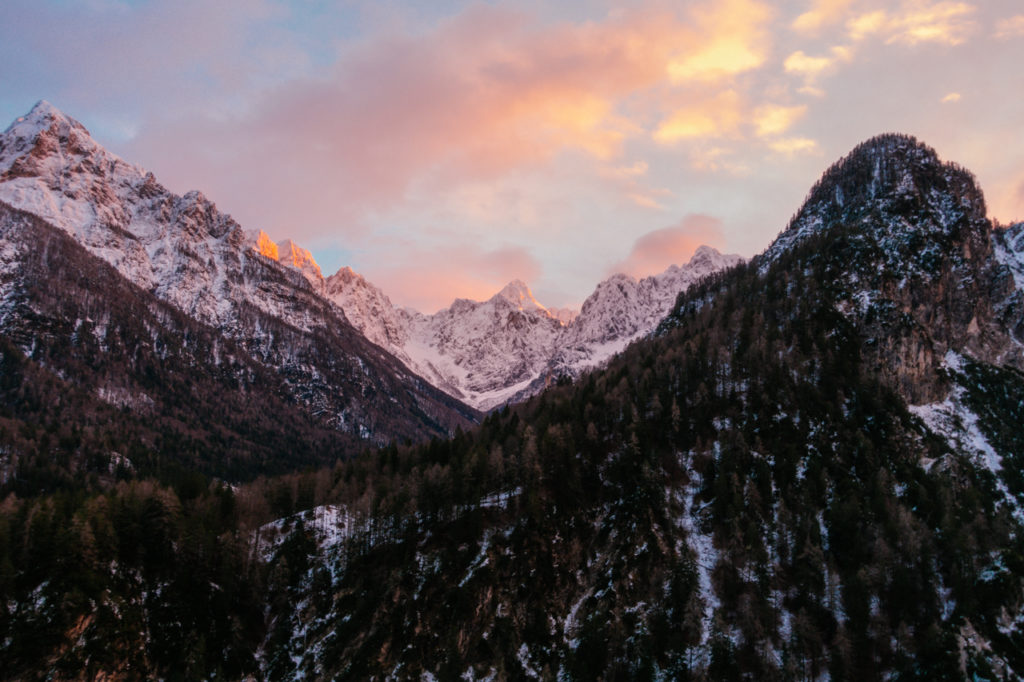 Breathtaking views, a cave, a meadow and intriguing natural formations
First off, Lake Jasna is simply a dreamy spot to start your hike at. Located a 15-minute walk from the lively center of Kranjska Gora, the confluence of Alpine streams makes a crystalline lake a place to swim in the summer or just enjoy the idyllic landscapes while picnicking. Anyway, following the trail for about half an hour, you can already soak up that pristine mountainous setting from an open perch about 200 meters higher.
Join us on a guided mountain tour around Kranjska Gora
Another twenty minutes up the trail, you can explore a cave called Črna jama (Eng. Black Cave), one of the numerous caves found in Slovenia. Namely, Slovenia is dotted with more than 10,200 karst caves and a hundred new caves are discovered every year.
If the landscape had been mostly just sprinkled with a few centimeters of snow up to the cave, from the cave onwards the amount of fresh snow piled up quite dramatically. If I started the hike in one kind of a world, I ended up in a quite different one. The last hundred meters of the climb I struggled with more than a meter of fresh powdery snow!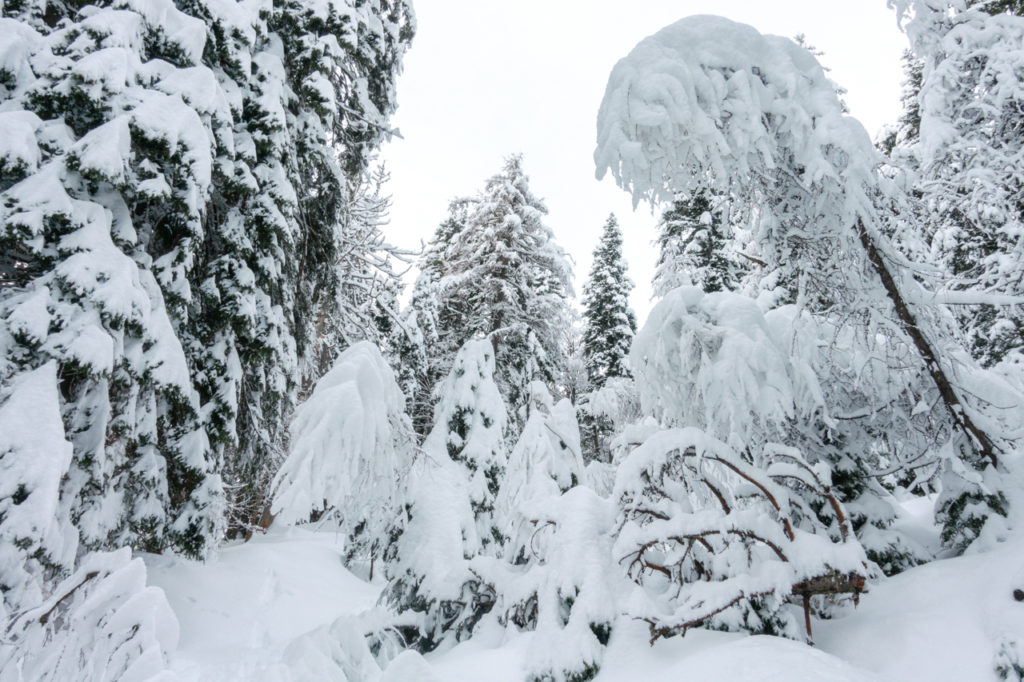 About two hours into the trail at 1,555 meters, I arrived at a spacious open meadow surrounded with the highest peaks of the Julian Alps – anything from the second highest Škrlatica, the sixth highest Razor, to Prisojnik and iconic Mangart, the third highest mountain of Slovenia. If the sun had been out or the hut open (May – October), this would've been a perfect little spot to rest the legs, pull out a sandwich and relax to the cheerful tunes of birds singing in an otherwise tranquil little covert.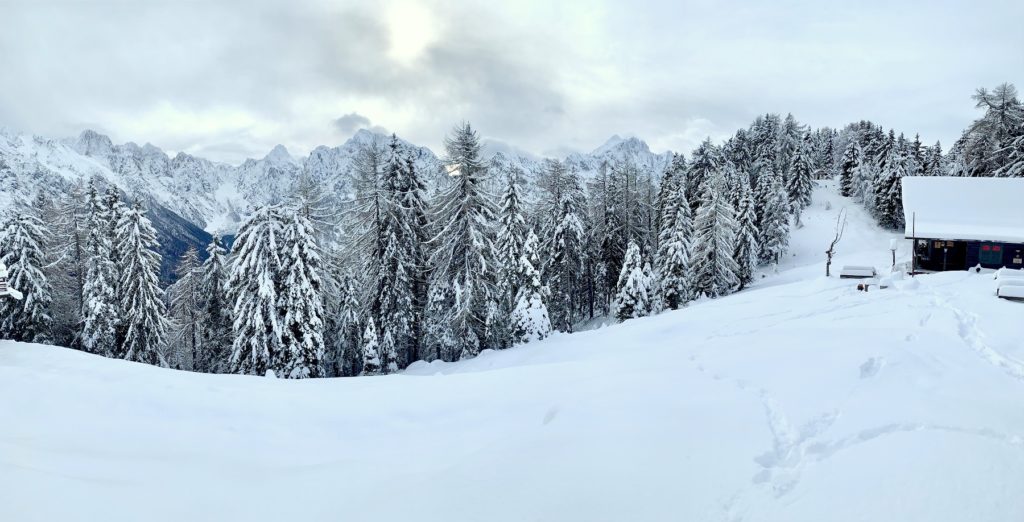 All the way to the top
With fresh snow conditions like mine, truth be told, the last part to the top was a bit wild, and without proper mountaineering experience I would've probably turned around. The last steep slope had more than a meter of powdery snow and in spots my hiking poles sank all the way in. Without crampons the climb would most likely have been a dangerous feat if not impossible since the foundation was both frozen and slippery. But the views from the top? Pretty idyllic!
All in all, the Cipernik hike is perfect practically in all conditions – in green summer, colorful autumn, warm spring, or a whitest winter – but if you think you'd feel safer hiking it with a mountain guide, I'd be more than happy to hook you up with one.
Read also:
Colors of the fall around Kranjska Gora: Trupejevo Poldne and Sleme
Secret gems of the Soča Valley
Climbing Mt. Begunjščica in harsh winter conditions
Stay tuned for more outdoor adventures! Join sixty thousand Exploring Slovenia fans by liking us on Facebook, Twitter, and Instagram. If you enjoyed this story, sign up for the monthly exploringslovenia.com/blog newsletter. A handful selection of stories from Hiking and Climbing in Slovenia, delivered to your inbox every month.
Looking for a gorgeous tour in the mountains? Exploring Slovenia offers guided hiking and climbing tours!