*Note: Due to the coronavirus it's extremely important to consider the government's guidelines about social distancing and limitation of moving outside! All my adventures are always 100% compliant with the current guidelines. Nevertheless, the guidelines might change through time and so the adventures described here might not be in accordance with the updated guidelines. My advice? Take my adventures as a good read and save them as hiking ideas for the future :)
I have never seen skies so clear. Blue in their most pristine form. Free of air traffic and relieved of excess pollution. I have never seen or heard nature so pure. Bees and birds buzzing and singing about, the winds moving trees, and all the rest completely silent. I have never seen wild animals so comfortable so close to us. Bears leaving their traces just a couple of hundred meters into the forest, countless deer grazing in the fields, chamois, and even a fox in the field below our house. Completely fear free, it comes to catch mice together with our kitties. It seems nature has found a new balance; so unique it will be hard to give it up once our lives are back to normal…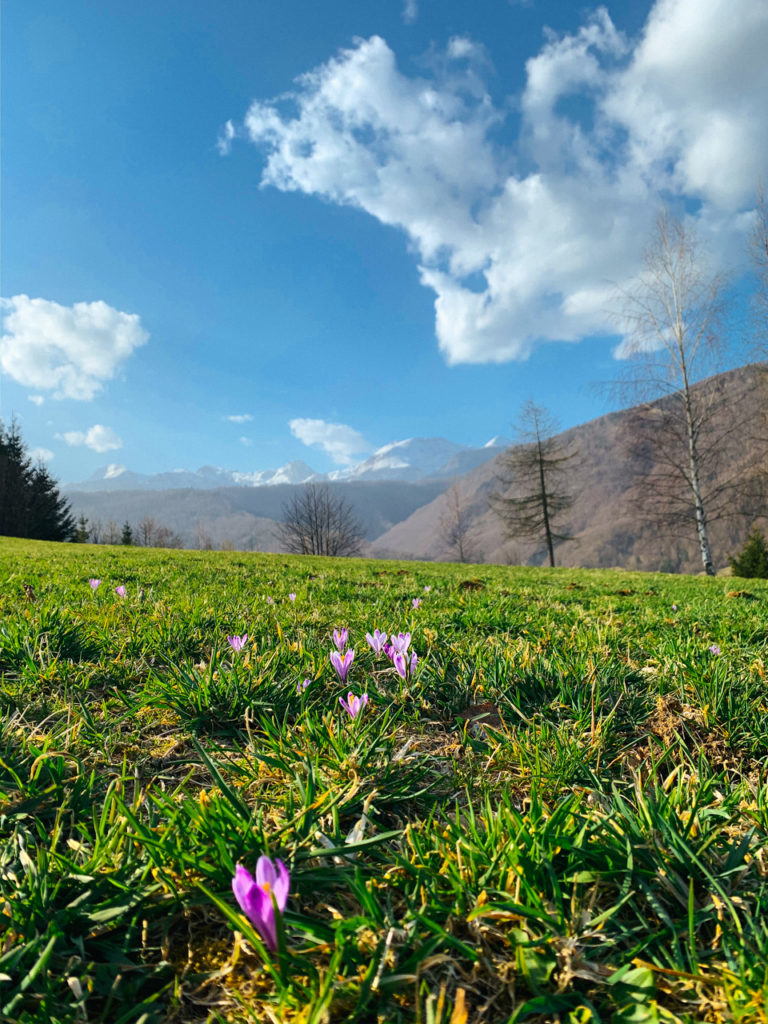 Below the treeless spine of the Triglav National Park in northwestern Slovenia's Julian Alps, on the southern rim of a lush spring-fed pasture of Pokljuka – it is here our perfectly isolated mountain home is situated and where my 22-km adventure started in late March. The place is a blend of tall Alpine forests and extensive meadows, in summer sprinkled with cows and sheep, and now with spring flowers popping out of the ground. Just a couple of kilometers northwest the vast plains are replaced by jagged peaks, seemingly tumbling away as if to the very edge of the world.
In the spirit of doing a technically easy local hike as suggested by the government at the time, I headed out into that marvelous world directly from the house. The plan? To hike all the way down to the Bohinj Valley and its gorgeous Lake Bohinj. Correct me if I'm wrong, but a pretty idyllic hike in the given conditions, right?

With a clear sense of direction, I first walked along barely visible trails in the forest, half covered with snow and free of any signs of human footprints but only some of a chamois. After an hour in this remote forest I exited onto a warm sunlit meadow, speckled with grazing deer. The undulating trail took me further across fields and forests near the village Gorjuše until it merged with the Via Alpina trail near Koprivnik. In case you haven't stumbled upon it yet, Via Alpina is a network of five long-distance hiking trails across the Alpine regions of eight countries: Slovenia, Austria, Italy, Germany, Liechtenstein, Switzerland, France and Monaco. From there it could have been just a pleasurable walk on a marked trail all the way to Bohinj, absorbing the hardy Alpine culture and architecture and the natural beauty along the way.

The weather teamed up with me. The lower down I walked, the warmer it got, until the valley finally embraced me with full spring and warm temperatures. It also embraced me with a perfect countryside picture - a small village of Jereka with a cute church in the middle opening to a dramatic backdrop of steep hilly landscape of Bohinj. I continued along lush green fields to Bohinjska Češnjica, where me being me, half hypnotized by the stunningly white mountains behind rolling green hills of Senožeta, I followed the beauty instead of the marked trail. It led me across scenic hills, spotted with traditional wooden houses, up into the forest of Rudnica, 946 m.


After a bit of uphill and a quick stop at the top, I was happy to discover a nice trail not only continued towards Lake Bohinj but was turning prettier and prettier with every step. Similar to the landscape in Pokljuka but a lot more dramatic, I found myself in a dreamy forested hilly country, dotted with meadows directly out of a fairytale, and with occasional views of snow-capped mountains.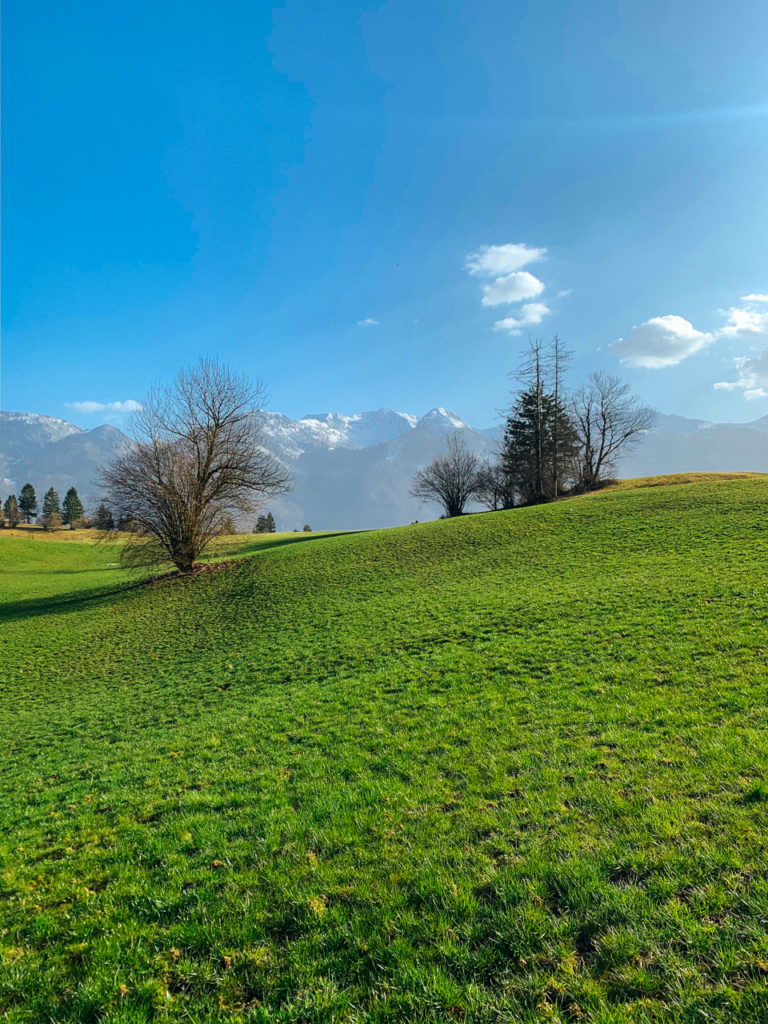 After being on the trail for 22 km and doing a 660-m ascent and 1,120-m descent in 5 hours, I felt exhilarated when I finally entered the familiar world at Lake Bohinj, met with my boyfriend and sat down with him on the bridge at the lake. Absorbed in the theater of playful sunset colors, I reflected on the incredible adventure started from the very threshold of our little home. How lucky is that?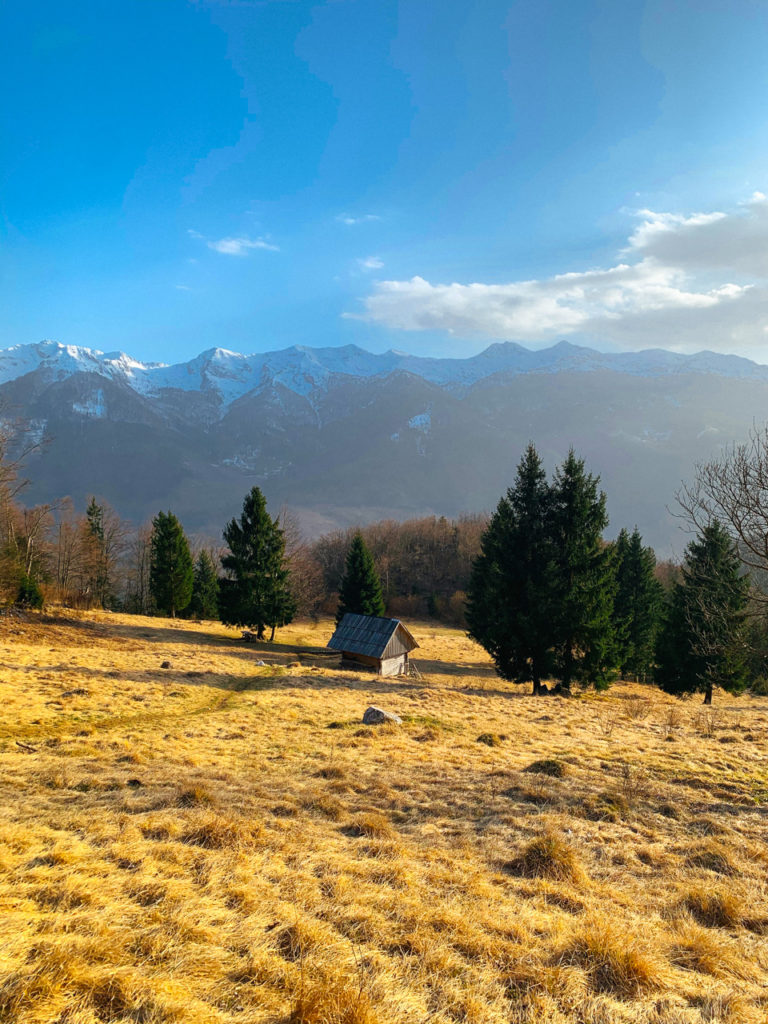 How are you entertaining yourselves these days? Have any stories to share? Please share them in the comments!
Stay tuned for more outdoor adventures! Follow us on Facebook, Twitter, and Instagram, and subscribe to the newsletter. Looking forward to a tour in the mountains? Exploring Slovenia offers hiking and climbing tours!