I'm very excited to give you a story written by Nick, our very special guest from Ireland who hiked and climbed with us last summer. Enjoy the read!
It was a wonderful sunny summer's day in Kranjska Gora, Slovenia. I had been comfortably dined and rested at the hotel and just finished a magnificent breakfast that was truly regal in its volume and variety. That day was my first day climbing of a ten-day mountaineering trip expertly planned by Exploring Slovenia. As the early morning sun warmed me up, I eagerly awaited the arrival of Neja, who owns the company, and has arranged all the guiding and mountain accommodation for my stay in the Julian Alps. Neja arrived promptly and introduced me to Samo, an IFMGA mountain guide and an expert on these demanding high level routes. Neja and I had planned some tough climbing over the coming days and I quickly found both Neja and Samo easy going, chatty and with a good sense of fun too.
Read also:
Beginner winter climb in the Slovenian Alps: Mala Mojstrovka
Five epic hikes and climbs in Triglav National Park that will blow your mind
Secret gems of the Soča Valley
Climb mountains with us – see Exploring Slovenia's Guided Climbing Tours
Mala Mojstrovka at 2332m has all the promise of a truly exciting first climb with two routes to its summit. The north face wall is an exposed via ferrata and not for the faint hearted. There's an easier way up the south face with its vast scree slopes and is a linear route up and down. We were to do a circular route up the Hanzova path on the physically demanding north face with lots of exposure, vertical climbing sections and narrow ledges, and for the return descend down the southern scree slopes of the mountain. Having checked out my route beforehand I knew my introduction to the Julian Alps would surely get the heart pumping!
We set off early up the winding road of the Vršič Pass that reaches an elevation of 1611m and in itself is a lovely drive with magnificent views. It was built by Russian prisoners of war in WWI and is known as the "Ruska cesta" or Russian Road. We parked up after the Erjavčeva koča mountain hut and set off up a marked path heading north to the Vratca saddle. At the saddle we turned left onto a gently rising path towards some large boulders at the foot of a vertical crag. Here we donned our helmets and the via ferrata kit and as neither of my guides really knew my climbing ability, Samo attached a safety line to my harness. It was never needed and never felt a hindrance as Samo expertly kept enough slack on the line for me to not even notice it was there. Samo led the way up with me and then Neja following at the rear taking the photos we'd share afterwards. Her eye for a good photo was pretty good for as we climbed she even managed to avoid taking shots of my backside!
The climbing was superb, lots of exposure with some near vertical sections that required a good degree of confidence and head for heights. The route is marked with red and white circles painted on the rock and I could imagine these being difficult to find in poor weather. We started up the crag with the first 100m or so well protected with staples and cables, and the rock was stable with plenty of good hand and foot holds. We continued up on good ground albeit quite exposed and then onto a looser rock section so extra care was taken here. We traversed around on a short ledge and arrived at a vertical chimney. We climbed up carefully to a section of steep scrambling that led to easier ground before reaching a very narrow and very exposed ledge heading diagonally across the north face. Here there were amazing views down the rock face to where we'd started. Moving onto a plateau with looser rock and scree we could rest before making the final section to the summit. Here we took in some fluids, had a snack and took several photos with Neja and Samo explaining the scenery and the surrounding mountains. The valley opens up below and we looked over towards Italy and Austria where we could just see the snow-covered highest peak of Austria in the far distance – amazing!
The final summit push took about 15-20 minutes, heading up via a narrow crag on the left and where after its easy to moderate scrambling to the top we reached Mala Mojstrovka. The perfect weather on top allowed for some stunning views of the neighbouring Velika Mojstrovka and Mangart with the pointed peaks above the Krnica valley of Škrlatica and Prisank.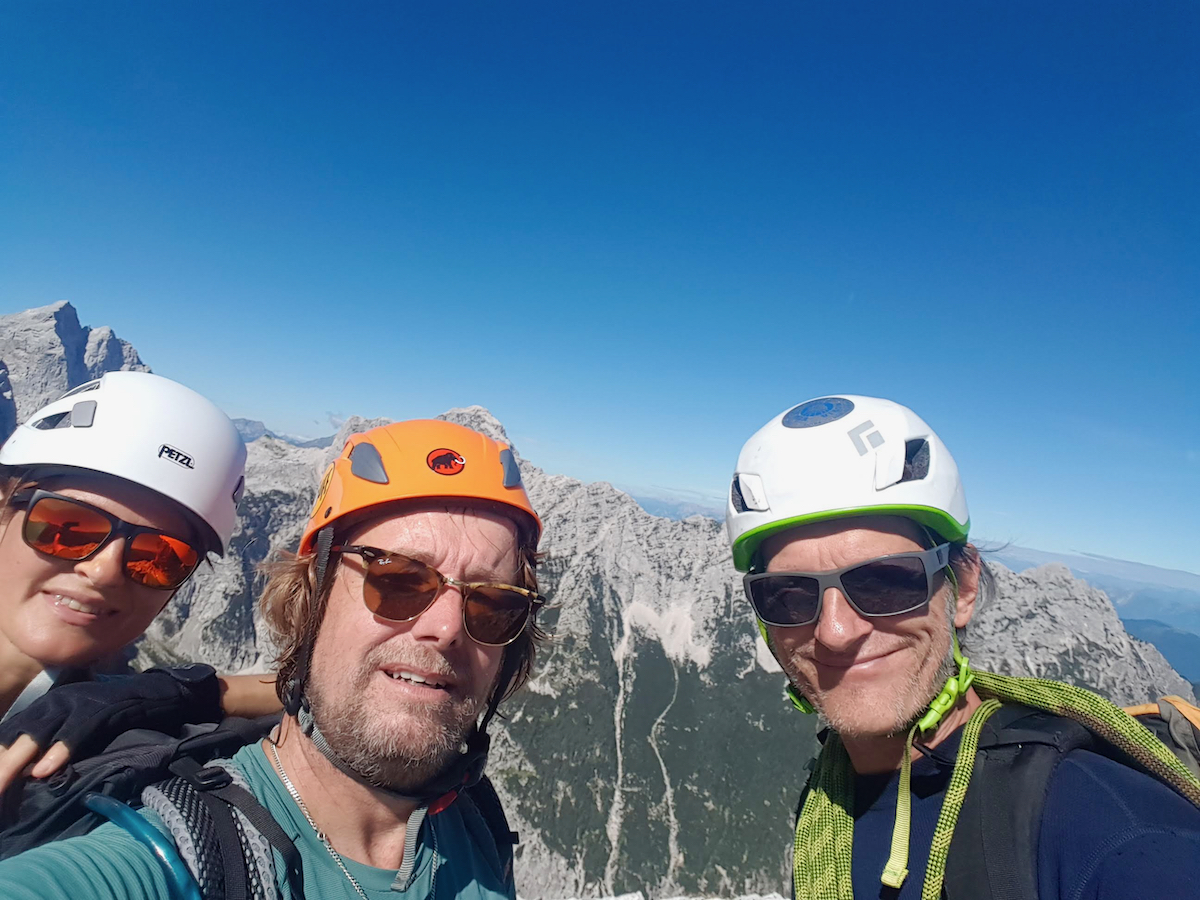 Check out Exploring Slovenia's most popular guided treks:
Triglav Lakes Trek
From Bohinj to Soča Valley Trek
Soča Valley and the Alps
After a quick lunch we applied some sunscreen, as by now it was getting really hot in the midday sun (something I'm not used to in Ireland!) and descended the large scree slopes down to the Vršič Pass. These slopes felt like the scree was rolling underfoot and Samo pointed out a way down where you could run down and virtually be carried by the scree. I bet it would be great fun in the snow. We chose the more solid ground and followed the path to where we'd parked the car. The climb itself was an altitude ascent of 720m from the start in the Vršič Pass and took about 2 hours with stops for photos, chats, fluids and lunch; add in the descent and we made the round trip in about 3½ to 4 hours.
Neja drove me to the Erjavčeva koča hut, where I was staying the night before my climb to Prisank the following day with Samo as my guide. I think I'd passed his climbing test and was assured of even more excitement and a much harder challenging adventure on Prisank. We all had some refreshing drinks whilst lazing in the afternoon sun on the terrace overlooking the "pagan lady" of Prisank. We chatted idly to the sound of the cattle bells coming from down the valley – what a stunning first day in the mountains! I could never have imagined it when leaving Ireland and was so pleased I'd chosen Exploring Slovenia. These guys were great fun to be with and the day was such an awesome start to my trip that I couldn't wait for the next day to come.
Read also:
Traversing the Kamnik-Savinja Alps across the highest peaks
Wandering through the land of the Alpine ibex
Make Triglav a winter climb
Stay tuned for more outdoor adventures! Join sixty thousand Exploring Slovenia fans by liking us on Facebook, Twitter, and Instagram. If you enjoyed this story, sign up for the monthly exploringslovenia.com/blog newsletter. A handful selection of stories from Hiking and Climbing in Slovenia, delivered to your inbox every month.
Looking for a gorgeous tour in the mountains? Exploring Slovenia offers guided hiking and climbing tours!