After a long summer, spent mostly guiding in the mountains, it's nice to just sit back and look at how the sun lures hikers out and about while the rain again sends them back into the comfort of home. The fast every day work – life routine changes for a couple of hours or, if we are lucky, days, and we get to rush outside to enjoy ourselves. It feels almost like pressure to maximize a sunny weekend, collecting memories which will undoubtedly fade rather sooner than later in this rushed way of life.
Instead, breathe in and take a step back. Go outdoors to recharge, to soak up the tranquility of mother nature and its wonderful creations, and to return back home feeling positive and energized.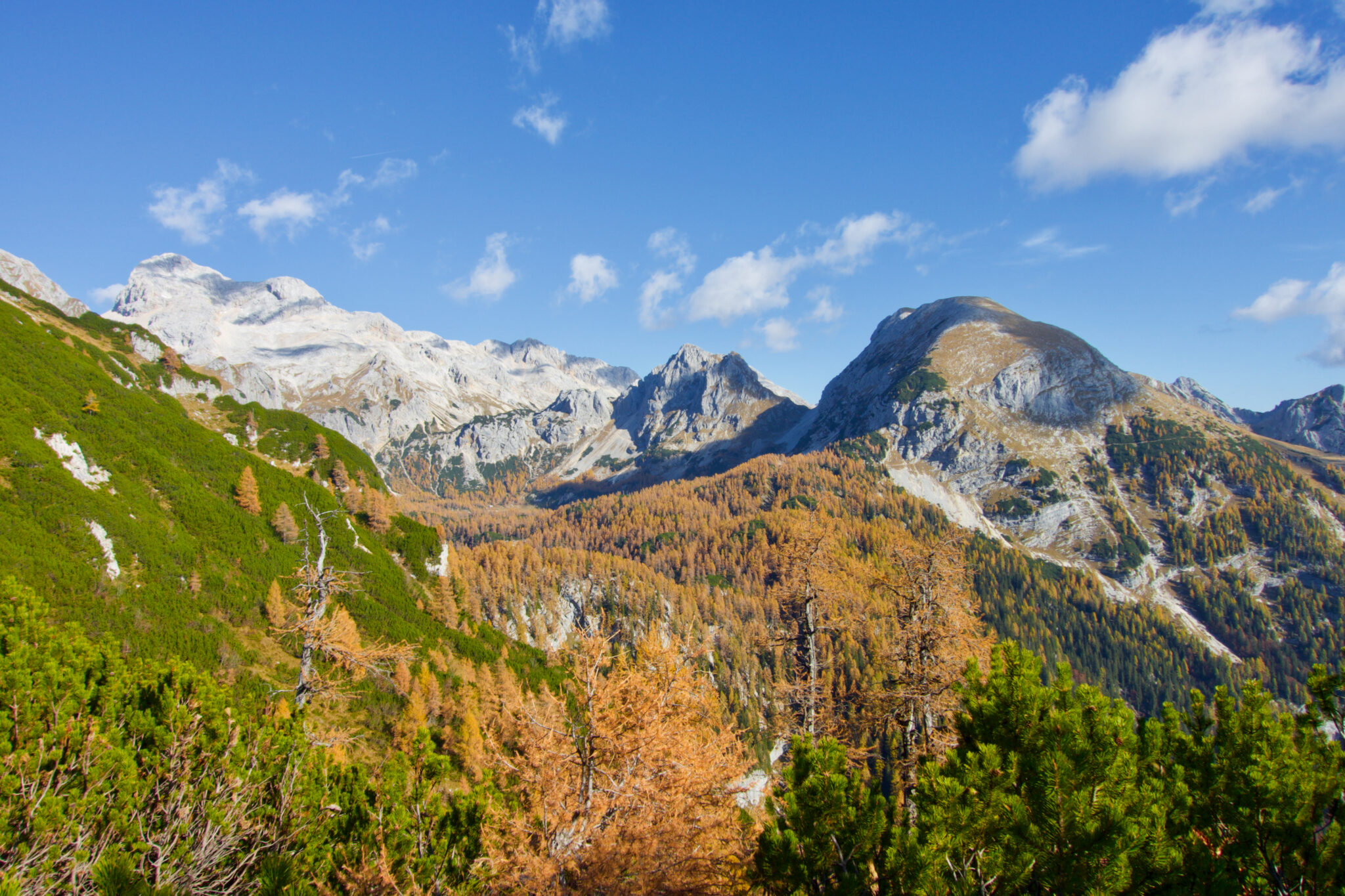 Read also: Viewpoints of Lake Bled for a perfect postcard
A couple of weeks ago, when the larches in the mountains were at their peak, glimmering golden and bushy in the surprisingly warm October sun, I relaunched myself into the world of hiking after two weeks of rest. On Monday, my friend Rok and I headed right into the heart of the larches, so to speak, to Mt. Macesnovec or the "mountain of the larches" according to its name. On Tuesday, my impatient adventure seeking legs shot up the steep slopes in the Karavanke, stopped to admire a velvety sunset glistening in a larch forest near the top of Vošca, and then quickly ran 740 meters of elevation back down to be out of the forest before it turned completely dark. On Wednesday, however, my usual hiking buddy Nina and I wandered into the mountains above Lake Bohinj without a definite goal in mind and the only thing we knew about the hike was that it had to end at 3 pm to be able to collect our kids from school on time. We were looking at a nice 7-hour time frame for a relaxing adventure in the beautiful mountains above Bohinj.
Here is an amazingly beautiful autumn hike in the Julian Alps which has been keeping me energized for weeks and will be remembered for years.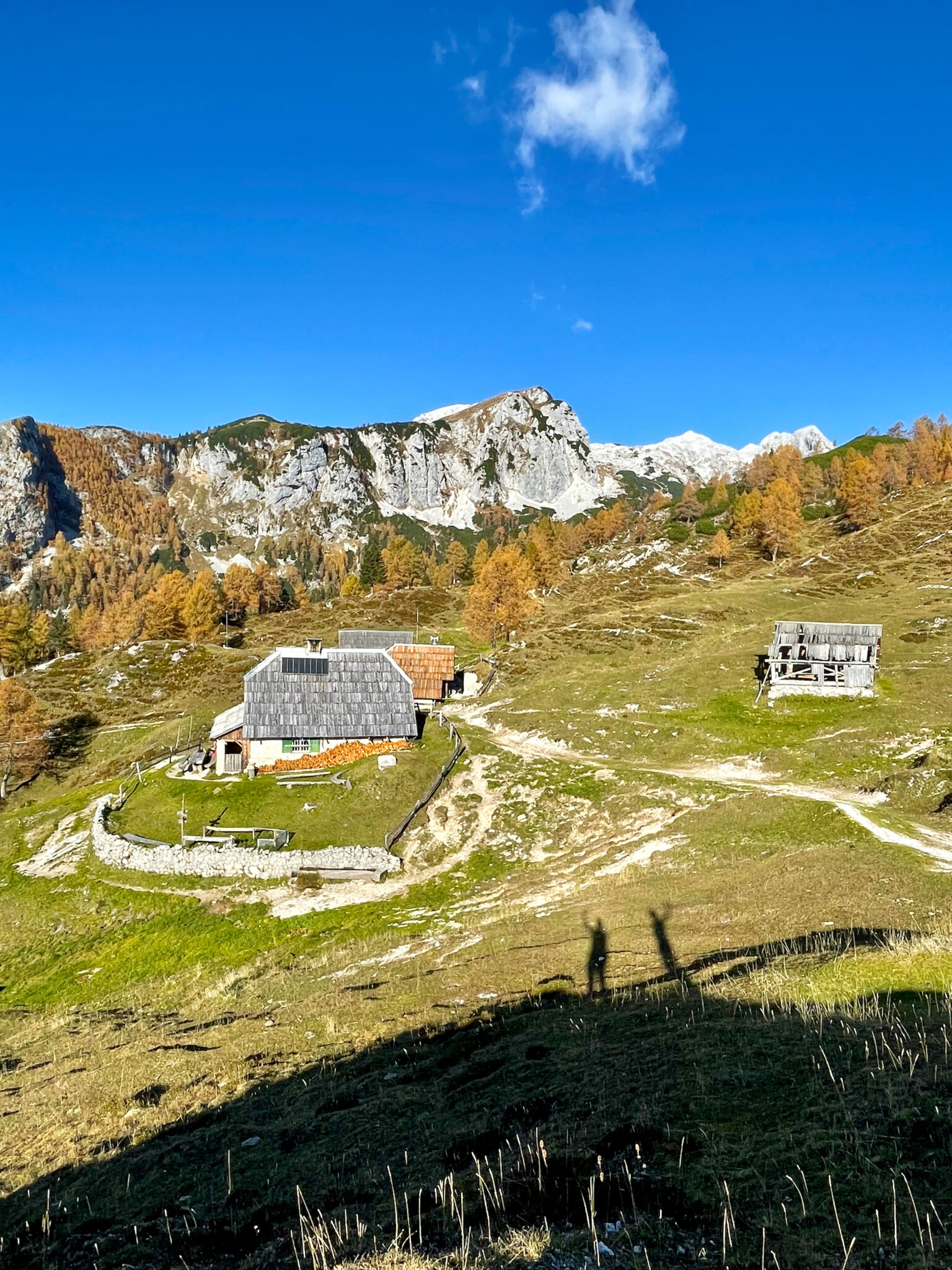 Join us on a 3-day Triglav Lakes Trek
Planina Blato to Planina Krstenica
We parked higher up at Planina Blato, located another fifteen-minute drive up the mountains above Lake Bohinj, and started hiking towards Planina Krstenica at 1,670 m. Since we haven't properly seen each other for the whole guiding season, the pace was moderate as the excited chatter filled the air. We had the whole summer to catch up on and exchange exciting stories from the trails, our families and friends, and the short vacations we managed to get for ourselves. We missed a couple of turns and when we passed a patch of a completely cut-down forest nicely overgrown with tall sun-burnt grass, we knew we were way off the trail and had to focus more on the hiking and less on the talking.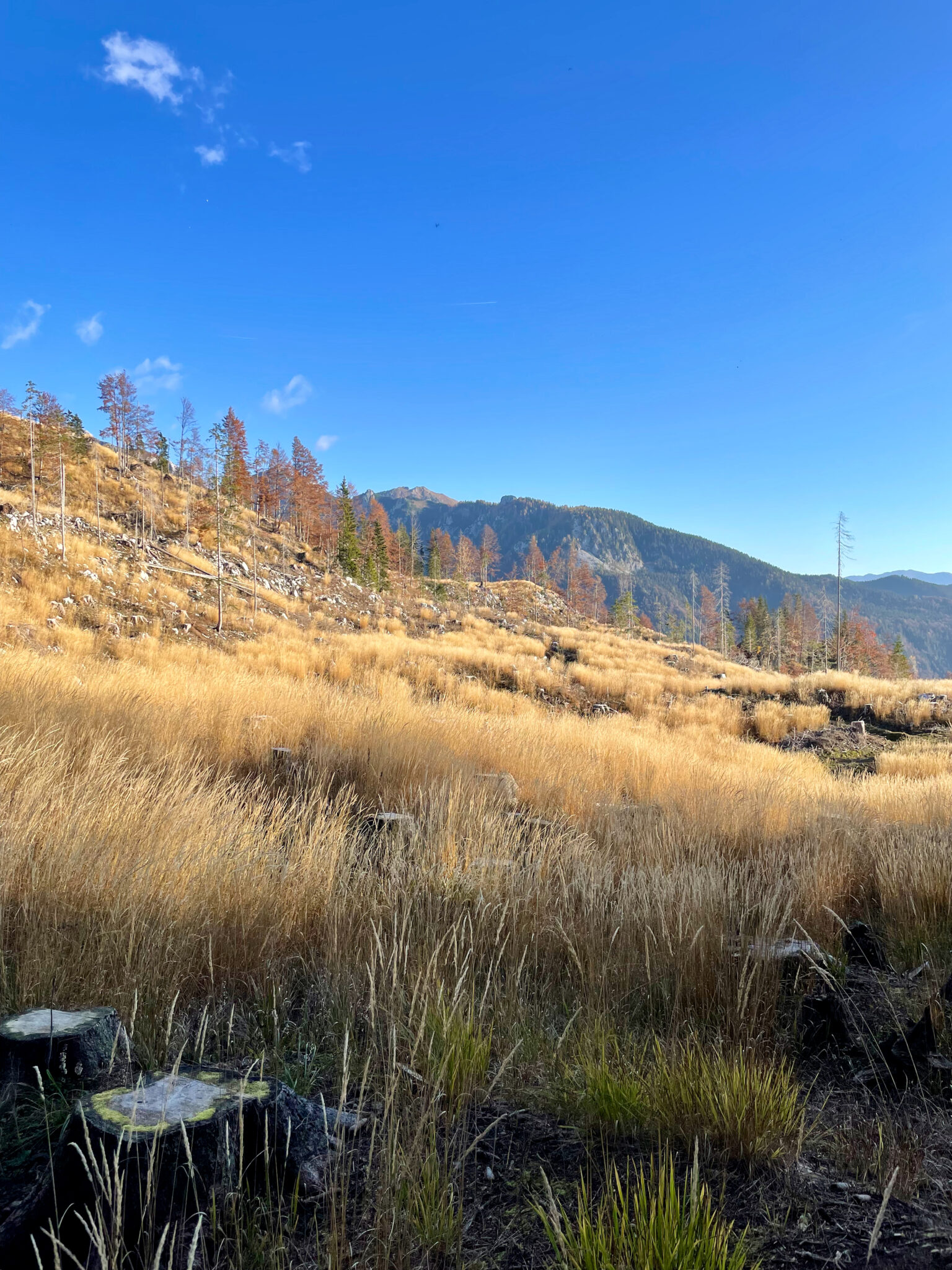 We reached Planina Krstenica, a typical Alpine pasture in the Julian Alps above Lake Bohinj at 1,670 m, an hour and a half after the start. The meadow is part of the important Bohinj Alpine dairy farming where about 1,000 cows come to various Alpine meadows each summer. Nevertheless, the cows had already left the beautiful pastures for a more comfortable winter down in the valley, and only a few naive hikers wandered about instead. We sat down on a small perch overlooking the awakening Bohinj mountains and enjoyed our first sandwich in the comfort of pretty sensational views.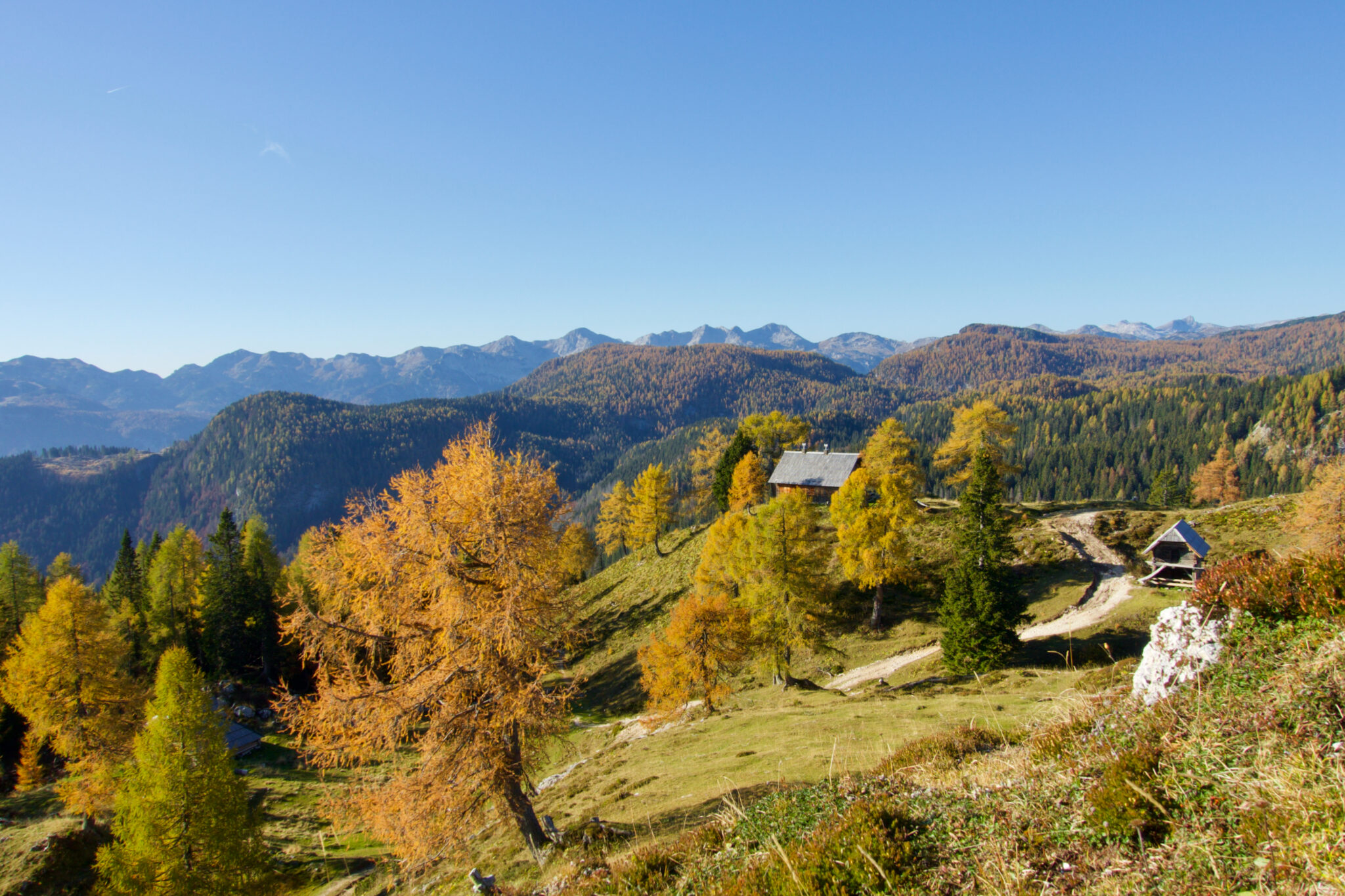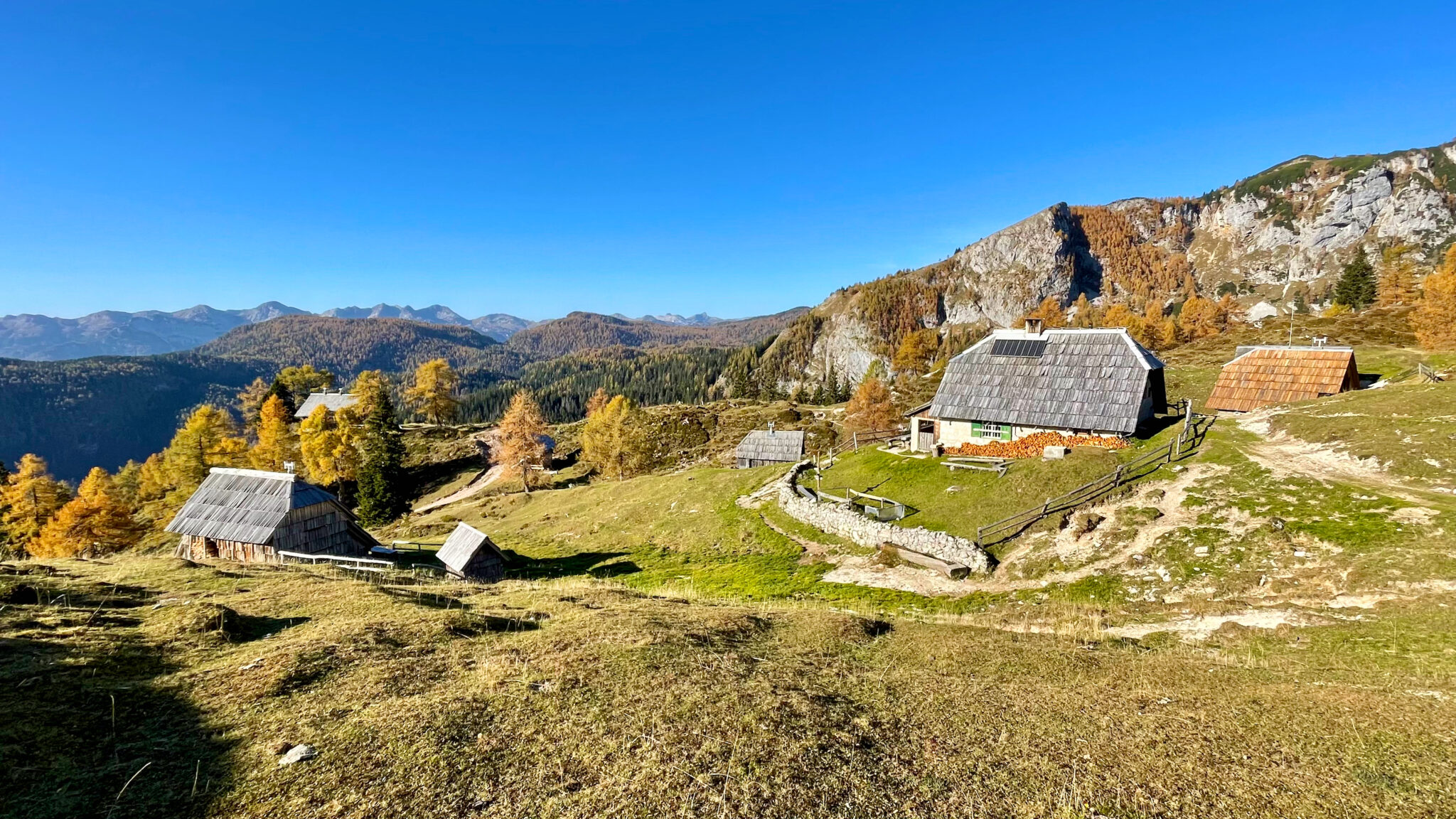 Two years ago we had already explored the mountains around Planina Krstenica with the goal to climb a few fairly unknown peaks: Jezerski Stog, Adam and Eva. All higher than 2K meters, they turned out to be either too dangerous or rather impossible to climb due to the snow (read blog: Hiking above Bohinj) which sparked that stubbornness to finish what we had once started. Only this time we decided to approach the first peak from the southern side instead of the classic north-western. Above Planina Krstenica, at the point where the trail splits, we therefore followed the less trodden trail, which passes Mali Stog on its right and approaches Jezerski Stog from the south.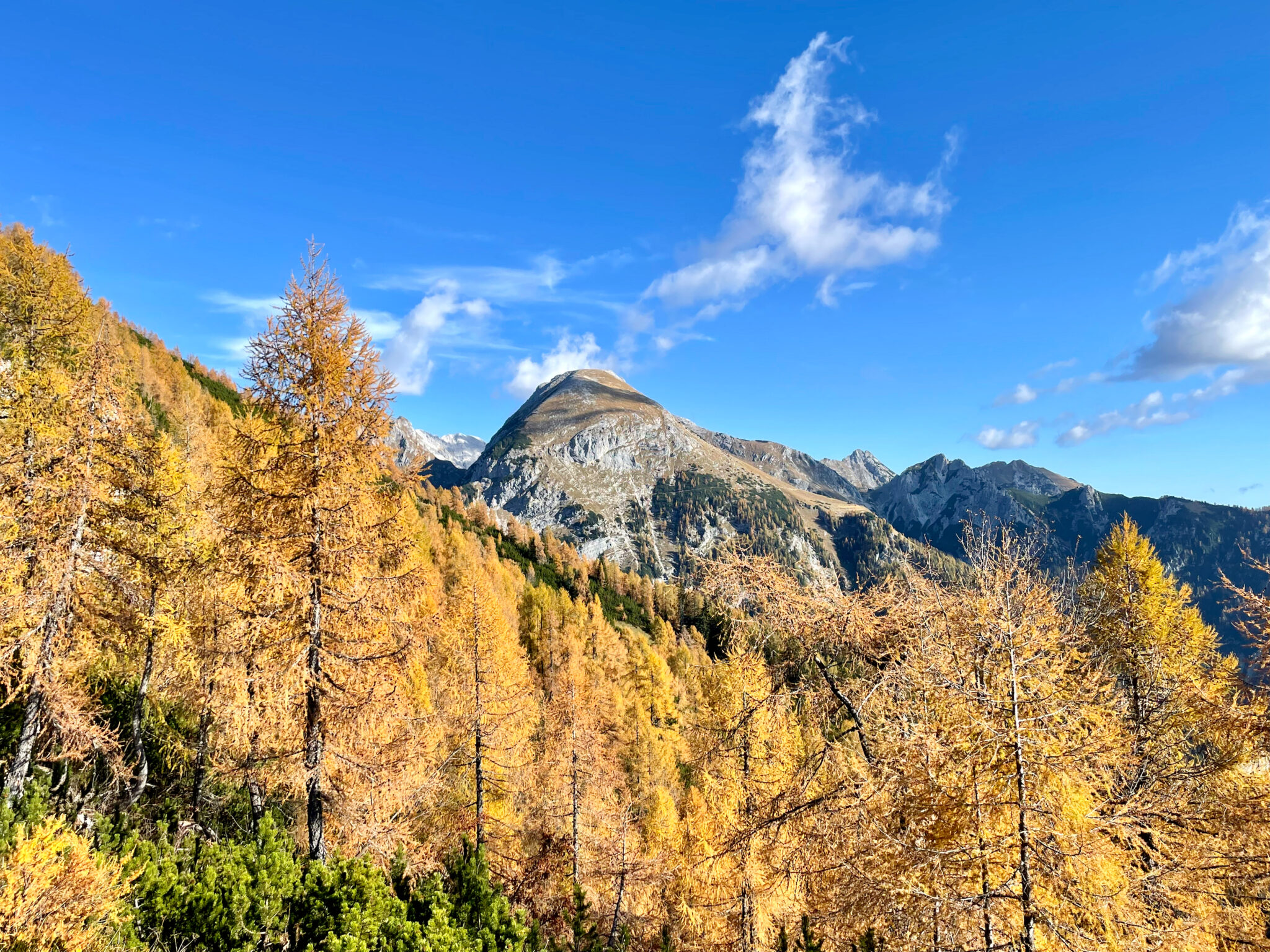 Mt. Jezerski Stog, 2,040 m
The trail wound across the autumnal landscape where the prevailing larches lit up the slopes with their golden autumnal colors as far as the eye could see. We hiked and hiked until we couldn't anymore. We reached the rocky walls of Jezerski Stog, which seemed to have swallowed the trail altogether. We searched for the trail everywhere around but nothing looked as a safe continuation towards the top. Apparently, people use the trail only to reach the tall walls for climbing.
Yet again, the story from two years ago started to repeat itself and we already considered returning back to Planina Krstenica and trying to approach the peak from the north-western side, when I suggested a daring feat. "If you're up for it, we can try free climbing it from there." I pointed at the western slope, which seemed to offer a steep but manageable scrambling; nothing that we hadn't done before, only this time we had no idea how the slope would develop afterwards. After a risky climb we would have to either climb back down or, if lucky, continue to the top, which we assumed wasn't too far away. "Let's do it!", beamed Nina at the thought of an unplanned twist of adventure and off we went.
More good stuff on the Blog:
Sunset in the mountains: Košutnikov Turn
A gorgeous and safe peak above Kranjska Gora
Climbing Mt. Begunjščica in harsh winter conditions
I climbed ahead and moved across the steep slope of rocks and grass extremely carefully not to send anything down on Nina, who was climbing behind me at a twenty-meter distance. Once at the top of the 50-meter pitch I sighed with relief. I could already see other few individuals hiking on the trail and we only had to scramble a few ten meters more to reach it. Talk about a perfect turn of events! "We lucked out big! The trail is just there and the top too!" I could see how Nina lightened up by the news.
Escorted by an immense feeling of triumph for finally conquering the elusive peak, we walked to the top soaking up the breathtaking views of Mt. Triglav and its long slopes, adorned with golden larches. A sea of less known peaks continued to the left and the familiar Velo Polje meadows, the Vodnik Hut, Mt. Tosc and other familiar peaks to the right. To be honest, the setting couldn't have been more cozy, comfortable or just plainly divine. Why would you ever leave?
See Exploring Slovenia's Guided Climbing Tours
Unfortunately so, our time in the mountains was running low and we only had two more hours until we absolutely had to be back to the car. We refuelled a bit and continued on, ready for the next challenge.
Planina v Lazu, 1,560 m
Looking at a distance of about eight kilometers with a vertical descent of 1,150 meters and another 300 m of uphill, which we were supposed to finish in just two hours, we scampered down the other side of the mountain towards a beautiful Alpine village called Planina v Lazu. Thankful for adding yet another physically challenging goal, we raced down and up the trail to the scenic saddle Lazovški Preval, took a few minutes to recharge and then hurried downhill towards Planina through pristine nature surrounded by towering mountains and a beautiful forest.
Planina v Lazu accepted us with bright green grass in otherwise brown autumnal mountains, implying bountiful underground water. Indeed, there was a fountain with excellent spring water which we immediately refilled our bottles with.
The old shepherds' houses scattered on a flat meadow, all set against a backdrop of high mountains, tell a surprising story. The shepherd settlement is actually one of the oldest Alpine meadows in the Julian Alps that remain active in summer, and on top of that, remains of a man-made fireplace from the Mesolithic Age have been found below it as well as signs of old mining in the mountains above. Clearly, a place with a long history!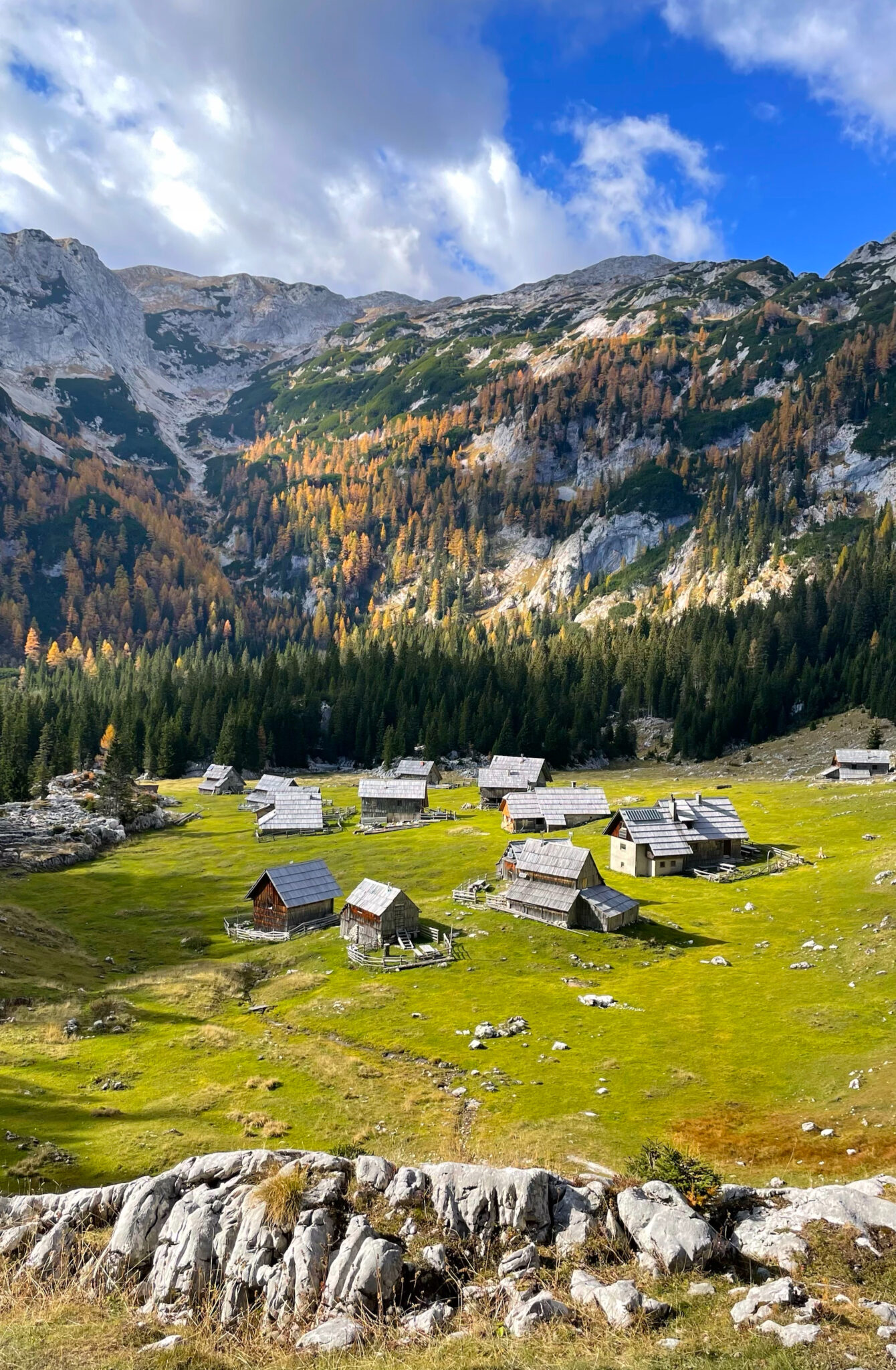 One more look back at the fairytale-like meadow and off we went, rushing back to the civilization, the world that seemed light years away from the lonely trails, running chamois, the rugged steep terrain and remote mountain huts. Until next time! But until then – keep that adventure spark burning and spirits sky high!
Stay tuned for more outdoor adventures! Join sixty thousand Exploring Slovenia fans by liking us on Facebook, Twitter, and Instagram. If you enjoyed this story, sign up for the monthly exploringslovenia.com/blog newsletter. A handful selection of stories from Hiking and Climbing in Slovenia, delivered to your inbox every month.
Looking for a gorgeous tour in the mountains? Exploring Slovenia offers guided hiking and climbing tours!