As an owner of a touring agency and a mountain guide I feel fortunate to be able to do many mountain hikes and climbs and see beautiful hard-to-reach places that many only dream about. Whether it's a daring ascent of Triglav, the highest mountain of Slovenia, wandering among colorful meadows in the beautifully remote mountains above Jezersko, or a dreamy hike in the hills around Lake Bled. We've done all of them together and it's been pretty damn awesome.

This summer, Tracey, a wonderful gal from Australia, whom I shared two great via Ferratas with, asked me if I ever influence people's decisions about which tour to select. Put aside professional decision making to suggest an appropriate mountain tour based on people's skills and experience, I most definitely do. To be honest, I always try to push a bit of my own hiking wishes into the decision process and that is not necessarily a bad thing either. Our clients end up visiting all the best places in any given season.
When flowers bloom in the mountains, we do the most beautiful loops among fragile daffodils, crocuses, wild orchids, gentians, edelweiss and many others. When an abundance of rainfall fills the enchanting Triglav Lakes up to the brim and sometimes even over, we absolutely skip other hikes and go there instead. When it's time to do a breathtaking via Ferrata in the mountains, we climb Mala Mojstrovka, but when we want a challenging via Ferrata, we go for the bold climb to Gradiška Tura even if the drive takes much longer than the mainstream ones nearby. Given the fact that I've been going around Slovenian mountains for a couple of decades, I can confidently say that those who have trusted Exploring Slovenia so far have not been disappointed. Biased or not.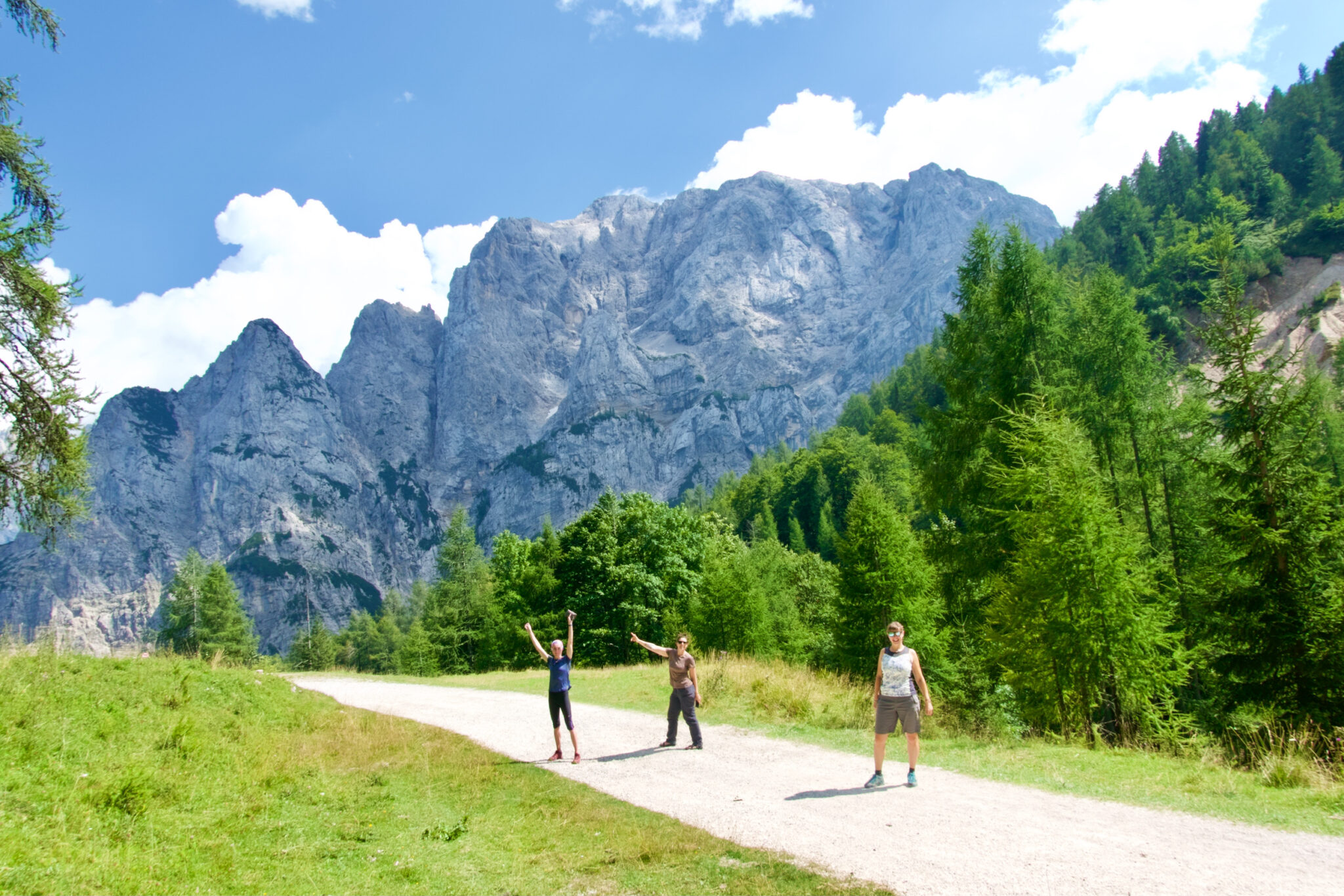 To prove that, here are ten highlights of our best mountain hikes and climbs in the summer season 2023. Enjoy!
Krn Lakes
When the time is right, it's an absolute must to visit Lake Krn! This picture-perfect 300-m-long and 150-m-wide lake is the biggest Alpine lake of Slovenia, and lies nestled between tall rocky peaks of the southwestern Julian Alps. Every year we take our groups there either as part of the 3-day From Bohinj to the Soča Valley Trek or as an easier day hike to Lake Krn from the Soča Valley. This year we even spiced it up with an additional 4-hour climb to a lonely 2,016-m peak above Lake Krn which opened up to breathtaking views of two Krn lakes – the Big Krn Lake and its much smaller but no less beautiful twin called Dupeljsko Jezero.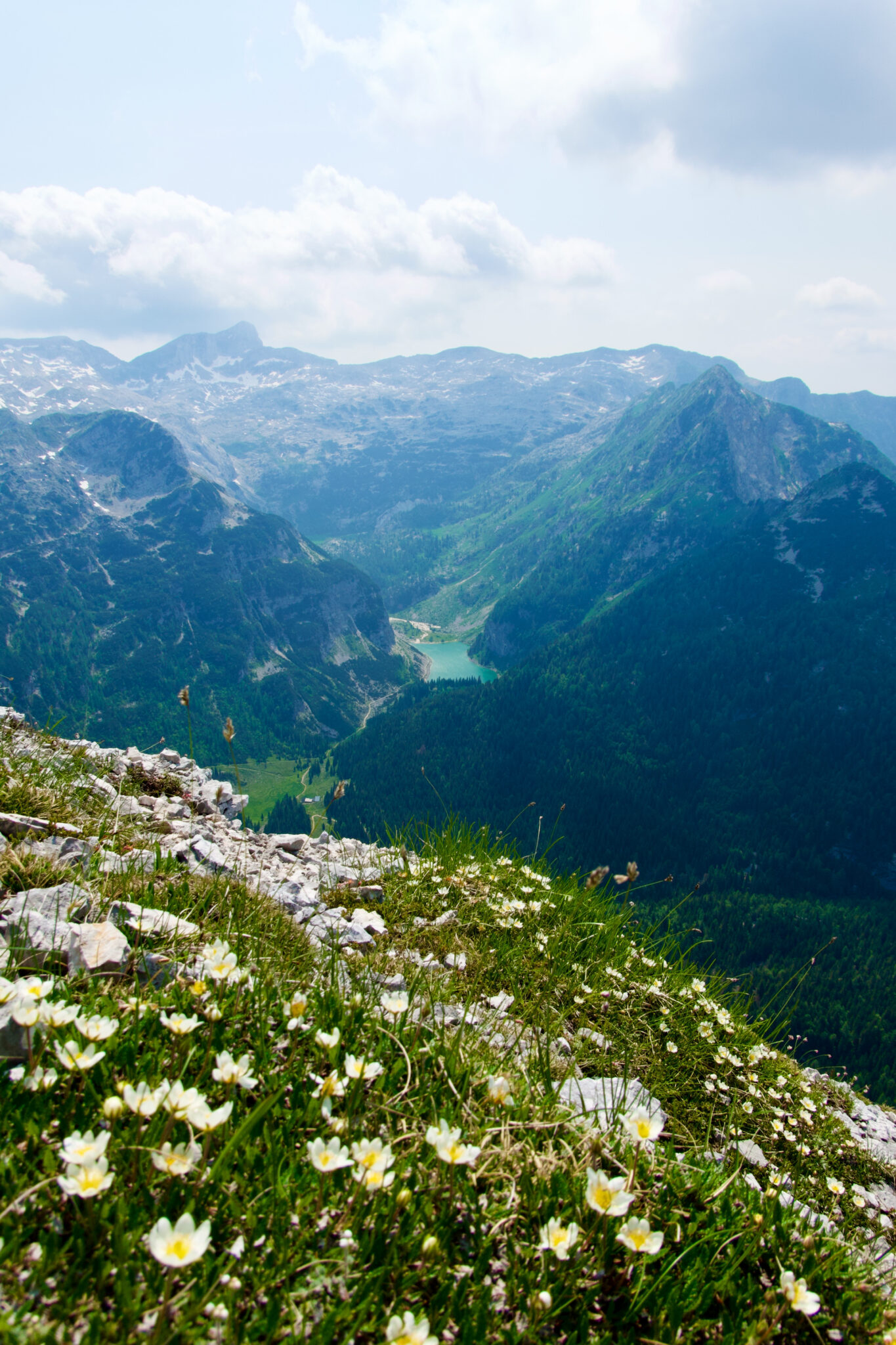 Velika Planina
On the southern rim of the Kamnik-Savinja Alps, some thirty kilometers north of Slovenia's boutique capital Ljubljana, lies a large Alpine plateau called Velika Planina. The place is known not only for its unique shepherds' settlement, arguably the oldest in Europe that remains active to date, but also for organic milk goodies produced every summer. Locals and tourists alike love it for its long hiking trails, good food and friendly people. Every spring, though, something extraordinary happens: as the snow finally melts sometime in April, little crowns of crocuses flood the whole plateau turning a good part of the landscape purple.
Read also When Velika Planina dresses in purple
We visited it in early May as soon as the tiny purple crocuses finally managed to peek from under a white snow blanket, which the fussy spring weather this year adorned our mountains with abundantly. We also continued to return to the vast plains of Velika Planina throughout the summer, always doing our loop hikes through all the settlements and to the most picturesque spots.
Krvavec
As it happens, not often, but it certainly does, we head to the mountains in the late afternoon only to enjoy empty trails and vibrant sunset colors in a beautiful place. Krvavec, a high mountain ski resort close to Ljubljana, has not only a well managed road from down the valley all the way to the slopes, but it also has comfortable hiking trails. It also happens to be an excellent place to enjoy a sunset at almost 2,000 meters.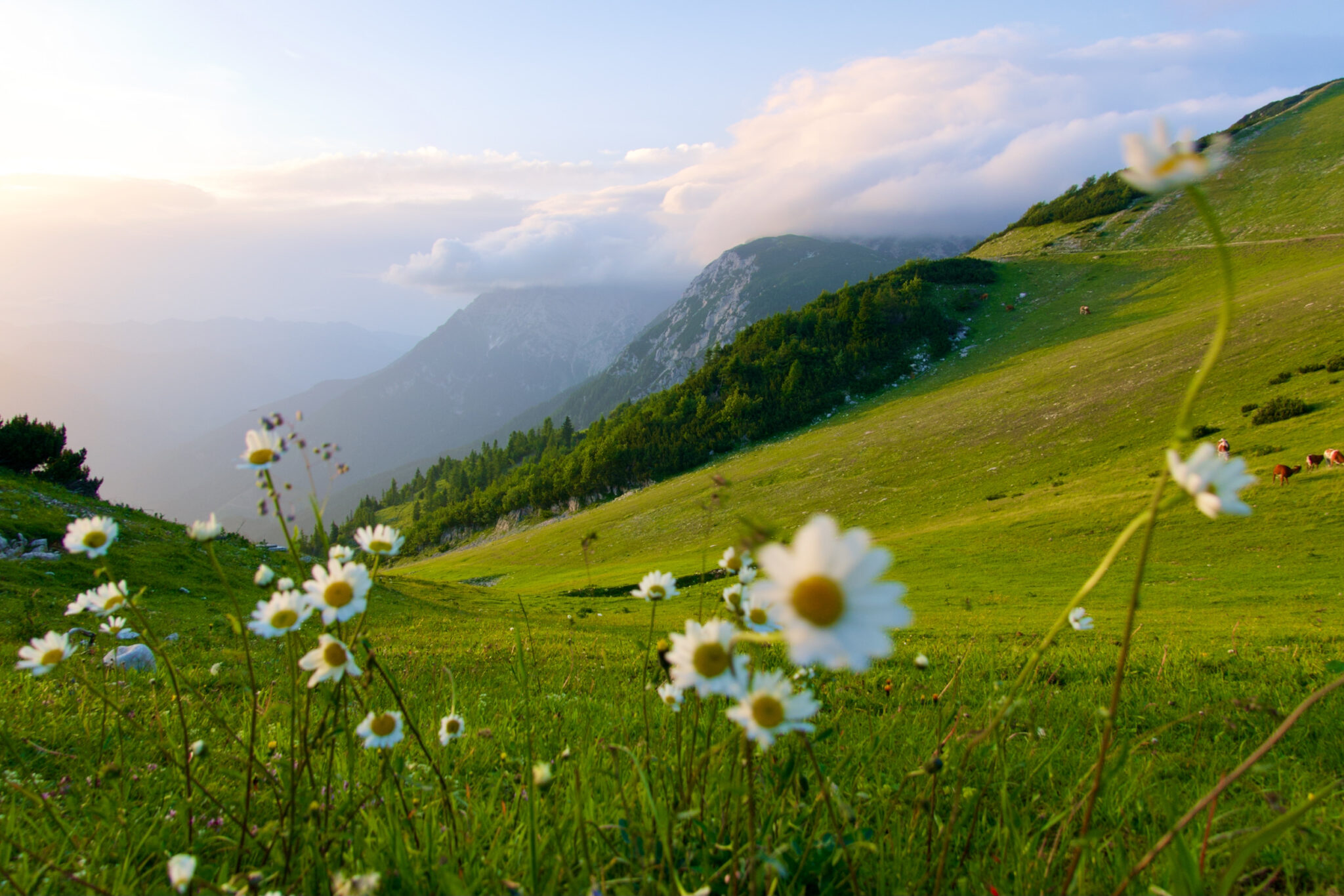 Exploring Slovenia's favored treks:
Triglav from Pokljuka
Triglav Lakes Trek
From Bohinj to Soča Trek
Jerebica
We've been raving about a mountain peak with a beautiful scenic hike and the top that literally blows your mind away! The 2,126-meter peak of Jerebica facing the 1,400-m long and 400-m wide glacial lake Rabeljsko Jezero (Eng. Lake of Predil) from a thousand meters above, which you can only imagine, calls for spectacular views. Idyllically surrounded by steep mountains that stretch forever in every direction, both to Slovenia and Italy while also to Austria in the distance, the turquoise-colored Lake of Predil looks so surreal that it's hard to imagine it exists outside of a fairytale. Perfection in its broadest sense.
Blog about the gorgeous hike to Jerebica
Guided Day Hike to Jerebica
Triglav Lakes
While Slovenia in general is a green country (hey, it's been voted the world's first green destination in 2016!), its Alps are particularly wet. The Julian Alps receive more than 3,200 mm of precipitation per year, which qualifies them as one of the wettest Alps in Europe! To put the number into perspective, Hawaii as the wettest state of the US receives an average of 1,618 mm of rain per year, while California gets only 563 mm. Even though we are lucky with precipitation, summers still get pretty hot and a period of dry weather can therefore largely exhaust the otherwise beautiful Alpine lakes.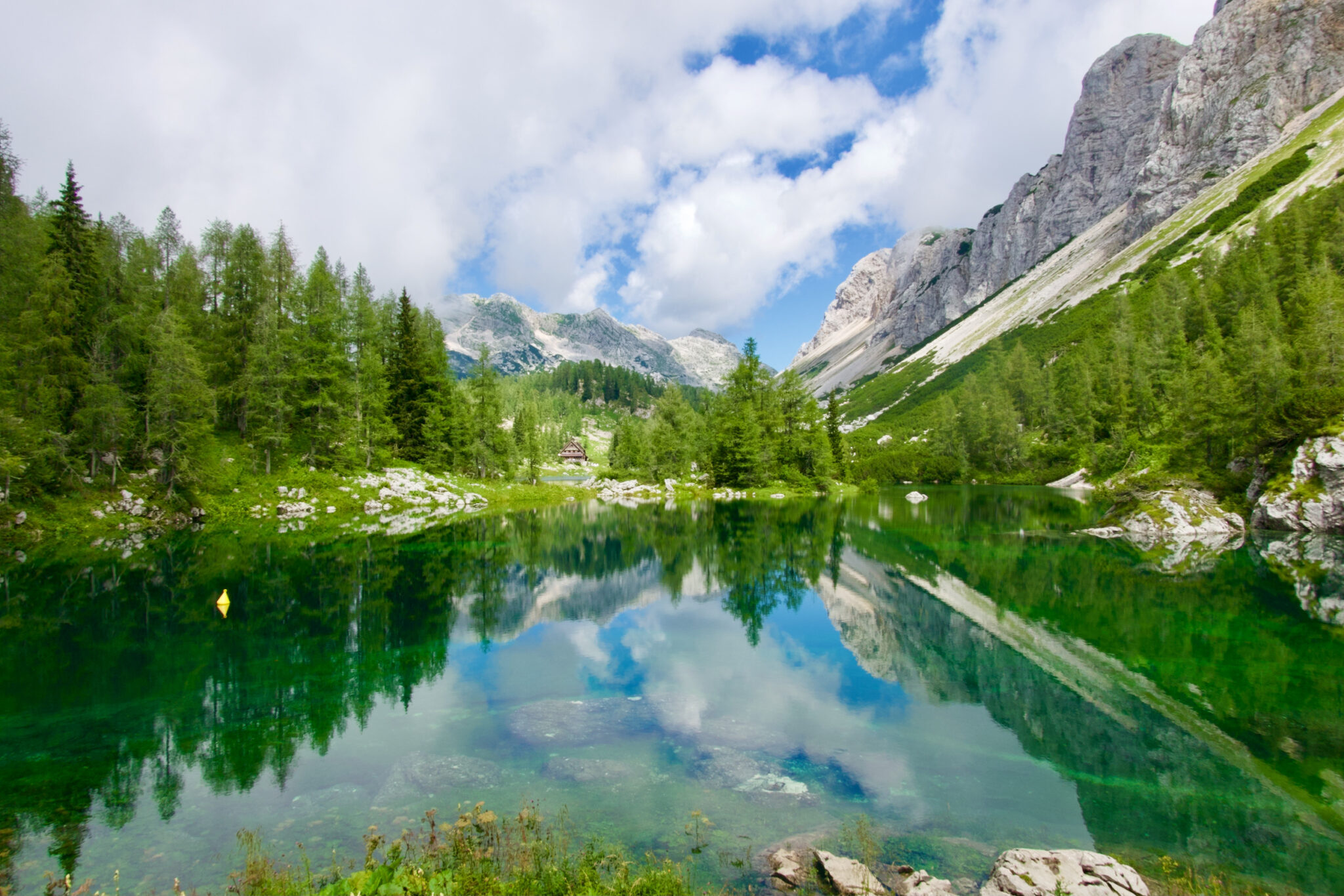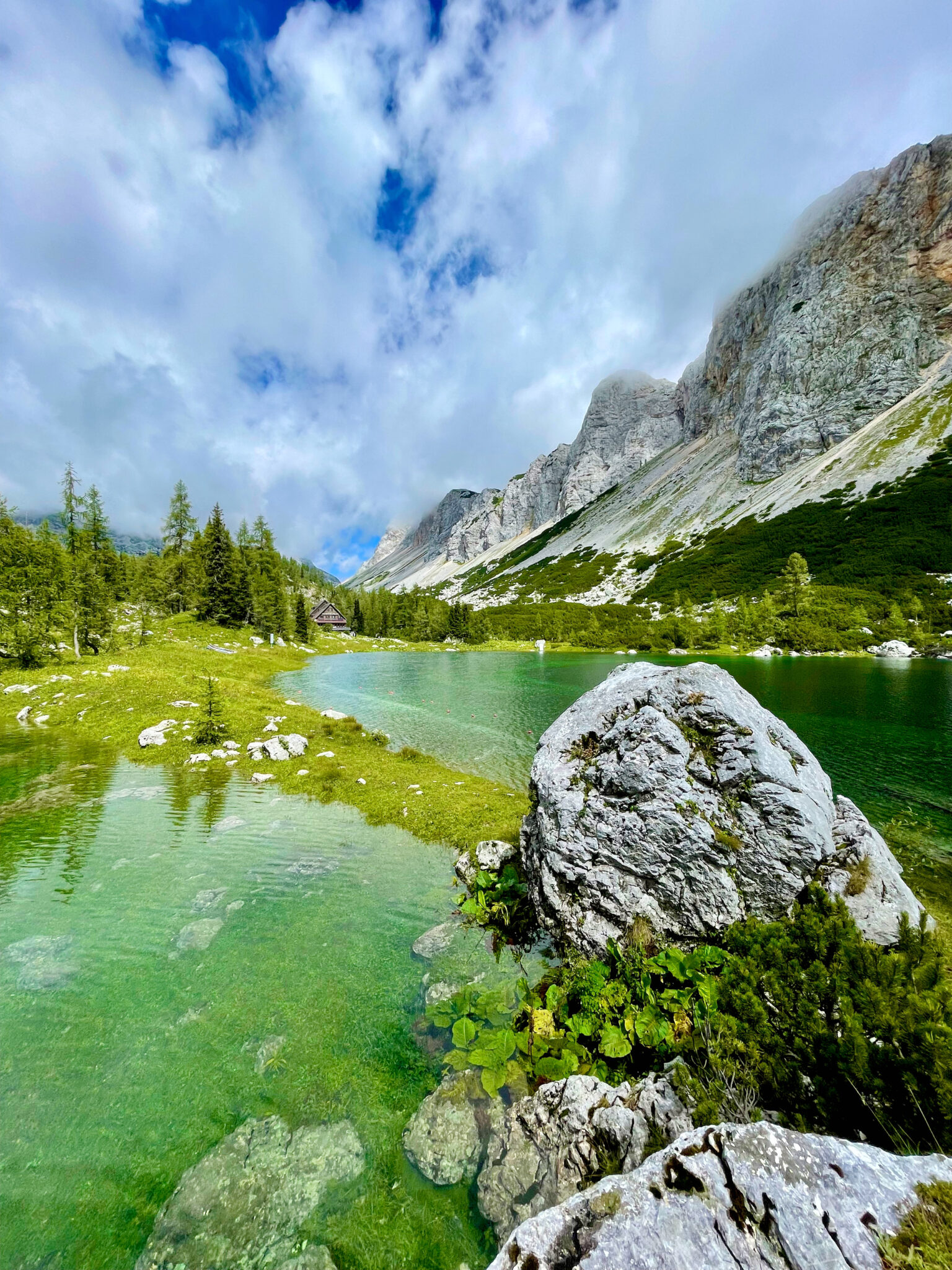 Not this summer, though. The unusually moist summer brought as much as 112% more rain than an average August, 89% more rain in July and 40% more in June. If anything, the insane amounts of rain brought an abundance of water in the mountains as well, and, indeed, the past summer turned out to be the best time to visit the Triglav Lakes!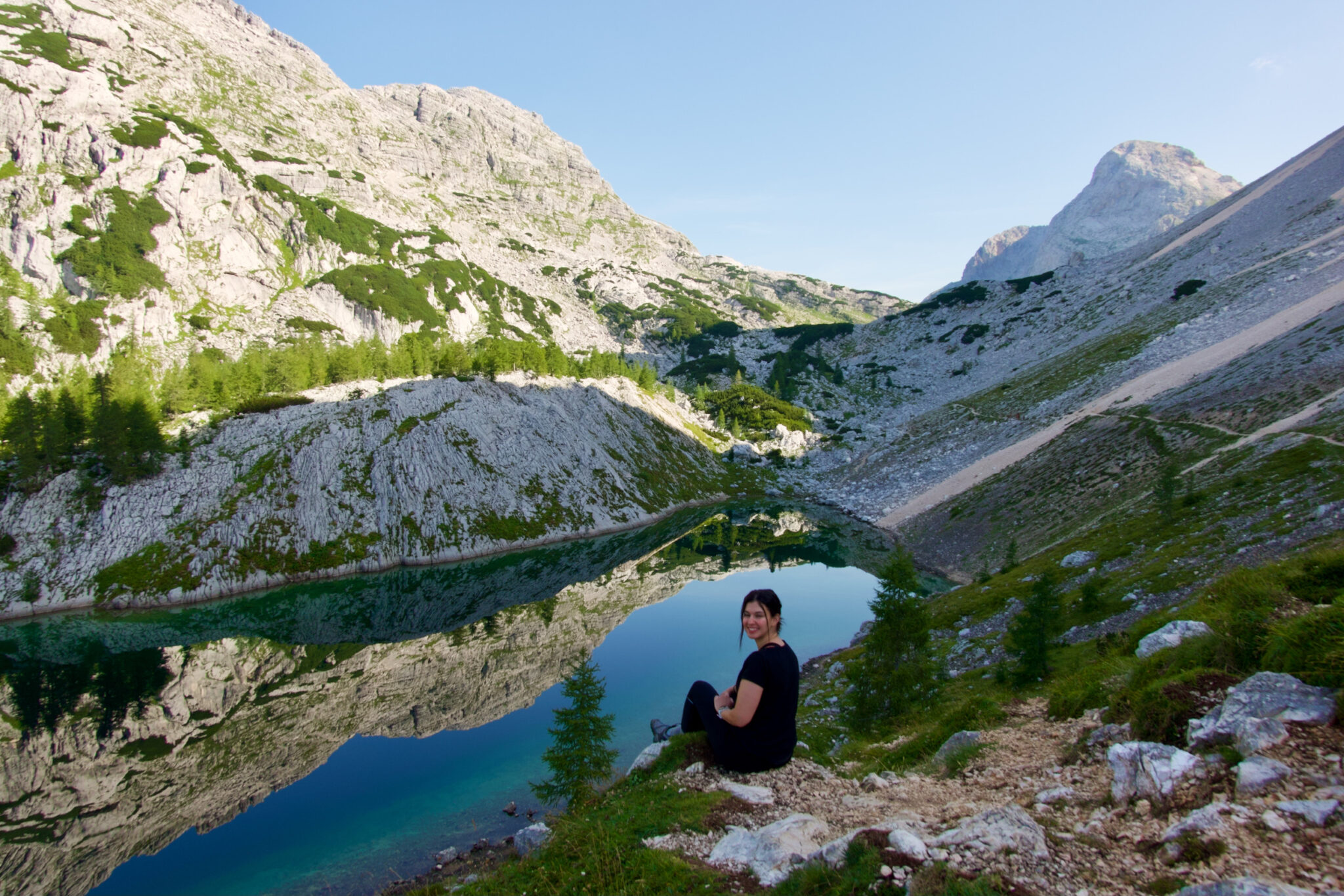 Triglav
As the highest one, Triglav is one of the most popular mountain hikes / climbs in Slovenia. It is famed for its spectacular 360-degree views, rich wildlife and a long history of passionate climbers. Triglav's closest huts, on the other hand, are more famed for very cheerful crowds, who love to share their bold mountain adventures, enjoy good beer and even play the accordion and guitar to get people dancing.
As every year, this summer was also no exception for Exploring Slovenia. We took groups up to Triglav anytime from early summer snow, to unexpected mid-summer snowfalls and heavy thunderstorms in between. Funny conditions and perfect adventures!
Exploring Slovenia's Triglav treks:
Triglav from Pokljuka
Triglav over Prag
Triglav via Ferrata
Triglav, the Slovenian Route
Read on Blog about Triglav
Climbing Triglav with kids
Climbing Triglav in summer on our favored route
Make Triglav a winter climb
Debela Peč
Almost 2,000 meters high, just on the opposite side to Mt. Triglav across a narrow and more than a 1,000-meter deep glacial valley, stand impressive mountains with awe-inspiring vistas. One of these peaks is Debela Peč and if you know which trail to take it can be a rather short and sweet hike. We've taken it so many times this year that I've lost count, yet every single hike turned out to be insanely beautiful.
The via-ferrata to Mala Mojstrovka
Named after its constructor Ivan Vertelj – Hanza, this via ferrata to one of the most intriguing mountains above Kranjska Gora was built in 1928 to serve as a direct route to Mala Mojstrovka from the Yugoslavian (officially called the Kingdom of Serbs, Croats and Slovenes) side of the Rapallo border at the time. A quick note of history: during the years from 1920 to 1947 the western part of Slovenia among others was annexed to the Kingdom of Italy with the Treaty of Rapallo, and thus the Vršič Pass was just on the border between the two kingdoms.
Quick stats: 720 m of ascent, 5-hour round trip
Guided Via Ferrata Climb to Mala Mojstrovka
My favorite climb to Mala Mojstrovka this past summer? When four women teamed up and chatted and laughed heartily throughout the whole tour. My apologies to all the unlucky men out there who happened to be in the wrong place at the wrong time… 🙂
Gradiška Tura
Located in the SW Slovenia, it's relatively far from Bled and the mountains, nonetheless, it's no less intriguing with the views of the vineyards and rolling hills of Vipava. There are actually two separate via ferratas climbing up to the top of Gradiška Tura, 793 m, but are connected with a short 5-minute hike; the second starts a little below the finish of the first one. After a short hike in the forest, you reach the first Furlan Route, which is over an hour-long climb that gradually prepares you for the second one – the tougher Otmar Route. Another hour-long climb immediately challenges you with a tough ascent over a vertical wall with a slight overhang, but once across it, you're in a beautiful adventure in sun-lit steep walls.
Quick stats: 600 m of ascent, 5-hour round trip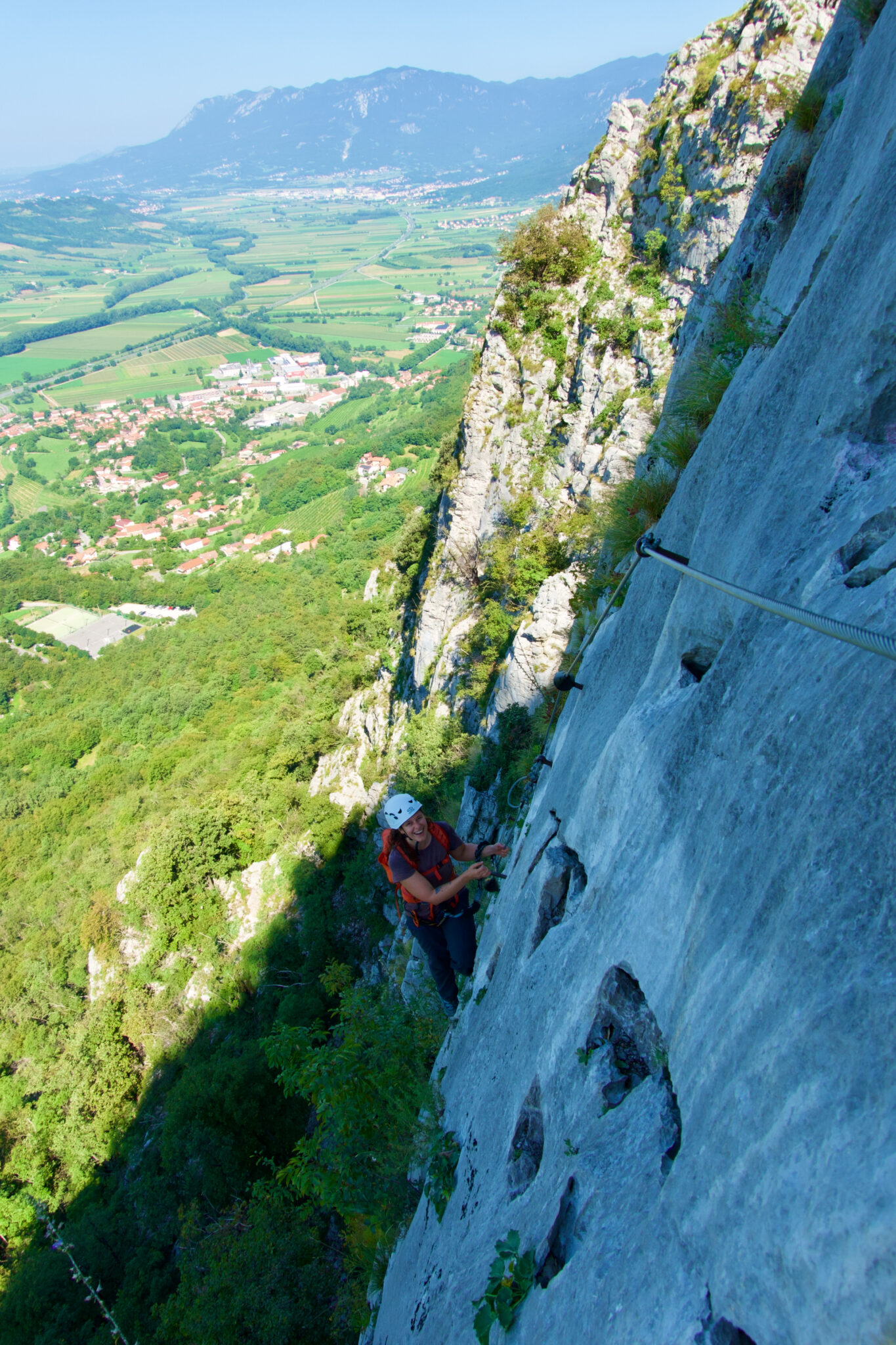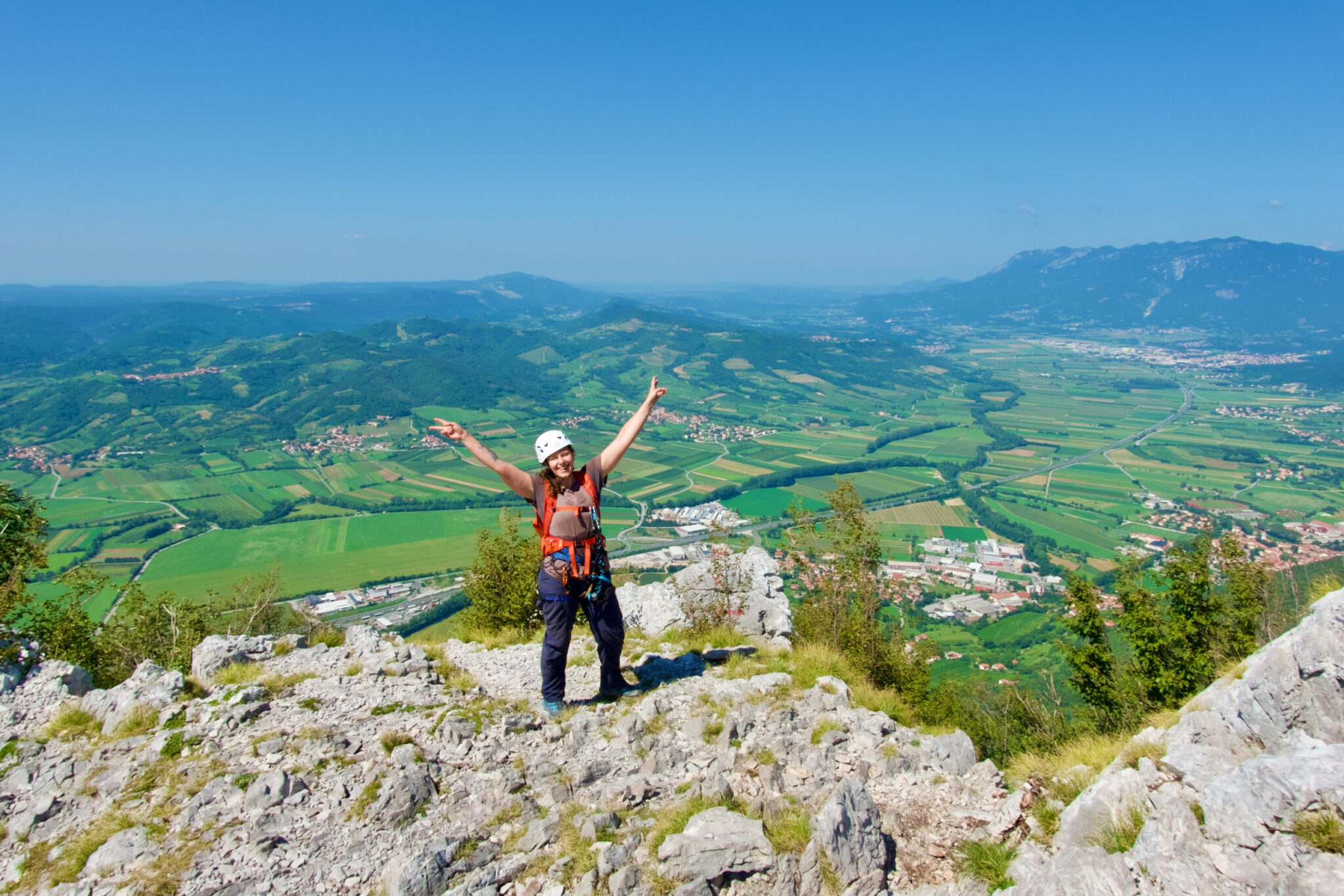 Guided Via Ferrata Climb to Gradiška Tura

Zelenica Hut
As much as I love hiking in remote places with no infrastructure or people, there's still a tiny corner of my heart that bounces with joy whenever hitting a scenic but easy trail, meeting equally enthusiastic hikers and eating well in a hut. So let's round up this year's guiding season with an easy family-friendly hike in the Karavanke Alps with no more than 8 km and 650 m of ascent, which visits not one but two mountain huts.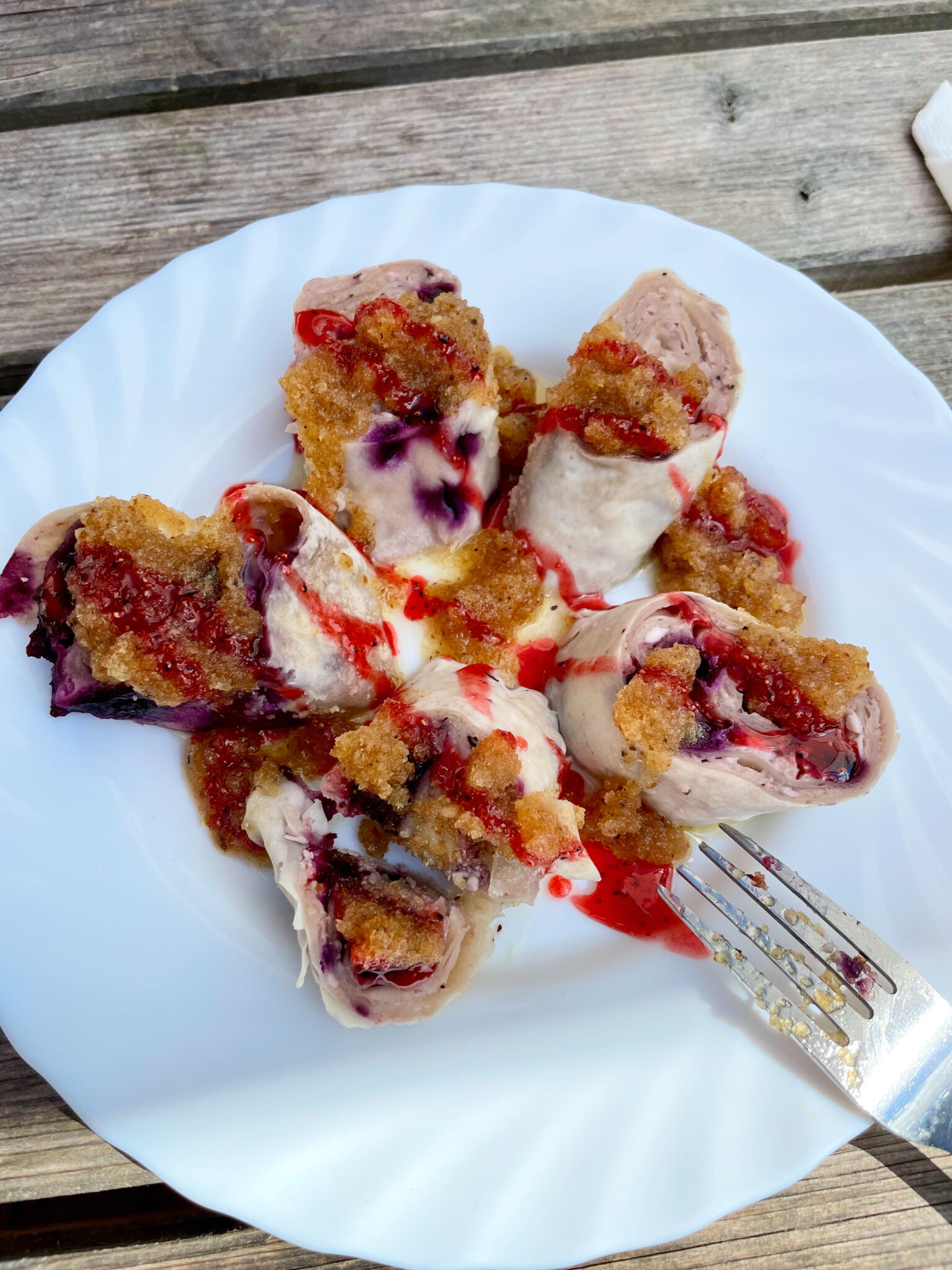 Stay tuned for more outdoor adventures! Join sixty thousand Exploring Slovenia fans by liking us on Facebook, Twitter, and Instagram. If you enjoyed this story, sign up for the monthly exploringslovenia.com/blog newsletter. A handful selection of stories from Hiking and Climbing in Slovenia, delivered to your inbox every month.
Looking for a gorgeous tour in the mountains? Exploring Slovenia offers guided hiking and climbing tours!